Uganda: Incubator for Safe School Zones and 30 Km/h Limits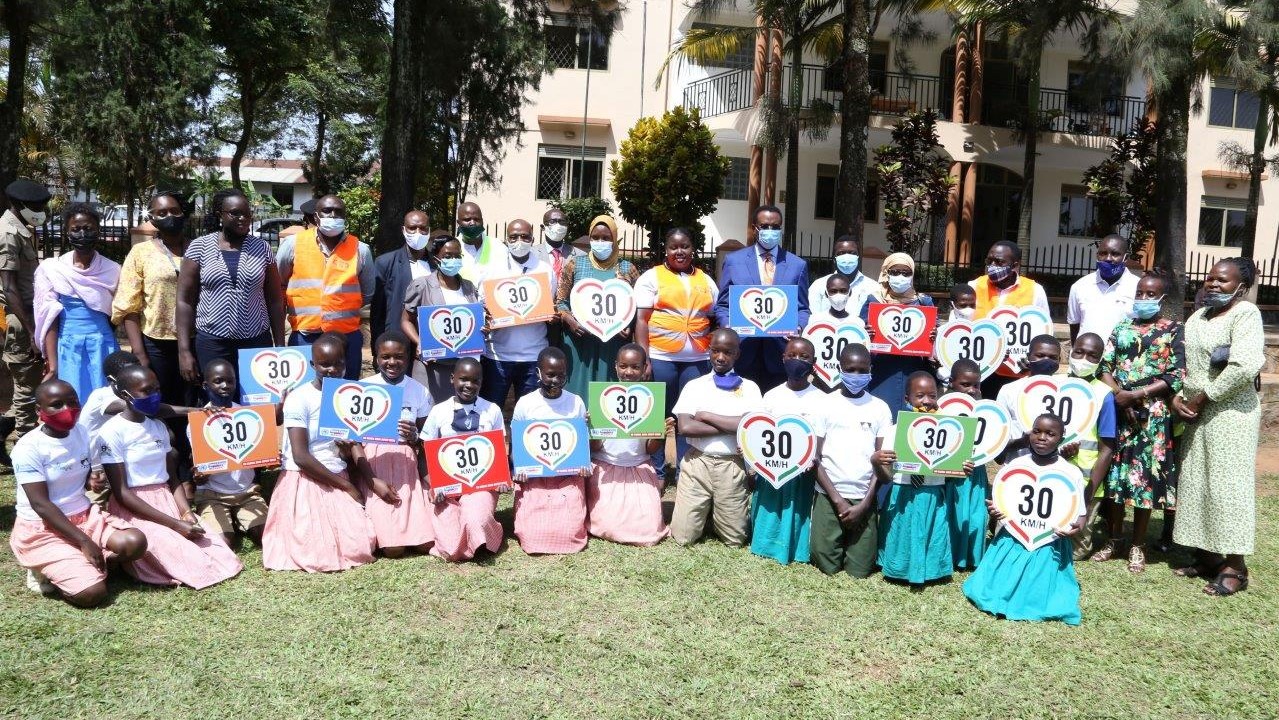 According to the Uganda police force's Annual Crime Report, over 12,000 road traffic crashes occurred in 2019, of which 3,400 were fatal, leading to over 14,000 deaths. Pedestrians, including school children, are among the most affected. In 2021, two Alliance member NGOs, the Uganda Road Accident Reduction Network Organization (URRENO) and Hope for Victims of Traffic Accidents (HOVITA), formed a coalition to apply for the Alliance Incubator program. Their goal was to halve road crash deaths and injuries among Ugandan school children by 2030.
The Alliance Incubator program helps provide resources and services for road safety NGOs with the major aim of accelerating growth and capacity of NGOs to positively influence road safety interventions and policies in their countries.
So far, URRENO and HOVITA's coalition has been able to gain public support through stakeholder mapping and engagement. This has not only unlocked funding sources for their programs, but has led to government commitment to review urban speed limits from 50 km/h to 30 km/h.
The coalition has been able to achieve these successes by leveraging on the existing relationships they have built with the Ministry of Works and Transport and other key road safety stakeholders including the Parliamentary Forum on Road Safety, the World Health Organization (WHO), the Global Road Safety Partnership (GRSP), and Kampala Capital City Authority (KCCA). By working with these stakeholders, they have been able to gain access to the decision makers and key personnel they needed to push their agenda forward. According to Sam Bambanza, the Executive Director of HOVITA, "when we were mapping the key stakeholders, we approached the city authorities, especially KCCA, using our already existing connections and friendships within to target and build relationship with the Council's Engineer in charge of road safety who then helped us identify key partners at the divisional levels and connected us with them."
The foundations for the relationship that HOVITA and URRENO have with the Ministry of Works and Transport were built through the engagement that they were able to build in the run up to and during the 3rd Global Ministerial Conference on Road Safety in Stockholm, Sweden, in 2020. HOVITA and URRENO played a key role in mobilizing the Minister and other key Ministry staff, the Uganda National Road Safety Authority, and KCCA to attend the conference. During the conference, the Minister for Transport toured the People's Exhibition, a display by the Alliance to demonstrate the human cost of road crashes, and interacted with HOVITA and URRENO. This enhanced the two NGOs' credibility. According to Tumwine Fred, the Executive Director of URRENO, "they saw our involvement with the Global Alliance as an international organisation for road safety and realized that we are well informed, well positioned, and have access to resources to improve road safety and that they can rely on us as critical partners for road safety improvement."
Being part of an international movement through the UN Global Road Safety Week (UNGRSW) has also enabled the coalition to achieve government commitment for a review of urban speed limits from 50 km/h to 30 km/h. Through UNGRSW, they were able to demonstrate that 30 km/h was an internationally-recognized best practice and taking part in the global campaign enabled them to get the attention of the Commissioner of Transport and Safety at an event that they organized during the week. According to Sam, "we used the opportunity to tie the advocacy to Uganda's launch of the international driving system."
The activities of URRENO and HOVITA's coalition have increased media coverage of road safety issues in Uganda, creating more awareness about road safety and the need to create safer roads for school children. They were able to get the media involved through a project with GRSP which enabled them to connect with the Africa Center for Media Excellence, which is currently training 15 journalists on covering road safety issues in Uganda. They used the opportunity to sell their activities in the Incubator to the journalists, taking them round the schools to show the risks they are working to mitigate with the Incubator by creating safe school zones and implementing 30 km/h speed limits. Moreover, the reputation of both organizations in Uganda helps them draw the media to their events whenever the media is invited and they have been invited to appear on talkshows about road safety where they are able to use the opportunity to talk about their activities and projects with the Incubator.
In addition to better stakeholder engagement, coordination, and increased media coverage, the Incubator has also built their capacity for advocacy. According to Sam, the Incubator program has really helped in building their advocacy efforts and strategies. "Prior to the Incubator, we thought that sensitizing and training school children was enough, but this has not yielded much result. But with the Incubator, we have learnt that we can further empower school children to demand for their rights." With this, school children in the communities of intervention now contribute and even take the lead in designing petitions, incorporating the road safety changes they want to see and tabling them before the decision makers to demand for their rights. "This strategy has shown that they (school children), instead of we, can champion this and demand for what they want, and this will make decision makers to act because they will listen to them more when they champion it."
The impact of the Incubator has also been felt in the areas of improving access to stakeholders, improved knowledge sharing and better collaboration and teamwork which has increased their capacity to lead change and led to better visibility of their work. According to Fred, "we now have better access to stakeholders which was more difficult when we were operating individually. For instance, we were able to get representatives of WHO, the ministry, and the KCCA to attend our program for the UNGRSW because we worked as a team. This would not have been possible if we approached them individually."
The Incubator project has greatly contributed to the visibility of both organizations, through sharing networks, expertise, skills, and knowledge, and has led to remarkable capacity building and coordination. "We have learnt through the Incubator that road safety policy change cannot be done by a single organisation. Thus, we team up, we brainstorm together and then move as one force."
More information on the activities of URRENO can be found HERE and to know more about HOVITA, click HERE. 
Apply for the 2022 Alliance Incubator HERE.
---