Decade of Action and Global Plan 2021 – 2030
The second Decade of Action for Road Safety 2021 – 2030 was declared in the UN Resolution on Improving Global Road Safety in August 2020. A Global Plan has been developed and will be launched on 28 October 2021.
The launch is a significant advocacy opportunity for NGOs to push for recommendations within the Global Plan that will help their countries achieve the 2030 targets for the Decade of Action.
Read the Global Plan
You can find the Global Plan and infographics on the WHO website HERE.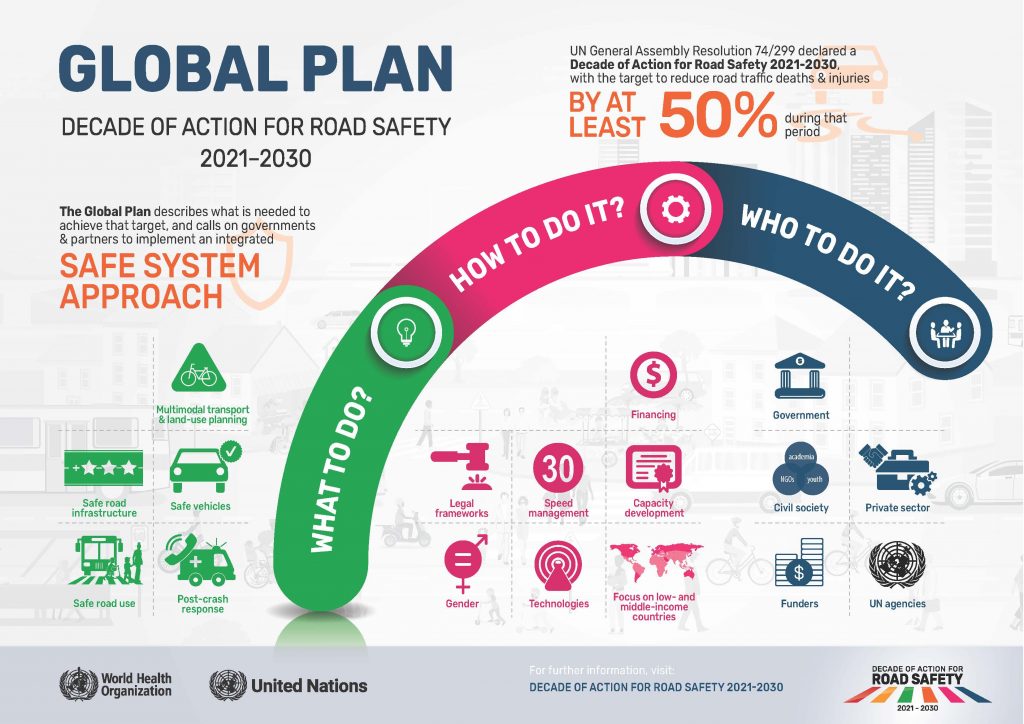 ---
NGO Activations for the Launch of the Global Plan
Global Plan Handovers
To support NGOs to use the launch to strengthen advocacy, the Alliance is coordinating a handover activity, where NGOs will handover the Global Plan to their high-level decision makers, targeting those decision makers, such as Ministers and the road safety agency, who are accountable for road safety in their countries.
The handovers are a chance for NGOs to share key messages from the plan and are a way of holding their governments accountable for their global commitments to the Decade of Action and the SDGs.
So far NGOs in 28 countries will be handing the plan to their decision makers. Find out about the handovers and how to organize an event in your country HERE.
We would love to hear your plans so that we can share them too. Tell us about them HERE.
---
Social media campaign
The Alliance will also coordinate a social media campaign to engage decision makers and promote the plan.
What
NGOs will record and share short video clips of their decision makers supporting or saying how they are implementing the Decade of Action and Global Plan.
This is an opportunity for NGOs to engage with different levels of government decision makers to raise awareness and gain support and commitment to use the Global Plan.
We would love to see and share your clips. You can send them to us HERE.
---
Global Plan walkthrough
On 6 October 2021, the Alliance held an online walkthrough of the Global Plan and discussion on how NGOs could use it for advocacy.
Watch it here: