Mobility Snapshots
Pedestrians are among the most vulnerable and most overlooked road users on our roads. Intersections are particularly dangerous for them.
The Alliance will be launching a new initiative to collect and use Mobility Snapshots for advocacy and accountability.
What are the Mobility Snapshots?
Using Mobility Snapshots, NGOs and other stakeholders will collect data at intersections in their cities from the perspective of a pedestrian.
The Mobility Snapshots will be a reality check from the ground to show the experiences of communities. They will help promote accountability for the Decade of Action and SDGs 3.6 and 11.2.
Why do a Mobility Snapshot?
To advocate for pedestrians, we need to know what it is like to be a pedestrian and we need data to show what it is like.
Measuring is the essence of accountability. If we can't measure, we can't improve. The Mobility Snapshots are a tool to bring this data to decision makers on behalf of pedestrians and show them how to improve conditions for all road users.
Why pedestrians?
Pedestrians make up 23% of road deaths worldwide.
We are all pedestrians: if we make our streets safe for pedestrians, we make them safe for everyone.
Walking has been undervalued, underprioritized, underinvested, and undercounted.
Walking is sustainable and equitable. It is a tool to achieve the whole SDG agenda, not just the road safety targets.
Why intersections?
Intersections are particularly dangerous for pedestrians with lots of conflict points.
Most pedestrian crashes occur when pedestrians are crossing the road.
Intersection designs often do not consider pedestrian's safety, convenience, and behavioral patterns.
What we have done so far?
Mobility Snapshots have been done in 12 cities in 11 high- and lower-middle income countries so far. See some examples below. In every case, key infrastructure to protect pedestrians was missing.
Intersections were chosen that:
A place that is widely known and recognizable to people near a popular train/bus station or a public transport hub or a shopping/market area AND
A place that has plenty of pedestrian traffic mixing with motorized vehicles AND
A place that LACKS at least one of the following:

formal pedestrian crossing
segregated footpath
speed hump on approach to the intersection and/or
traffic lights for motorized vehicles and/or
Speed limit of 30 km/h or less.
Examples
Montevideo, Uruguay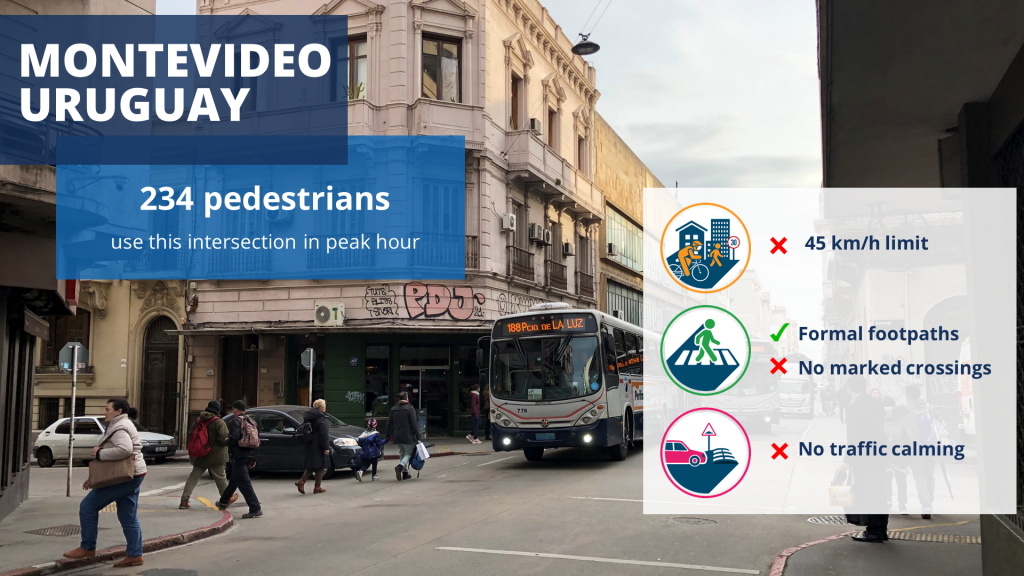 Abuja, Nigeria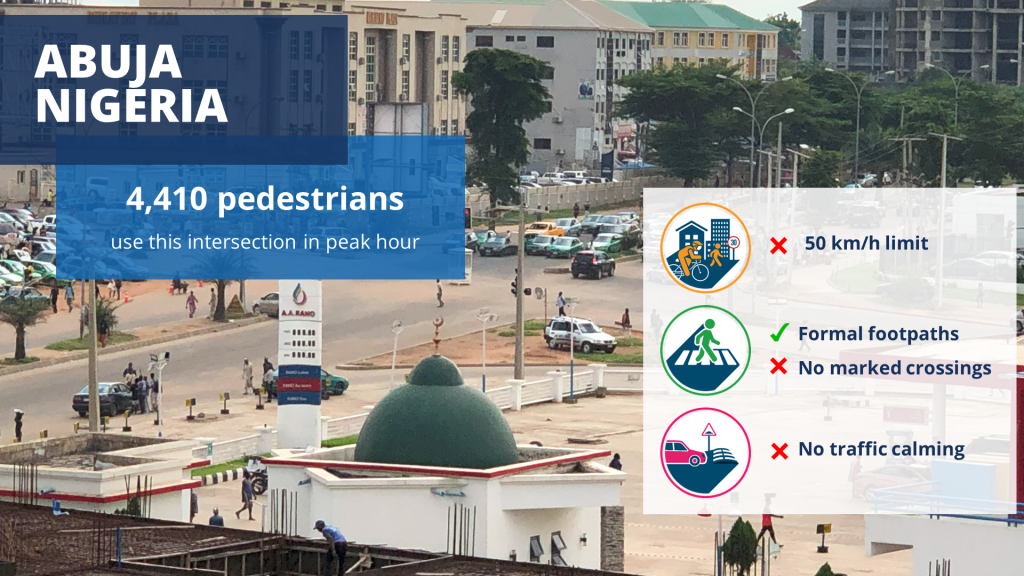 Mohali, India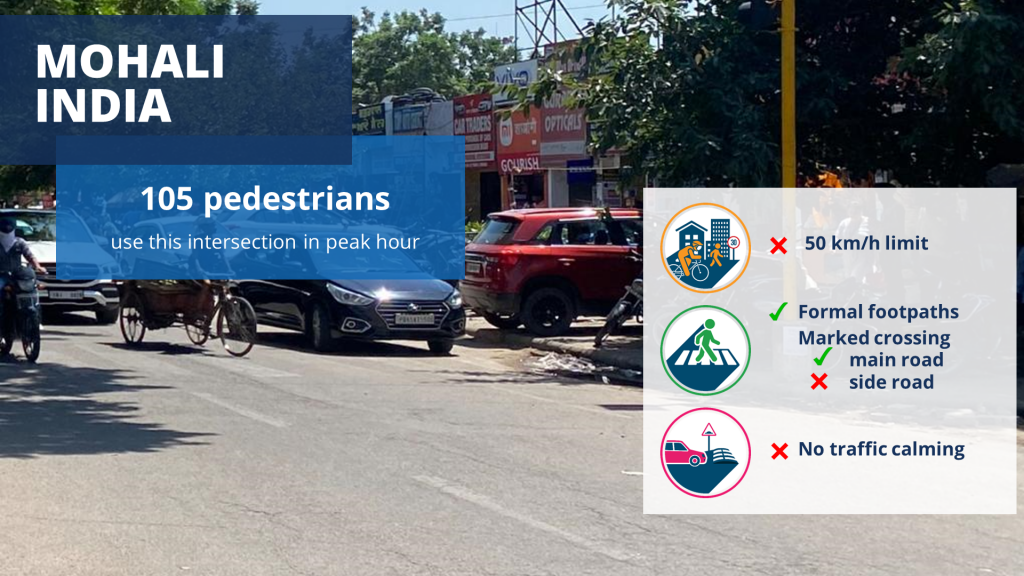 We want to build a movement of Mobility Snapshots shared from around the world to build a global picture and push for greater accountability.
How can I get involved?
We are finalizing the tools and preparing training for the Mobility Snapshots. Stay tuned. If you don't already receive communication from us, sign up HERE for our newsletter where we will share more details.