#RethinkMobility for women on public transport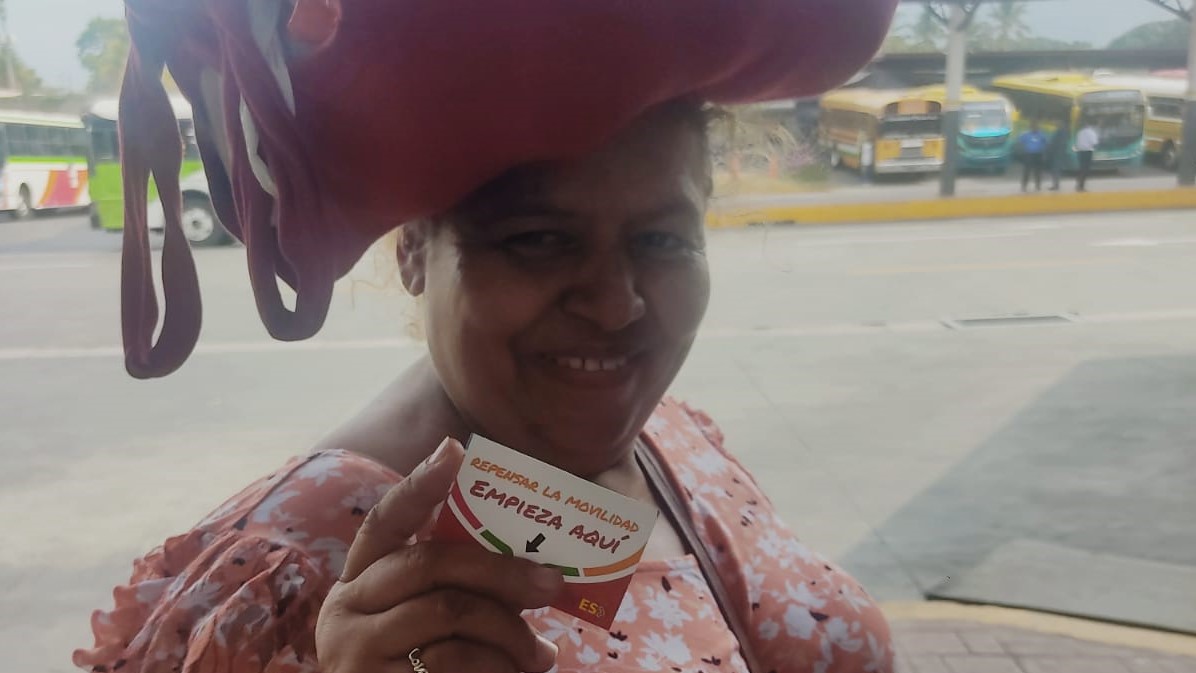 In El Salvador, Alliance member MOVES is working through partnerships and collaborations to make public transport safer for women. It has used the UN Global Road Safety Week to strengthen these collaborations.
In 2019, the El Salvadorian government approved a landmark law on violence against women. It included appointment of a specialist judge for cases relating to women's violence and a hotline for women to report harassment.
Gender-based violence takes many forms. Studies from different countries show that women commonly face harassment on public transport (in some studies in different countries up to 97% of respondents reported experiencing harassment on public transport or in public spaces). However, women are more likely to be reliant on public transport and less likely to have access to a private vehicle than men. They are left with a choice: take the risk of harassment or don't travel.
Since 2018, MOVES has been working with Terminal Nuevo Amanecer, one of several transport companies operating bus routes regulated by the government. The NGO has advised and helped the company to look at the service it provides through the eyes of the women that travel on its buses. Training has been provided to the drivers to spot threatening behavior, turn away the men most likely to intimidate women, such as those who are drunk, and respond to issues reported by women passengers on their buses. Drivers have also been issued with uniforms, which help women to feel more secure. MOVES is advocating for more interventions, including panic buttons on all Terminal Nuevo Amanecer's buses.
MOVES used the #RethinkMobility message of the UN Global Road Safety Week as a moment to strengthen its collaboration with Terminal Nuevo Amanecer and to promote public transport among women. The bus company and NGO together arranged two free transport days for women travelling on the company's longer bus routes. They issued women with free tickets with the #RethinkMobility branding and the message "#RethinkMobility starts here" to spread awareness of what these free transport days were for.
For the company, addressing women's safety on their buses helps them to mark themselves out as a responsible and caring service provider and employer. For the NGO, it is a way to spread the #RethinkMobility message and continue to build collaboration.
"Some people talk about the three Es in road safety – education, enforcement, engineering – I want to add two more Es – empower and engage," says Vanessa. "Making mobility safer for women makes it safer for everyone."
---