PRESS RELEASE: Equipping NGOs in Africa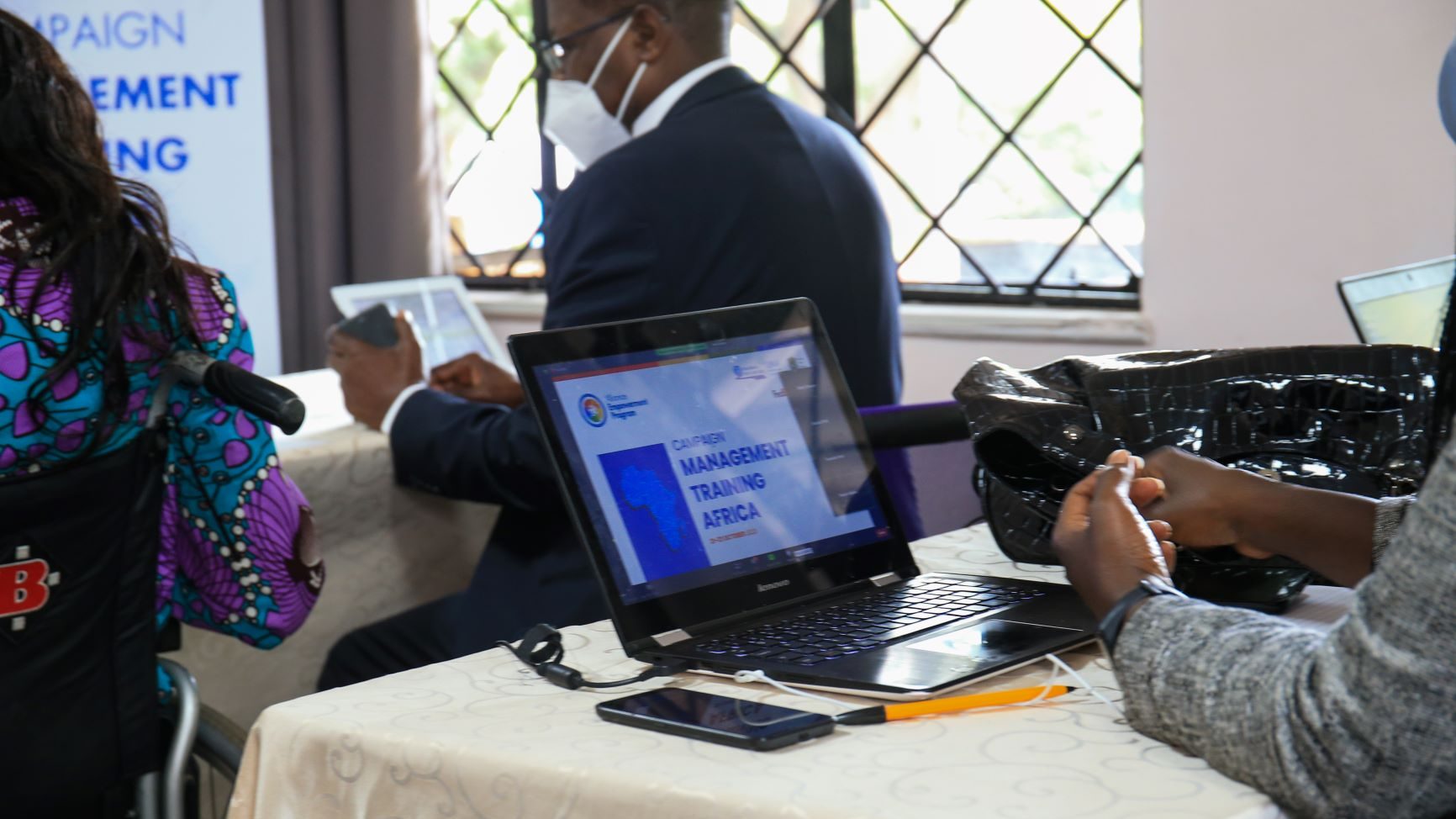 New Training Program Equips NGOs to Campaign for Safe Post-Pandemic Recovery in Africa
26 October 2020, Nairobi, Kenya
Last week in Nairobi, Kenya, 24 NGOs from 15 countries in Africa took part in a training program co-organized by the Global Alliance of NGOs for Road Safety (the Alliance) and the UN Environment Share the Road Programme (UNEP). Because of COVID-19 restrictions across Africa, the training combined socially distanced face-to-face training for five Nairobi-based NGOs with an interactive virtual link for 19 NGOs in 14 other African countries.
The training equipped NGOs to push for safer journeys using targeted campaigns with a focus on the needs of pedestrians and cyclists, who face the most danger on the roads.
In many African cities, over a third of citizens move between their daily activities on foot or by bicycle. Only 2% of citizens have access to a private car. In fact, no matter where you live or how you travel, everyone begins and ends each trip as a pedestrian. Yet, in many cities and rural areas, road policy and infrastructure centers around the needs of drivers. Globally, 88% of pedestrians are walking along roads that do not meet the minimum internationally recommended standards, and 86% of cyclists are using substandard roads.
Since the start of the COVID-19 pandemic, interest in walking and cycling has increased significantly. Improving the safety of pedestrians and cyclists will not only reduce road fatalities and injuries but also help promote these active modes of transport, leading to cleaner air and healthier lifestyles. This, in turn, reduces the burden on health services and increases the well-being of citizens.
The training was organized under the Alliance's Africa Chapter, which unites and mobilizes road safety NGOs in Africa to push for increased government momentum to reduce the shocking 272,000 deaths that occur as a result of road crashes every year across the continent. It aims to improve the safety of pedestrians and cyclists, who make up 44% of road deaths on the continent. It is funded by support from the Total Foundation and FedEx and technical assistance from the Share the Road Programme, which is funded by UNEP and the FIA Foundation.
At the opening of the training, Martin Eshiwani, Director of Roads and Transport, Nairobi Metropolitan Services (NMS), Kenya said: "In Nairobi, NMS is prioritizing non-motorized transport. We have implemented five kilometers of footpaths and cycleways so far this year, increasing to 30 kilometers by the end of the 2020–2021 financial year, and reallocating parking spaces. Protecting pedestrians and cyclists is an important part of our citywide strategy. Collaboration between NGOs and governments in Africa can significantly improve road safety and help us to achieve fatality reductions." 
In his closing remarks, Duncan Kibogong, Deputy Director, Safety Programs and Education, National Transport and Safety Authority, Kenya, said: "Governments and NGOs across Africa need to work closely together to ensure that road safety policy and programs are in harmony with the countries' contextual challenges. NGOs being in direct contact with grassroots communities have a key role in supporting the government in policy-making process and implementation, to ensure that vulnerable road users are safe and protected by law."
Lotte Brondum, Executive Director, the Alliance, said: "A new UN Resolution on Improving Global Road Safety was adopted at the end of August. It sets road safety, which has sometimes been trapped in its own narrow field, into the wider SDG agenda, notably environment, health, and equality that are closely linked to walking and cycling. It encourages Member States to promote these active modes of transport. This training is helping NGOs to push this important agenda with their governments and communities."
Carly Gilbert-Patrick, Share the Road Global Programme Lead, UNEP, said: "It is critical that environmental and road safety campaigners, alongside pedestrian and cycling advocates, along with city planners and national governments, work more closely together to achieve common goals. The training this week has helped to build bridges between different agendas and equipped grassroots NGOs to influence their local and national agendas in ways that will help cities and rural communities across Africa to be safer, cleaner, and healthier."
---
The Global Alliance of NGOs for Road Safety is a global member-based organization with 249 member NGOs in 92 countries, including 70 members in 28 countries in Africa. The Alliance's Africa Chapter, launched in 2018, unites, equips, and mobilizes these member NGOs in Africa to be a strong, unified voice for evidence-based action to save lives on Africa's roads. Read more: www.roadsafetyngos.org.
The UNEP Share the Road Programme supports governments and other stakeholders in developing countries to move away from prioritizing the car-driving minority, towards investing in infrastructure for the majority: those who walk and cycle.
Find out more here: https://www.unenvironment.org/explore-topics/transport/what-we-do/share-road
Image credit: Nancy Wambui/Open Institute
---