NGO in India launches training series for crash first responders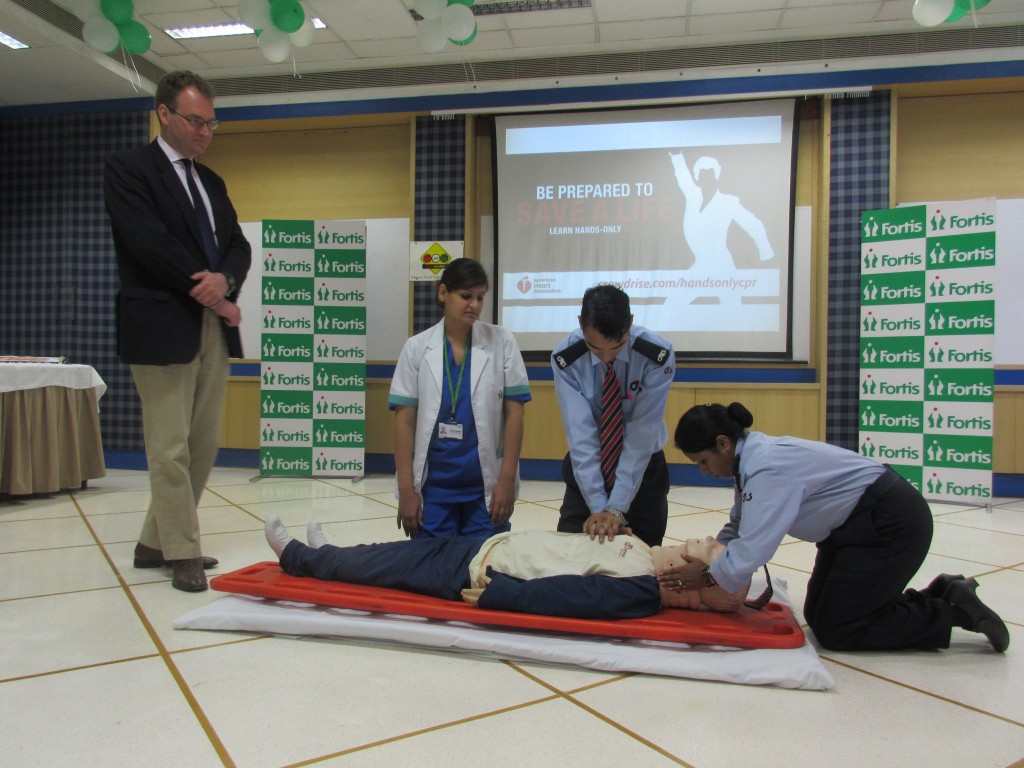 In September 2015, Alliance-member NGO Avoid Accident, based in Punjab, India, launched a basic life support and trauma care training series, called Rescue Road Accident Victims in Golden Hour. The training program aims to provide life-saving skills to first responders in the event of a traffic crash. The program is in partnership with Fortis Hospital in Mohali, Punjab, which provides medical expertise and certified instructors to deliver the first response training seminars to people who spend much of the time on the roads and are likely to be first responders at a crash site. As part of the training series, Avoid Accident and Fortis Hospital have developed comprehensive training modules that provide citizens with the skills and information they need to stabilize severely injured crash victims in the critical time before the victims reach a hospital.
The interactive training series employs videos and mannequin bodies so that trainees can receive firsthand practice related to topics such as control of bleeding, assisted breathing, stabilization of the neck, pressure bandaging, safe transport to an appropriate trauma facility, and other basic practices for immediate management of a trauma victim. The training series continue to be conducted on a bi-monthly basis.
"Millions of lives are lost every year in road traffic crashes the world over. However, timely and appropriate interventions by first responders can go a long way in preventing these casualties. Whatever is done or left undone during the first few minutes after a crash can determine to a large extent whether the victim will survive or not," stated Avoid Accident. "We are enabling the people who spend a significant time of the roads, due to their job profile in particular, as well as every day citizens, by imparting critical training on first response."
The term "Golden Hour" is a concept that refers to the critical period between a crash and the time when a crash victim receives medical treatment. While there is not current evidence that says the survival rate of the victims drops exactly after sixty minutes without medical treatment, it is well established that the sooner the the victims received medical attention, the higher the chance of survival.
To inform the training program, Avoid Accident conducted preliminary research to understand the severity of the situation at crash sites in India and obstacles bystanders face when deciding to immediately assist crash victims. The report  cited crash data from 2012, in which more than 4.9 million traffic crashes were reported in all of India's states/territories. Of these crashes, 25 percent involved a fatality. The report also presented survey results which suggest that "people don't want to get involved in road crash cases, because they feel instead of getting appreciation, they will get harassed by the system and they would have to devote a lot of time by making rounds to the police station/court." Alongside providing basic medical training, the series seeks to address bystander concerns and inform first responders of their rights.
A unique aspect of Avoid Accident's training program is their focus on recruiting trainees who are most likely to witness a traffic crash due to their regular proximity to high-risk roads.  "We invite people to participate in the training who spend most of their time on or near the roads, due to their jobs or other reasons. Such people have the potential to serve as a ready task force always available on the roads and are often in a position to respond more quickly at the crash site than an ambulance," stated Avoid Accident.
In January, corresponding with India Road Safety Week, Avoid Accident will combine the Rescue Road Accident Victims in Golden Hour program with their ongoing work related to school bus safety by providing training to nearly 1,200 school bus drivers in the region.
Read more about Avoid Accident and the Rescue Road Accident Victims in Golden Hour project on their website at www.avoidaccident.org
---