#Love30: National Consultation on Speed Limits in New Zealand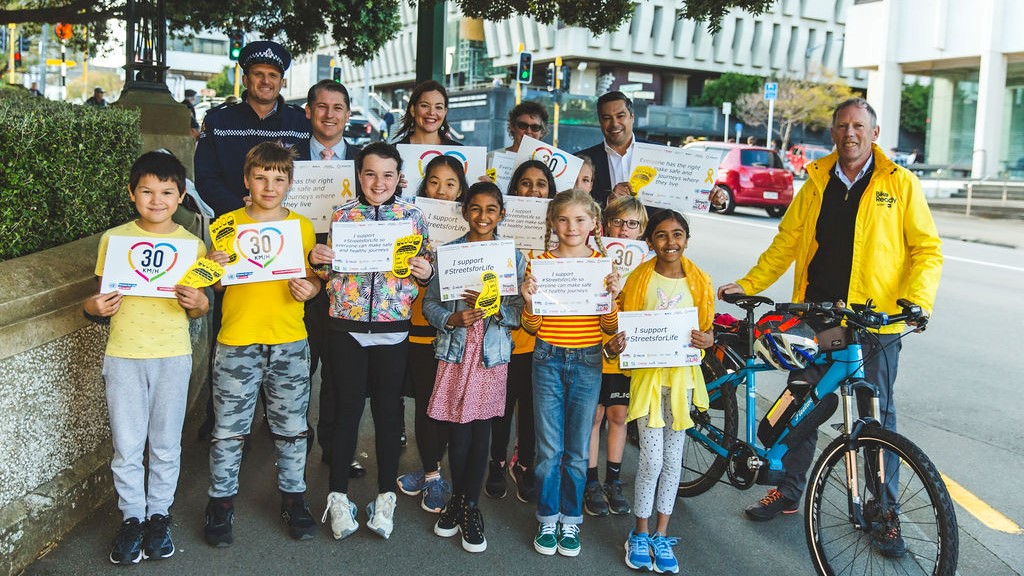 In New Zealand, UN Global Road Safety Week coincides with the national road safety week, held every year. National monuments, including the Auckland Harbour Bridge are illuminated in yellow and activities take place around the country.
Brake New Zealand took the opportunity to promote the #Love30 #StreetsforLife message, mobilizing 950 community groups to participate in the campaign, with an estimated 240,000 people participating in community events around the country, and securing high-level involvement, including the Minister for Transport, the Hon. Michael Wood.
Brake conducted activities at several levels, targeting different audiences. For community groups and organizations, it ran a webinar to give ideas for taking part in the week, and another for companies on managing speed as part of their fleet management programs.
It ran a community event in Auckland to launch the week with local and national policymakers, the emergency services and NGOs, and a photo call outside the national Parliament in Wellington featuring Hon. Michael Wood, Minister for Transport, and Hon Julie Ann Genter, the Green Party Spokesperson for Transport. This event enabled school children, representing the 10 children hurt on New Zealand's roads each week, to tell the Minister for Transport what measures were needed around their schools to make them safer. In his statement, the Minister said, "We want to see streets that are safe and accessible, where people can walk and cycle safely. We want to see streets that are lively and in which communities can live out their lives economically and socially, in which we have a mix of uses, in which they are not exclusively for the use of cars. A really important part of that is making sure that we do have safe speed limits."
30 km/h limits are on the agenda with a national consultation launched the week prior to UNGRSW on proposed changes to how speed limits are set. The proposed changes aim to make it easier for local councils to plan, consult on and implement changes to speed limits and speed management road treatments, which would include making it easier to implement more 30 km/h limits. They also include proposals to set speed limits around urban schools to 30km/h (with 40km/h allowed in exceptional cases) and a maximum of 60km/h around rural schools. Currently urban school speed limits range from 30km/h – 60km/h and rural schools up to 100km/h.
In New Zealand, government consultations, such as this one, are open to members of the public and organizations to add their comments and experience. They can be an important advocacy tool for NGOs to get key messages heard. Brake New Zealand is submitting its response to the consultation and is also encouraging other organizations to do the same, adding strength to the voice for safe speed limits.
Submissions close on 25 June 2021 and if approved, the rule change would come into force from the end of 2021.
---