Flash Mobs Making a Stir in Tajikistan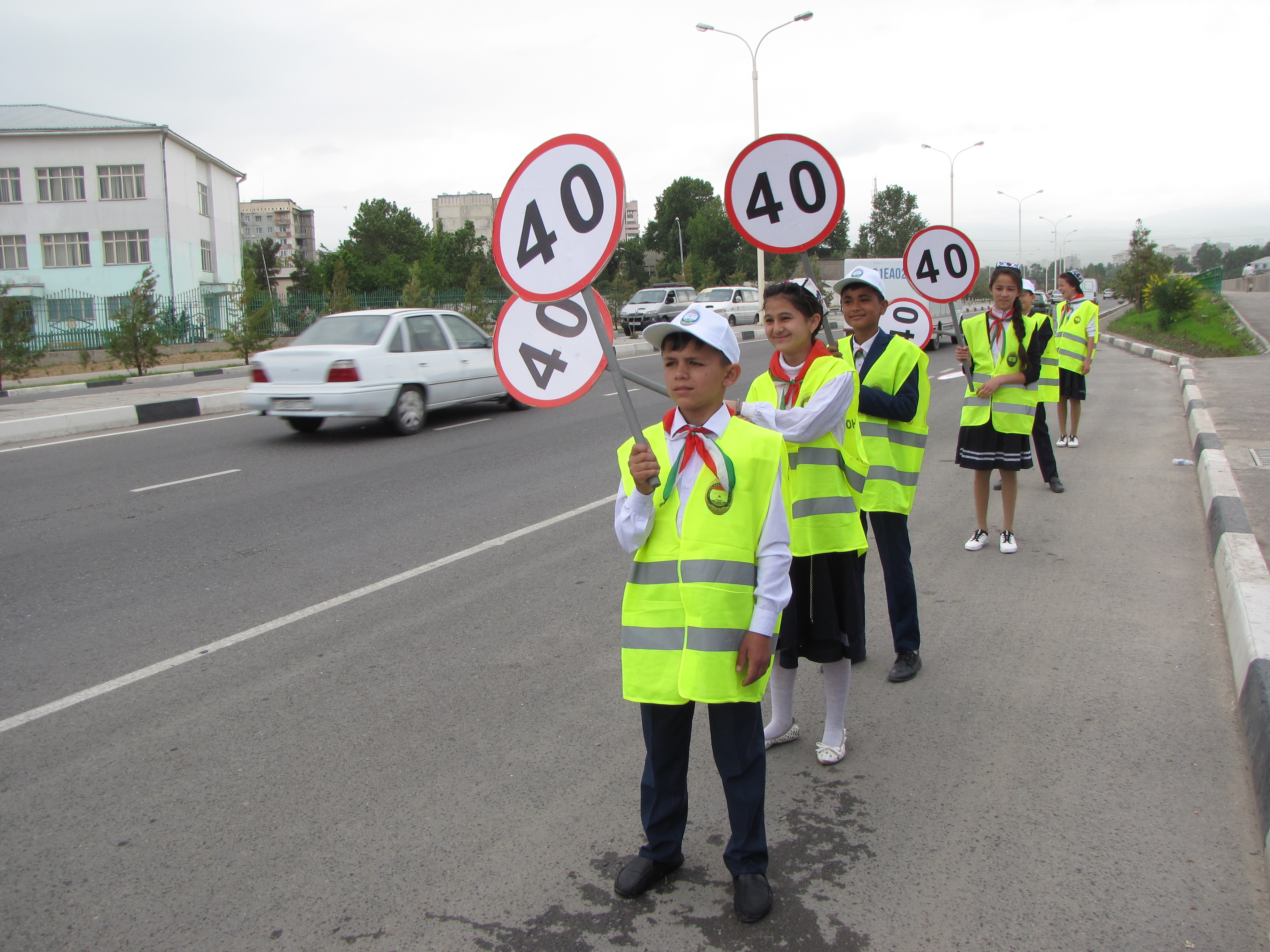 Since the beginning of 2017, three students at school #72 in Dushande, Tajikistan, have already been injured in road crashes near the school. Speeding is a big problem in this busy area near two main roads.
As part of their UN Global Road Safety Week activities, Youth Led NGO "Young Generation of Tajikistan" organized a flash mob outside the school to draw attention and remind drivers that the speed limit around schools is 40 kilometers per hour. The flash mob consisted of Young Road Inspectors from the school and NGO staff members. Young Road Inspectors are students at local schools and have been trained as ambassadors for road safety. During the two-day training program, they learn how to promote safe road behaviors among their peers and create a road safety work plan for their schools.
The flash mob congregated for an hour outside the school holding 40 kilometers per hour road signs and giving out leaflets about speeding to drivers. In addition, some of the Young Road Inspectors did an assessment of the traffic, counting the number of vehicles and pedestians passing.
The group received a great reaction. Drivers stopped to take photos, ask who they were, and praised their efforts. Other children wanted to take part and both parents and the school administration said that they would like to see this kind of action on a regular basis.
After the event, Youth Led NGO published a press release that described the results of the assessment done by the Young Road Inspectors. The assessment found that 1237 passenger cars and 15 trucks passed by in an hour. There were 123 pedestrians, including 59 crossing the road in the wrong place. They observed that the traffic lights are too far from the school and that drivers often drive through red lights. They also recommended that "Pedestrian Crossing" signs should be circled with reflective tape and that "Schoolchildren" and "40 kilometers per hour" signs should be installed.
This was the first flash mob for this group of Young Road Inspectors but Youth Led NGO have good experience in organizing these types of activities as a road safety awareness tool and have implemented a total of 83 flash mobs to date.
Since UNGRSW, Youth Led NGO have also seen longer term fruit from their activities. An ATM provider locally has offered to display road safety advertisements via their ATMs. "We are planning media campaign on seat belt use and eco driving in August, so this new contacts will be very useful." says Kumush Murtazalova, Project Assistant.
Read more about Youth Led NGO HERE.
---