Alliance Welcomes Five New Members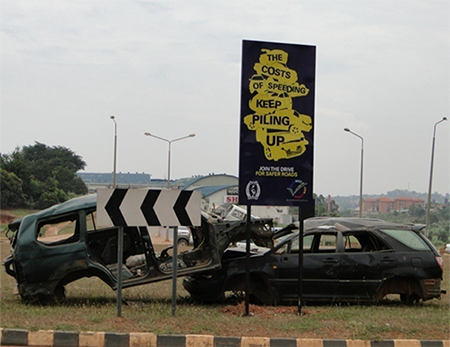 The Alliance is excited to welcome five new member organizations that joined recently:
Association Tariq Essalama Bejaia, Algeria organizes awareness campaigns to sensitive road users about the risk factors that cause traffic crashes (speed, mobile phone usage, alcohol, drowsiness, helmet use) and have been running road safety education in schools every week for five years. Another project works to enable road users to acquire behaviors which make it possible to protect themselves from the dangers of traffic and to take account of other users of the road space. The effective implementation of road safety education presupposes the convergence of school and family practices that promote, from nursery age, the building of a citizens' conscience.
MUSKAAN Foundation for Road Safety, India, was formed in memory of its founders' 17-year daughter, Durva Bhasin. Its vision for road safety is to bring about a mindset change in all stratums of society. It runs road safety orientation for the police academy, commercial vehicle drivers, and others; basic life support training for first responders; and road safety training at educational institutions and in local communities. It runs regular campaigns in collaboration with the traffic police and roadshows designed specifically for rural crowds, which include songs, street plays, and acrobats. Muskaan creates dialogue with local communities and impacts public policy. It also organizes conferences and seminars regularly to enhance the capacity of officials, engineers and police personnel in the state. 
Movimiento de Activación Ciudadana (MovAC), Mexico, was established in July 2011 with the purpose of promoting drivers' responsibility in roads and highways in Mexico, to decrease road traffic incidents that cause injuries and fatalities. We work on three main areas: Road Education, Infrastructure and Road Laws and Regulations. MovAC has launched public campaigns to encourage citizen participation to prevent car crashes, developed and delivered workshops in schools, collaborates with municipalities and NGOs to develop proper road infrastructure, encourage the revision of the current traffic rules to make it simple and easy to understand, advocate with government and are organising the first national Day of Road Safety on 9 September 2017.
Road Accident Prevention Network Center (RAPNEC), Nigeria is based in Abuja and has a network across the country. The organization is carrying out a baseline survey covering traffic safety, devices, measures, and legislation to enable policy direction for road safety education implementation. This project is run in collaboration with the Nigeria Building and Road Research Institute with the Federal Ministry of Science and Technology and the UN Decade of Action on Road Safety and Injury Prevention.
Safe Way Right Way, Uganda, comprises several corporate companies working together to leverage resources and best practice to implement road safety interventions. Safe Way Right Way is a result of a collaboration, "African Road Safety Corridors Initiative", between the World Bank's "Global Road Safety Partnerships" and the Total Group to improve road safety on Africa's economically critical corridors. Interventions include: Highway road safety inspections, school zone campaigns, speed management campaigns and community sensitisation. Additionally, they are implementing the Professional Driver Training Uganda Project ( PDTU) and are at the inception phase of a "Road Safety Legislative Action Plan" based on legislative gaps for Uganda. This will be the first of its kind globally.
Please stop by their profiles on our website for more information about the important work these NGOs do to promote safer roads and reduce traffic-related injuries and fatalities around the world.
---