2021 Highlights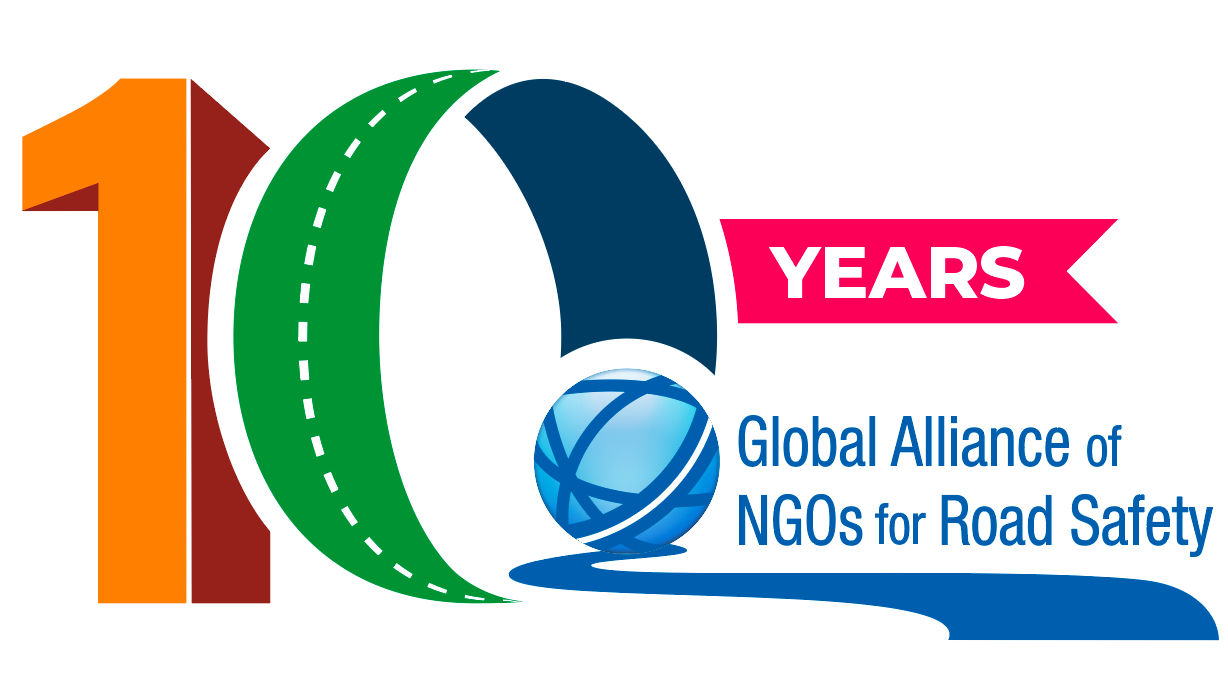 2021 has been another remarkable year for the Alliance and its members. See some of the highlights the Alliance and its members during 2021 in infographics, member pictures, and videos below.
Overview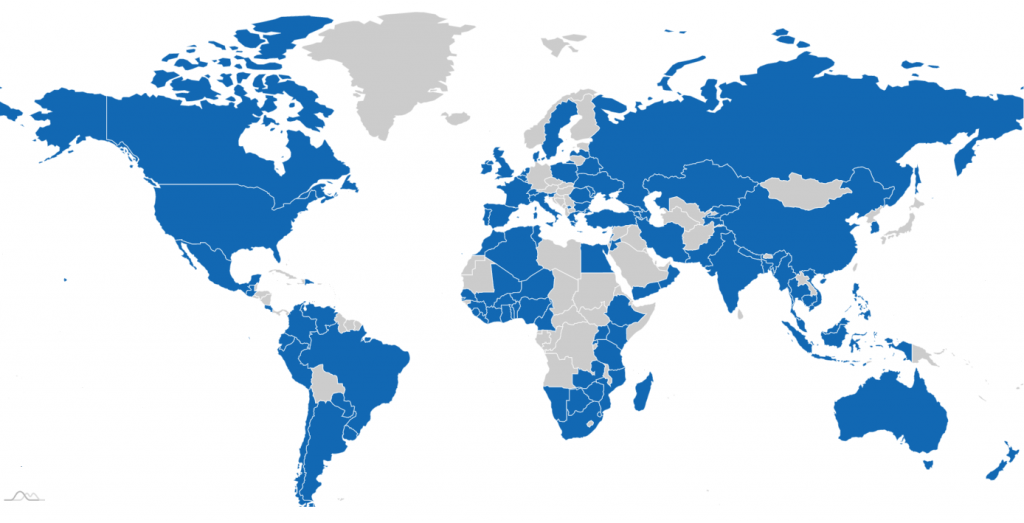 The Alliance now has 290 members in 98 countries. This includes 34 new members this year. See our members.
Alliance membership has been bolstered by the addition of a new membership category, associate membership, enabling us to broaden our network and strengthen the Alliance. Alongside this, a Friends of the Alliance scheme has been created, enabling us to recognize the valuable contribution of our corporate, academic, and global supporters. Read about our membership categories.
Key events
#StreetsforLife #Love30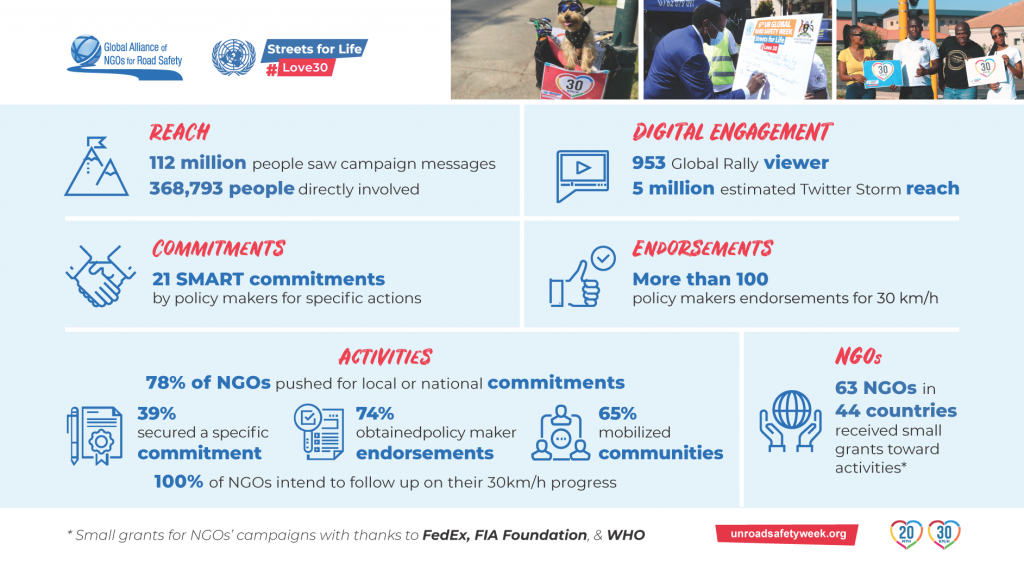 In May 2021, the UN Global Road Safety Week (UNGRSW) provided a coordinated opportunity to advocate for a specific, evidence-based intervention: 30 km/h limits where people walk, live, and play. NGOs obtained endorsements for 30 km/h limits from more than 100 decision makers and 21 commitments. The impact from UNGRSW continues; in several countries, including Argentina and Kenya, the wheels have been put in motion for default national 30 km/h limits in specified contexts. See the Alliance's video for UNGRSW below.
Launch of the Global Plan for the Decade of Action for Road Safety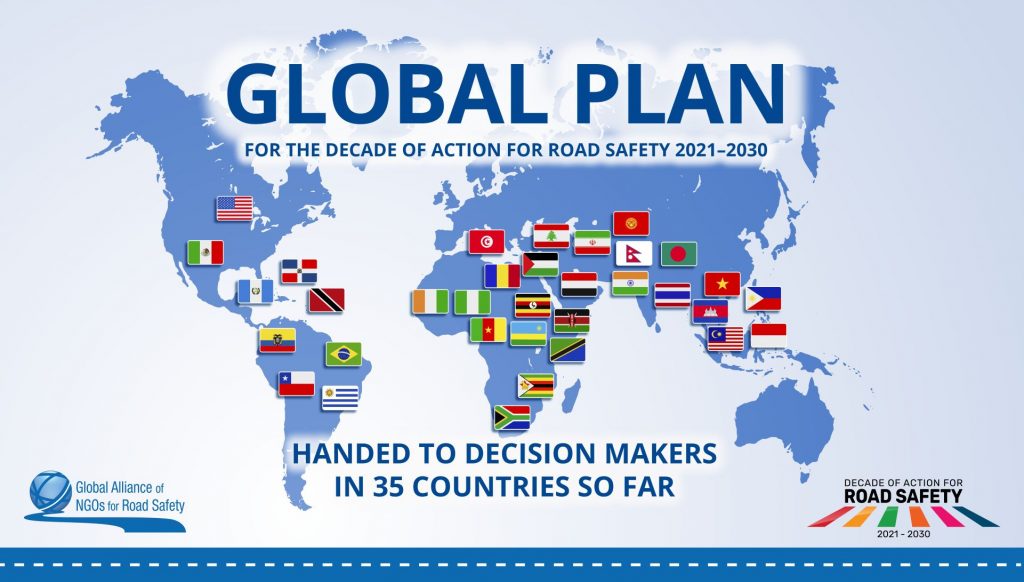 In October 2021, the Global Plan for the Decade of Action for Road Safety 2021-2030 was launched. The Global Plan is the blueprint for governments to achieve the 2030 target and is therefore a key advocacy tool for NGOs. NGOs contributed to the draft of the plan through a member consultation and after the launch, NGOs in 35 countries organized events and meetings where they personally handed the Global Plan to their decision makers. See footage from the handovers and our call to action for the Global Plan below.
Other highlights
Networking and sharing
Celebration of our 10 year anniversary. See videos and pictures HERE.
Five winners of the FedEx Award: the Irish Road Victims Association and a coalition of Latin American NGOs including Associacion MiNU, ACTIVVAS, Fundacion CAVAT, and Jovenes Salvaguarda
Advocacy and research
Publication of the Meaningful Participation Guide based on the member survey in January. Read it HERE.
Research on the COVID-19 transport response in seven African countries conducted and published in collaboration with IRF and supported by High Volume Transport Network and UK Aid. Read it HERE.
Capacity building
41 NGOs participating in the Incubator through 10 individual projects and seven coalitions.
13 capacity building sessions attended by 367 participants to equip NGOs for more effective advocacy.
Three joint action plans between NGOs, government officials, academics, and private sector representatives in three countries in Africa.
In pictures
---