We have a Plan: What Now? Panel Discussion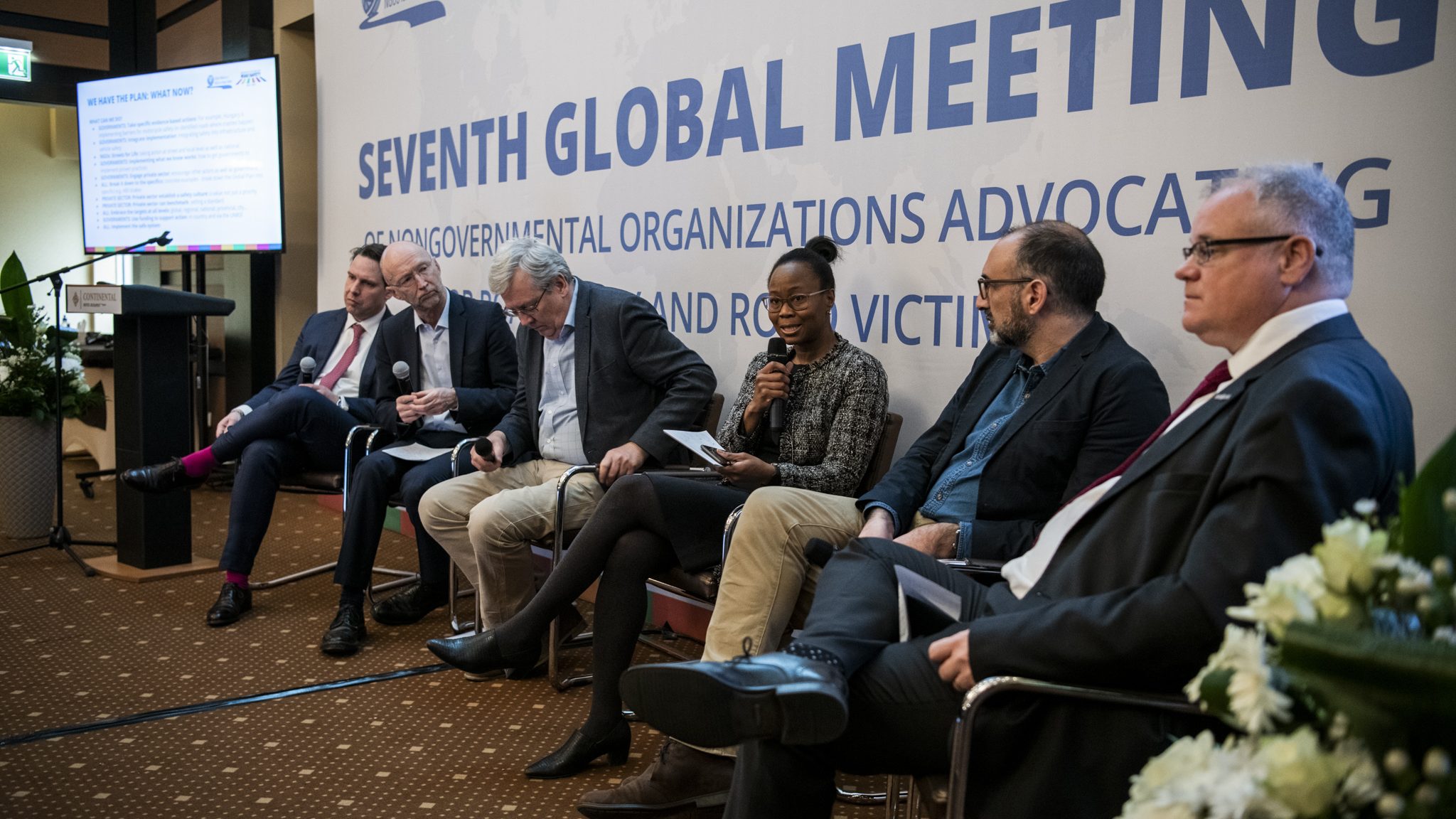 One of the main sessions at the Global Meeting was a panel discussion on We have a Plan? What Now?
The panel brought together a mix of decision makers, NGOs and foundations, and corporate sector to discuss the next steps needed to make sure that the Global Plan is being put in place so that the targets for the Decade of Action for Road Safety 2021-2030 can be achieved. The focus was on specific, actionable things that NGOs could do and could advocate for with their governments and other stakeholders.
The panel featured Adrian Savanyu, General Director, Hungarian Motorsport and Green Development Agency, which includes the Hungarian Road Safety Agency; Nneka Henry, Head, United Nations Road Safety Fund; Matthew Baldwin, European Coordinator for Road Safety and Sustainable Mobility; Saul Billingsley, Executive Director, FIA Foundation; David Ward, Executive President, Toward Zero Foundation; and Gabriel Kardos, Global Director, Office and Road Safety, Johnson & Johnson.
Key points
What can we do?
NGOS can advocate with:
GOVERNMENTS: Take specific evidence-based actions: For example, Hungary is implementing barriers for motorcycle safety on identified roads where crashes happen
GOVERNMENTS: Integrate implementation: integrating safety into infrastructure and vehicle safety
GOVERNMENTS: Implementing what we know works: how to get governments to implement proven practices
GOVERNMENTS: Engage private sector: encourage other actors as well as government
GOVERNMENTS: Use funding to support action: in country and via the UNRSF
PRIVATE SECTOR: Private sector establish a safety culture: a value not just a priority
PRIVATE SECTOR: Private sector can benchmark: setting a standard
NGOs can also:
NGOs: Embrace Streets for Life: taking action at street and local level, not just national
All stakeholders can:
ALL: Embrace the targets at all levels: global, regional, national, provincial, city…
ALL: Break it down to the specifics: concrete examples – break down the Global Plan into specifics e.g. ABS brakes
ALL: Implement the safe system
The role of funding in achieving the Decade of Action
A SHARED RESPONSIBILITY: Funding is a shared responsibility: Governments first but also private sector. The need cannot be accomplished by the UNRSF alone. ALLOCATE BUDGETS EFFECTIVELY: Every government has a budget, allocated to health, infrastructure etc. tweak the policy process to spend the money in the right way: to save lives. 
CIVIL SOCIETY CAN STEER SPENDING: it's not necessarily about more money, it's about influencing the agenda to spend it in the right way
SHOW YOUR CAUSE IS IMPORTANT: every department is looking to get budget share
PRIVATE SECTOR INVOLVEMENT: partner with money but also expertise. Be holistic
DIRECT CORPORATE SOCIAL RESPONSIBILITY: towards road safety – demonstrating the benefits to communities
ROAD SAFETY IS AN INVESTMENT WITH GOOD RATES OF RETURN: don't show it as a cost or "charity" – correcting the failure of our road systems brings huge benefits
USE IMF INFLUENCE: they have influence
MOBILIZE IN-COUNTRY FUNDING COMBINED WITH EXTERNAL FUNDS TO STIMULATE ACTION
BREAK IT DOWN: Use money smartly for low-cost but highly effective solutions
COORDINATE BETWEEN FUNDERS: work together 
Advice for advocates
Advice for NGOs
NEED WAYS FOR NGOs TO ACCESS FUNDS: (e.g. UNRSF) without unrealistic administrative burden
START WITH SPEED MANAGEMENT: it's the most effective way to cut road deaths and link to other issues
BE A CREDIBLE PARTNER AND WORK WITH COALITIONS: to be attractive to funders
ALIGN TO DONORS' FUNDING PRIORITIES: to find
PRESSURE THE VEHICLE INDUSTRY: especially in Asia and especially motorcycles
PRESSURE GOVERNMENTS TO IMPROVE STANDARDS: in this case, specifically for vehicle safety
CONSIDER SMALL BUSINESSES AS WELL AS THE BIGGEST CORPORATES
IMPROVING SAFETY FOR SMALL BUSINESS AND DELIVERY VEHICLES: this will make a big difference
BENCHMARKING: show how countries are performing on important metrics – use data
BE LOCAL: at a systematic level
DON'T TAKE NO FOR AN ANSWER
Advice for youth advocates
SHOW DECISION MAKERS HOW TO MAKE GOOD FINANCIAL INVESTMENTS FOR ROAD SAFETY: evidence base
USE ROAD SAFETY PLANS: to bring together different departments to coordinate investment and value
---