Uganda on the Road to Sweden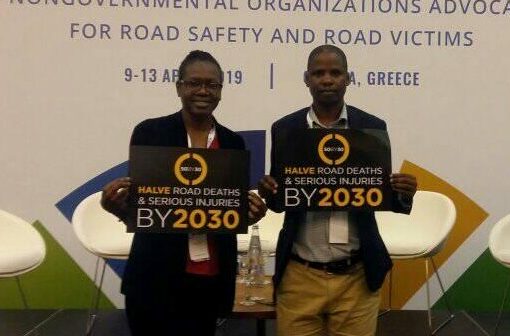 The Third Global Ministerial Conference on Road Safety will be held 19–20 February 2020, in Stockholm, Sweden. The conference is targeted at national government ministers and aims to achieve global consensus among national government ministers for a continued global effort toward 2030. It is vital that NGOs start engaging relevant ministers and their departments, to explain the imperative for a continued target and encourage them to attend the Ministerial Conference.
At the Global Meeting in April, Anders Lie of the Government of Sweden, challenged the gathered NGOs to encourage their ministers to attend the conference.
Sam Bambanza of Hope for Victims of Traffic Accidents (HOVITA), Uganda, took up this challenge. By taking opportunities and building strategic relationships with decision makers, he has been able to give an invitation to the Minister of Transport and Works, who has agreed to attend the Conference in Sweden. This is an encouraging achievement, helping to raise road safety on the national agenda and to demonstrate that Ugandan decision makers are playing their part in road safety leadership at a global level. 
Sam explained how he used power mapping to approach the right people and took advantage of networking opportunities. He says, "My journey to convince the Ministry of Transport and Works started when I was invited by the Safer Africa project to make a presentation in Brussels, Belguim about road safety education and training in Uganda. While I was there, I approached Mr. Katushabe Winstone, the Commissioner of Transport Regulations and Safety in the Ministry of Transport and Works. He assigned technical staff to work with me. I told him that after the meeting in Brussels, I would be going to Greece for the Global Meeting.
Immediately after returning from Greece, I sent some of materials and reports from the Global Meeting workshops and best practices and information from other NGOs. These included EASST's Road Safety and Tourism report, and the NGO declarations. The Commissioner was very pleased and assured me of his total support to replicate some of the things I learned from my Global Alliance friends.
I also presented to the 50by30 badge and folder and I explained that Sweden will be hosting the Third Global Ministerial Conference and will be setting new global targets of halving road crashes by 50% by 2030. We encouraged him to invite the Minister to attend.
"The Commissioner told me to write a letter to the Minister, copying in the Minister of State for Transport and Works, the Director of Transport and himself. This I did, and attached the the NGO Declarations on Decade of Action for Road Safety. Two days later, I received a call from a senior road safety officer, Ms. Karara Judith, whom the minister assigned to register and secure invitations."
Sam and HOVITA are continuing to build on these relationships, supporting the Ugandan government's commitment to road safety. He will soon be launching the Global Fleet Champions Awards in Uganda, working with BRAKE, with whom Sam also engaged at the Global Meeting. Read more about HOVITA HERE.
---