UNGRSW is First Event of its Kind in Kapan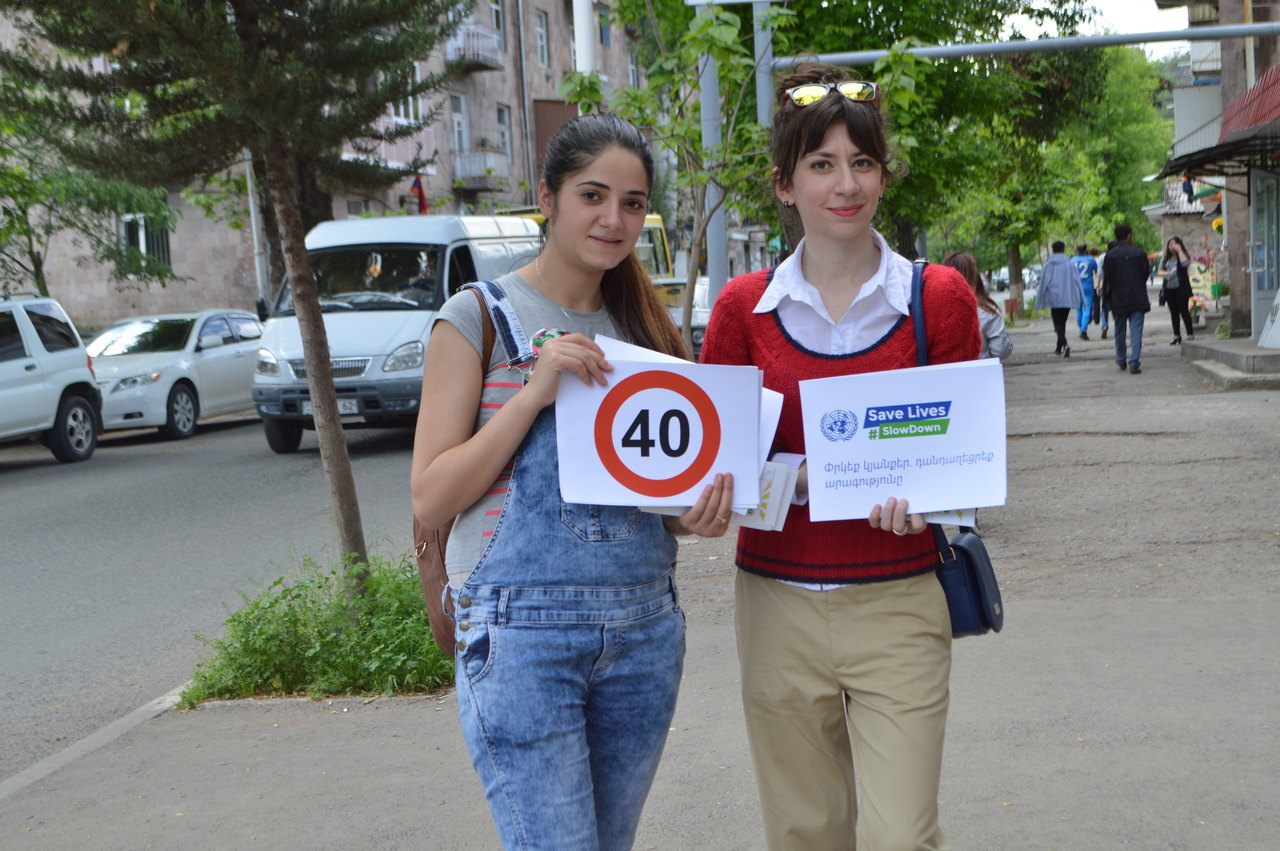 Kapan is a city in Southern Armenia. UN Global Road Safety Week was an opportunity for Alliance member National Road Safety Council (NRSC) to run the first event of this kind in the city. While often campaigns focus on the major cities in a country, speed is just as much of an issue in the provinces. Kapan was chosen because it has seen a high number of road injuries among young people and children.
NRSC's campaign engaged the Kapan Traffic Police, and officials within the municipality.  They gathered volunteers to hold 40 kilometers per hour posters near busy roads, distribute leaflets and talk to passers by. The event was well received by residents and officials and was featured on the local news channel. "The campaign is very necessary for our city and recently we have had lots of accidents with kids. This is an unprecedented activity in Kapan and we would like similar campaigns to happen here as well," commented Anna Gabrielyan, the Secretary of Kapan municipality. Comments from participants included "We are very pleased with this campaign, as our drivers need to pay attention to the speed in order to escape road accidents," (Ani Sargsyan) and "I am very impressed with this campaign, I am sure it will have positive impact on drivers' and pedestrians' behaviour," (Monika Tumanyan).
Running an event in a new city opened further opportunities for NRSC. Residents of Sevan city a nearby city in the Gegharkunik region were inspired and hope to run an event in their own city. The highway to Sevan is very dangerous and there are lots of accidents especially in summer time while tourists and locals head off to Sevan lake. Additionally, NRSC discovered an active youth community. They have already found a way for these young people to make a difference in Kapan – while distributing leaflets and talking with residents, NRSC discovered that road warning and information signs were missing in a number of locations. The youth are collecting the addresses where street signs are needed and NRSC will work with them to apply for the signs to be installed.
From small beginnings can come big impacts and we hope this is just the start for Kapan. Read more about NRSC HERE.
---