See you 18-19 November in Brasilia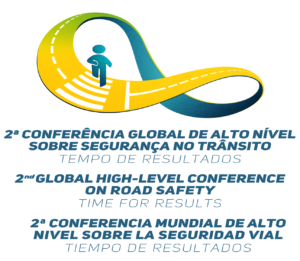 With more than 100 ministerial delegations and civil society representatives from the transport, health, education, justice and interior sectors expected to attend, the 2nd Global High-Level Conference on Road Safety will be hosted by the Brazilian Government from 18-19 November 2015. Building on the first High-Level Conference held in Moscow in 2009, this upcoming conference will provide an opportunity to review progress in the UN Decade of Action for Road Safety; agree measurable objectives for the next five years to help achieve the Decade target of "stabilizing and reducing" global road deaths from 2010 levels by 2020; and begin building partnerships and financing that can deliver the Sustainable Development Goal targets for road safety.
The Alliance will host a pre-event on 17 November around the #SaveKidsLives campaign. We will also host two side meeting during the Conference on 18 and 19 November, one on legal aspects of post crashes and one on vulnerable road users in low and middle income countries.
We aim at having 200 NGOs at the Conference and have been asked by the Brazilian hosts to mobilize participation. We need you to join and make sure the right people from the road safety community and your country is there. We rely on your help and suggestions. Please contact lotte@roadsafetyngos.org with your suggestions to events, speakers, funds and anything that can make sure this event lives up to its name: "Time for Results".  Also check out the official website: www.roadsafetybrazil.com.br
The key outcome of the first global ministerial conference was a declaration calling for the Decade of Action. Launched on 11 May 2011, the Decade of Action seeks to save 5 million lives over the ten-year period. The key outcome of the Second Global High-Level Conference is the Brasilia Declaration.
The Brasilia Declaration Draft Zero is now available online for consultations until 2 May 2015. Below are the links to the pages in all available languages.
English : http://www.who.int/violence_injury_prevention/road_traffic/Brasilia_Declaration/en/
French: http://www.who.int/violence_injury_prevention/road_traffic/Brasilia_Declaration/fr/
Spanish: http://www.who.int/violence_injury_prevention/road_traffic/Brasilia_Declaration/es/
Portuguese: http://www.who.int/violence_injury_prevention/road_traffic/brasilia_declaration_Portuguese/en/
---