Press Release: NGOs call for life-saving commitment to reduce road deaths and injuries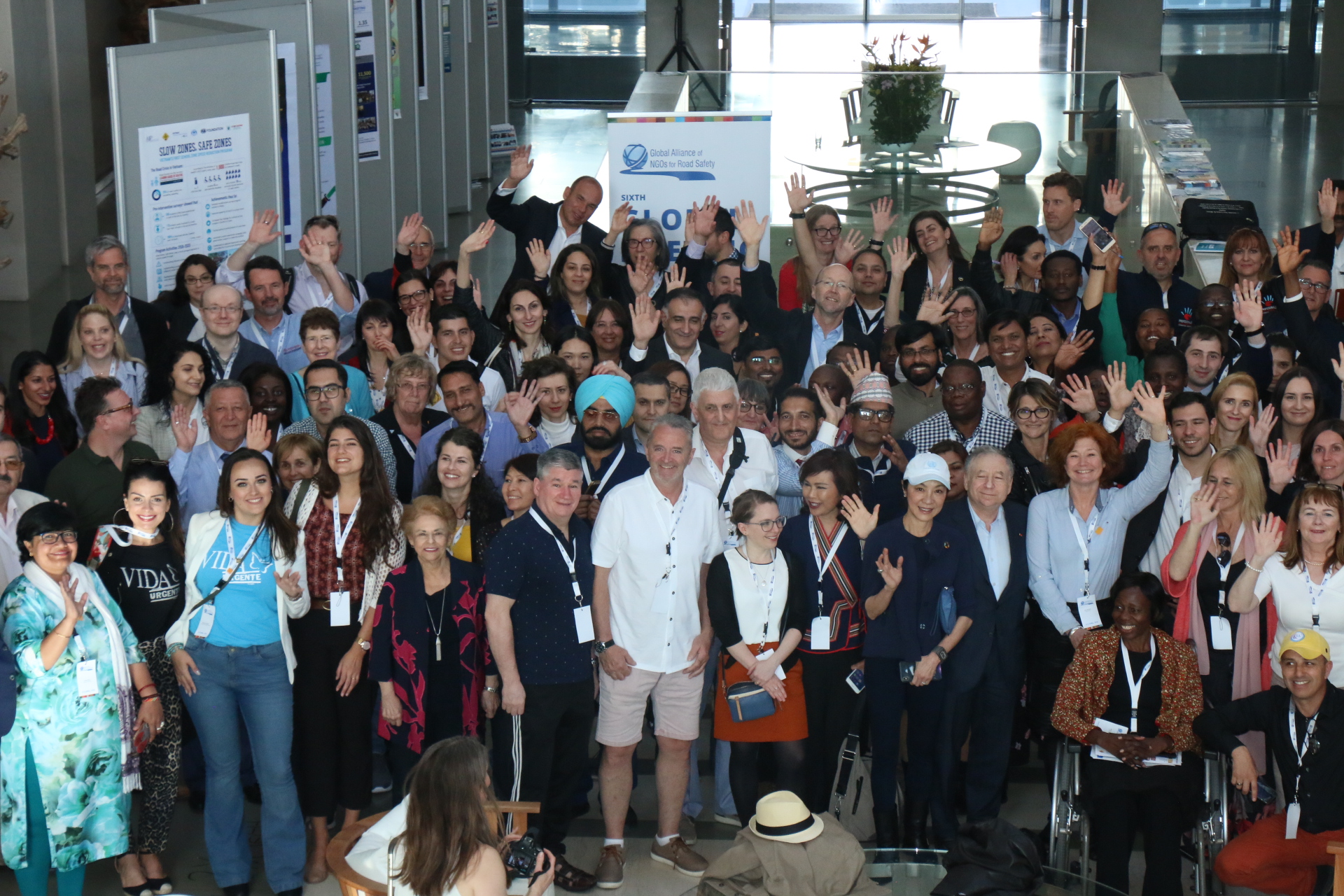 10 April 2019, Chania, Greece
NGOs and global road safety stakeholders gathering this week in Chania, Greece, will call for governments around the world to commit to saving lives by reducing road deaths and injuries in their countries by 50% by 2030 and accepting the help of NGOs to achieve this challenging target. 
Every year, 1.35 million people are killed on the world's roads, while tens of millions more are injured or disabled. Road traffic injuries have now become the eighth leading cause of death worldwide. Despite UN-mandated targets, road deaths are increasing globally. Urgent action is needed. 
The Global Alliance of NGOs for Road Safety (the Alliance) and its members will mobilize this week at the Sixth Global Meeting of Nongovernmental Organizations Advocating for Road Safety and Road Victims (the Global Meeting). Together, they are calling to extend target 3.6 of the UN Sustainable Development Goals to year 2030. 
Although it is clear that the current 2020 goal will not be met, many NGOs report that the existence of such a target has focused attention at the government level and is moving their countries toward a much-needed, more strategic approach to road safety.
At the Global Meeting, 270 NGOs, politicians, multilateral agencies, corporate stakeholders, and road safety advocates, from 76 countries, will reflect on progress so far and assess what further specific actions are needed to achieve substantial and lasting reductions in the number of deaths and serious injuries occurring daily on the world's roads. 
The highlight will be a symposium organized by the Alliance and Towards Zero Foundation on 12 April 2019. It is titled Road Injury Prevention and the Sustainable Development Goals and will culminate in the adoption of an NGO Declaration on Road Safety, to be submitted to the Third Global Ministerial Conference on Road Safety, which will be held in Stockholm, Sweden, in 2020. 
The Global Meeting will also feature Stop the Crash, a demonstration of how automated emergency braking (AEB) systems can save lives, a photograph exhibition in Chania's landmark Arsenali, the presentation of the FedEx Road Safety Award to three NGOs, and preparations in support of the Fifth UN Global Road Safety Week, which, under the theme of leadership, encourages civil society to #SpeakUp for road safety. 
The significance of the Global Meeting as a gathering point for civil society is highlighted by the attendance of high-level dignitaries from politically critical bodies, including Jean Todt, the UN Secretary-General's Special Envoy for Road Safety; Dr. Etienne Krug, Director, Department for Management of Noncommunicable Diseases, Disability, Violence and Injury Prevention, World Health Organization; Matthew Baldwin, Deputy Director-General, DG MOVE, European Commission, and European Road Safety Coordinator, Directorate-General for Mobility and Transport, European Commission; Dr. Soames Job, Global Lead Road Safety, World Bank and Head of Global Road Safety Facility, World Bank. The Global Meeting will be opened by Ioannis Malandrakis, Mayor, Municipality of Platanias.
The Global Meeting is organized by the Alliance and cohosted by the Municipality of Chania, World Health Organization, and World Bank Global Road Safety Facility. It is made possible by the generous support of FedEx, FIA Foundation, Ford Driving Skills for Life, Johnson & Johnson, Total Foundation, Towards Zero Foundation, The UPS Foundation, World Bank Global Road Safety Facility, and 3M.
Lotte Brondum, Executive Director, the Global Alliance of NGOs for Road Safety, said, "The attention that the Global Meeting has attracted from such influential bodies clearly shows that NGOs are valuable partners to their governments: advocating on behalf of communities, bringing their unique perspectives to the table, and keeping governments accountable for the targets that they, as UN Member States, have signed up to. It is time for decision makers to hear what NGOs are saying and realize that we can no longer accept the death toll on our roads. Our member NGOs are ready to help them.
 
"We thank the City of Chania for hosting this meeting. Along with the presence of the European Commission, the Government of Sweden, and the Municipality of Platanias they are demonstrating that European countries, as a whole, are taking the death toll on the world's roads seriously and recognizing the role of NGOs."
Jean Todt, the UN Secretary-General's Special Envoy for Road Safety, said, "Working to engage, empower, and enable communities to take action on road safety is a necessary supplement and extension to the governmental efforts in improving road safety.
"I call on governments around the world to involve NGOs in their road safety strategies, to generate support in the policy change and help persuading people to abandon the behaviors that cause road injury." 
Anastasios Vamvoukas, Mayor, Chania, said, "International attention is focused on Chania this week. We commit to prioritizing safe roads for both residents and visitors to Crete."
Dr. Etienne Krug, Director, Department for Management of Noncommunicable Diseases, Disability, Violence and Injury Prevention, World Health Organization, said, "Road traffic fatalities are preventable, and we know the evidence-based solutions that have been proven to save lives. To achieve a 50% reduction in road fatalities worldwide, all stakeholders need to work together: NGOs are key to this, using their local expertise to push for change at local and national levels."
Dr. Soames Job, Global Lead Road Safety, World Bank and Head of Global Road Safety Facility, World Bank, said, "Progress on road safety has not been fast enough. Governments hold the responsibility for achieving the Sustainable Development Goals in their countries, but they will achieve more and quicker if they involve NGOs and [the] private sector in coalitions and partnerships."
Matthew Baldwin, Deputy Director-General, DG MOVE, European Commission, and European Road Safety Coordinator, Directorate-General for Mobility and Transport, European Commission, said, "Progress towards zero road deaths by 2050 needs to be accelerated — to that end, we in the EU are ready to set fresh targets to reduce road deaths and serious injuries by 50% by 2030. But to succeed, we must all work better together: governments, multilateral agencies, private sector, and of course NGOs — both in Europe and globally. This meeting and symposium is a great global gathering to help move road safety up the political agenda and a crucial stepping stone in the road to Stockholm 2020."
David Ward, President and Chief Executive Officer, Towards Zero Foundation, said, "We need to establish a new global target to halve road deaths and serious injuries by 2030. Setting a target #50by30 is essential to secure action and accountability in a new road safety decade. The voice of NGOs must be heard, and that is why, in Chania, we call on governments around the world to commit to #50by30 at next year's Third Global High-Level Ministerial Conference on Road Safety, in Sweden."
For media inquiries and photos, please contact:
Liz Man
Global Alliance of NGOs for Road Safety
liz@roadsafetyngos.org
---