PRESS RELEASE: Eighth Global Meeting starts in El Salvador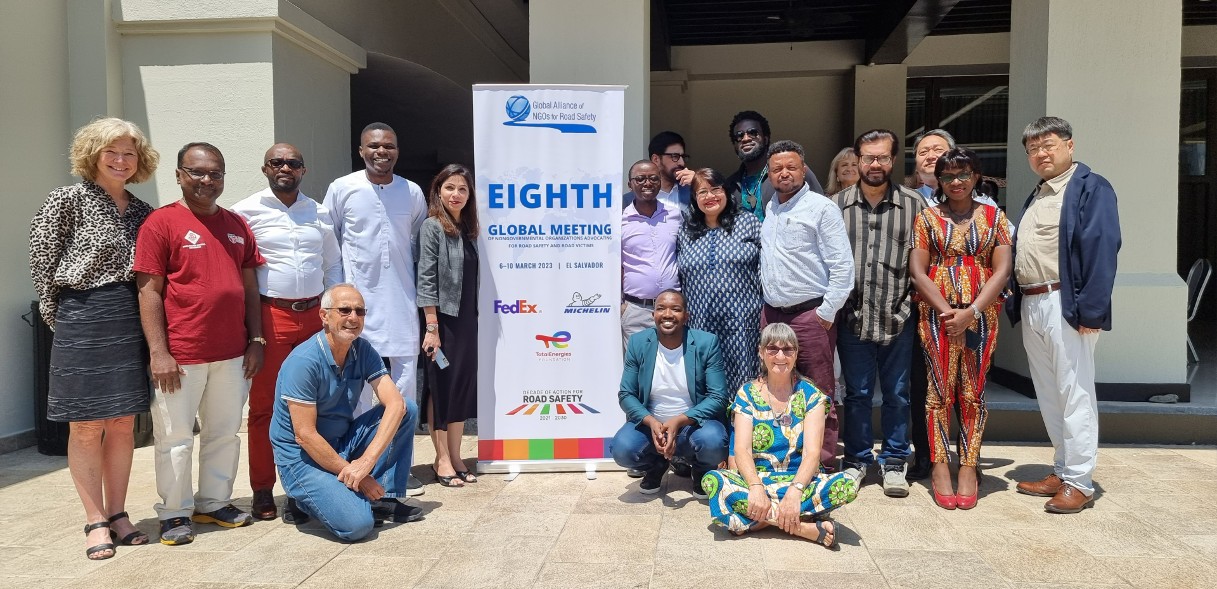 Read in SPANISH.
6 March 2023
The Eighth Global Meeting of Nongovernmental Organizations Advocating for Road Safety and Road Victims (Global Meeting) started today in San Salvador, El Salvador.

The Global Meeting, whose theme is Rethinking road safety: Mobility for people and planet, brings together 214 participants from 61 countries. 
1.3 million people die on the world's roads every year. A global target has been set to reduce road deaths and injuries by 2030. To achieve this, urgent action is needed to implement road safety actions that have been proven in practice to save lives and reduce injuries. Safe roads are essential to enable people to go about their daily lives and to access work and education.
To play their part in achieving the 2030 target, NGOs at the meeting will explore what accountability in road safety means and how they can keep their governments accountable for global commitments to achieve the 2030 target.

The Global Meeting is organized by the Global Alliance of NGOs for Road Safety (the Alliance), and co-hosted by the Vice Ministry of Transportation of El Salvador and the World Health Organization (WHO).

On Wednesday 8 March, the Alliance will hold a symposium. During the symposium, Alliance members will present the San Salvador Declaration, calling for evidence-based road safety actions, including specific policies and implementations to protect pedestrians, bikers, and motorists; transparent and accountable investment to make roads safe; and involvement of road safety NGOs in decision making.

The symposium will also be the platform for the launch of the Alliance's Accountability Toolkit. The toolkit will enable NGOs to assess and follow up on their governments' implementation of priority interventions to reduce traffic deaths and injuries at the country level.

An artwork, commissioned by a local artist and incorporating members' perspectives on road safety, will be unveiled at the meeting. Winners of the FedEx Road Safety Award will be announced. The award recognizes NGO members of the Alliance that have demonstrated outstanding commitment to road safety and the NGO community, growth, and advocacy for evidence-based interventions.

The opening remarks will be by Edgar Romeo Rodriguez Herrera, Minister of Public Works and Transport of El Salvador, Nelson Eduardo Reyes Rivas, Vice Minister of Transportation of El Salvador and Lotte Brondum, the Alliance's Executive Director.

The keynote speakers at the event will be Etienne Krug, Director, Social Determinants of Health, WHO and Jean Todt, the UN Secretary-General's Special Envoy for Road Safety.
Global Alliance of NGOs for Road Safety
The Global Alliance of NGOs for Road Safety (the Alliance) represents more than 300 member NGOs working in road safety from 100-plus countries around the world. The Alliance is a registered nonprofit organization and is the platform for NGOs worldwide to share knowledge and collectively advocate for road safety and the rights of victims of road traffic crashes. The Alliance provides services to its members in three key areas: 1) networking and sharing, 2) advocacy, and 3) capacity building.
Contact
Valeria Motta, Alliance Director of Advocacy and Partnerships, email: valeria.motta@roadsafetyngos.org
---