Long Awaited Motor Vehicle Amendments Bill in India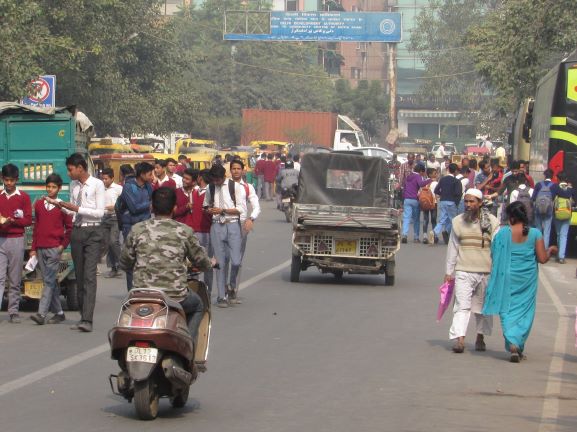 On 5 August 2019 in India, the long-awaited Motor Vehicle (Amendments) Act was passed. It is hoped that the new act will help to reduce the 31,000 road traffic fatalities that occur in India every year. Alliance member and other road safety NGOs in India have campaigned hard for the contents of the act. A summary of the act's key points includes:
Traffic offense penalties: stricter penalties for a number of offenses including drunk driving, speeding, helmet and seat belt usage, blocking the passage of emergency vehicles, and overloading of vehicles. 
Vehicle fitness and standards: automated testing of vehicles to reduce corruption, more effective regulation of testing and certification, and compulsory recall of vehicles by central government in the case of manufacturing defects that could damage the environment, drivers, or other road users.
Road safety board: a new national road safety board to advise central and state governments on all aspects of road safety.
Good Samaritan law: guidelines to protect Good Samaritans who help road traffic victims.
Cashless treatment during the golden hour: the first hour after a crash is critical for road traffic victims; this provision enables fast treatment.
New fund: a new fund will be implemented to provide compulsory cover for all road users to be used for medical treatment and compensation. 
Changes to driving licenses and training and to vehicle registration. 
We congratulate all the NGOs that have worked hard to see road safety incorporated into the act and look forward seeing it implemented. We asked our members for their views on the act. Overall, they told us, it is seen as an important step with the potential to reduce traffic injuries and deaths:
"We welcome the passage of the Motor Vehicle (Amendment) Act 2019. It is a giant step towards saving lives on Indian roads. Many new provisions like e-enforcement, provisions for pedestrians safety, penalties for civil negligence, underage driving, and legal protection to Good Samaritan are keys to improve road safety and post crash care system in India which will be systematically support to achieve SDG target of halving 50% road crash deaths and injuries." Prerana Arora Singh, People's Trust Jaipur
"Overall … this bill has been in the limelight in media and has certainly served to raise awareness among people about road safety." Harpreet Singh, Avoid Accident
"We welcome the passage of Motor Vehicle (Amendment) Act, 2019. No doubt, it is a good start as a number of NGOs, activists and our government has pushed to pass the amendment bill through our parliament. We are happy with the provision of increased penalties to ensure safety by creating the fear of law, which ultimately create an atmosphere for law-abiding people. This bill also address the issue of accountability for government officers, as well as for contractors." Rajni Gandhi, TRAX
However, caution remains that to be effective, the bill must be implemented in the right way.
"The new amendments will be helpful in driving India towards safety only if the basic road safety infrastructure , traffic management and control are made top priority. No doubt the higher penalties could serve as a deterrent but the ratio of penalty and average income of people should be directly correlated, otherwise this may lead bad practices which kills the spirit of the law." Harpreet Singh, Avoid Accident
NGOs also highlight omissions in the bill that they will continue to advocate for.
"We are looking forward towards [to further legislation to address] the safety of non-motorized vehicles, as well as pedestrians, who are most vulnerable. [The act] hardly addresses the issue of competent and adequate trained staff to implement it, taking into account the size of the population and number of vehicles. Also, the removal of minimum educational qualification for the commercial drivers is a matter of concern which needs to be reevaluated, as to understand the road signage it is important for a person to be qualified to read and understand." Rajni Gandhi, TRAX 
We wish all the NGOs and road safety advocates in India the best as they work with their governments to support implementation of the bill in their states.
---