An Interview with Rod King of 20's Plenty for Us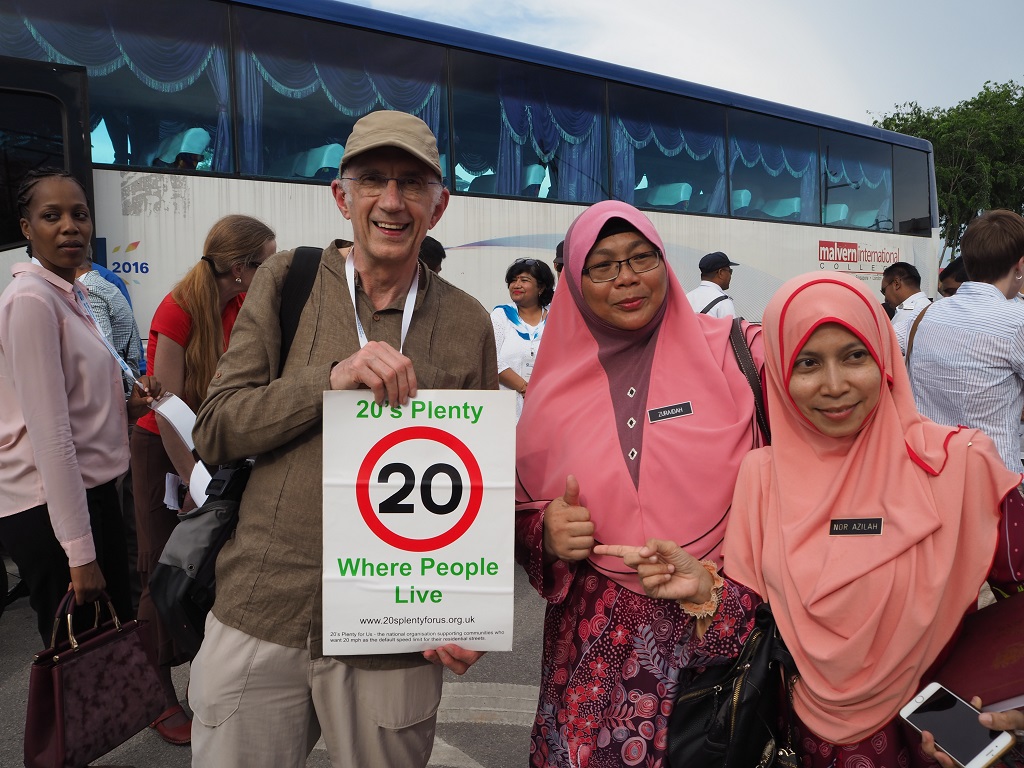 As part of our follow-up communications for UNGRSW, we interviewed Rod King, founder of the UK-based NGO 20's Plenty for Us. Rod was a key figure in the UNGRSW #SlowDown campaign. He was instrumental in helping to identify the target of 30 kilometers per hour for roads with possible conflicts between cars and unprotected users, and in applying 20's Plenty's experience in the development of WHO's Speed Management toolkit. Rod was also a speaker at the recent Global Meeting. You can read more about 20's Plenty below.
We asked Rod's views on several issues, including how to give the #SlowDown campaign a lasting impact, the rationale behind the 20 miles per hour/30 kilometers per hour campaign, and the future for speed limits.
UNGRSW: seeking a lasting impact
"We were so pleased to see the way UNGRSW was used around the world," he says. "We had lots of feedback from NGOs on how the toolkit had helped them."
However, for Rod, the real significance of UNGRSW comes from what happens now. He warns against the missed opportunity in seeing the #SlowDown campaign as being complete after a week of activity. "It's not about getting back to normal. It's about making it [lower speeds] normal." By that, he refers to not just a change of law but a change of mind-set: "It's about thinking of speed related to the presence of people – a lifestyle decision, not a traffic management issue. It comes from public consensus, action of the people."
Therefore, Rod's top tip for NGOs wanting to further their #SlowDown campaigns is to activate the local community: "We need to help politicians to do the right thing. The best way is for politicians to see the aspiration for change within in the community. Where the community stand up to say, 'There is something wrong with the speed of traffic here,' politicians see that." He maps a path from public consensus to political aspiration to political mandate: "That sequence is so important. Action within the community usually starts with one individual. We show them what can be done and encourage them to speak to others. Others will agree with them, and change is possible."
He also advises NGOs to persist: "Stay the course, politicians change. What previously seemed difficult, can change."
The rationale for 20 miles per hour/30 kilometers per hour limits
"Research among primary school age children shows that they cannot discern speed above 20 miles an hour," he says. "Even if we look at the point of view of Darwin and millions of years of evolution, humans were only acquainted with things that move up to 20 miles per hour. We have a genetic discernment for 20 miles per hour.
"Our bodies were made to run into things at 20 miles per hour; our visual acuity works well up to 20 miles per hour; children have skills up to 20 miles per hour at an early age — it's much later for higher speeds."
He points out that on most urban roads, reducing the speed limit to 30 kilometers per hour has only a marginal effect on journey times. "It's about getting people to realize that it's not the maximum speed that counts in journey times."
The future
"There is an increasing ability to put road use in the context of wider public health, rather than just casualties," Rod says, "and to include the impact of other premature deaths: for example, cardiovascular and respiratory disease caused by inactivity and pollution. This brings pressure on the structures and silos of road safety and public health."
He points to a change in the UK in 2013, where responsibility for public health moved from central to local government control, putting public health and road infrastructure under the same organization for the first time and enabling greater collaboration. He references a similar shift in understanding within the motor industry, which is beginning to see the full effect of transport on public health.
"Context is important," he says. "If we take a single intervention [in this case, speed], and look at all the benefits, we can value those. This increases the return on any investment."
Significantly, it is Rod's view that 30 kilometers per hour will become the global standard on urban roads. He points to iRAP's star-rating system as evidence of this: "You cannot get a five-star rating on an urban road where cars mix with pedestrians and cyclists, without a maximum 30 kilometers per hour speed limit; 30 miles per hour (48 kilometers per hour) roads are no longer fit for purpose in the presence of pedestrians." In Scotland, a private members bill is being brought to Parliament to reduce the speed limits on all urban roads to 20 miles per hour and then allow for exceptions where higher speed limits are acceptable. This reverses the accepted logic, that a 30 miles per hour/50 kilometers per hour speed limit is set for all urban roads with lower limits set only for some roads. Says Rod: "It is looking at the issue in a different way; a societal perspective instead of a driver perspective — a lifestyle decision. The incentive to driving slower is that you will always increase the livability of the community. Every time and place you do so, you make it a better place to be!"
For 20's Plenty, the future holds a more global focus, the NGO has found itself advising campaigners in Ireland, Canada, the US, and other countries. "The emphasis is changing towards a global standard," Rod says. "WHO were important for that."
About 20's Plenty for Us
20's Plenty's approach is to empower local communities to campaign for 20 miles per hour speed limits in their local areas. They provide an information base, advice on how to campaign, and an evidence base. Their resources are designed to help community volunteers to be effective and to find all the answers they need to start and run a campaign.
Rod found his calling to 20 miles per hour roads while on a cycling tour to Germany in 2004. He observed that, while conventional wisdom in the UK was to plan roads with cars driving at 30 miles per hour and cyclists at 15 miles per hour (24 kilometers per hour), German traffic planners had taken a different approach, slowing the cars down to almost the speed of the cyclists and therefore reducing the danger to cyclists and pedestrians.
20's Plenty for Us was formally set up as an NGO in 2007, and by 2010, a number of local authorities had implemented the 20 miles per hour speed limit on residential roads. Thanks to their work, around 25% of the UK population now live in local authorities where most streets have a speed limit of 20 miles per hour. Around 400 local campaigns are currently active. Read more HERE.
---