India: Raising Awareness of the Good Samaritan Law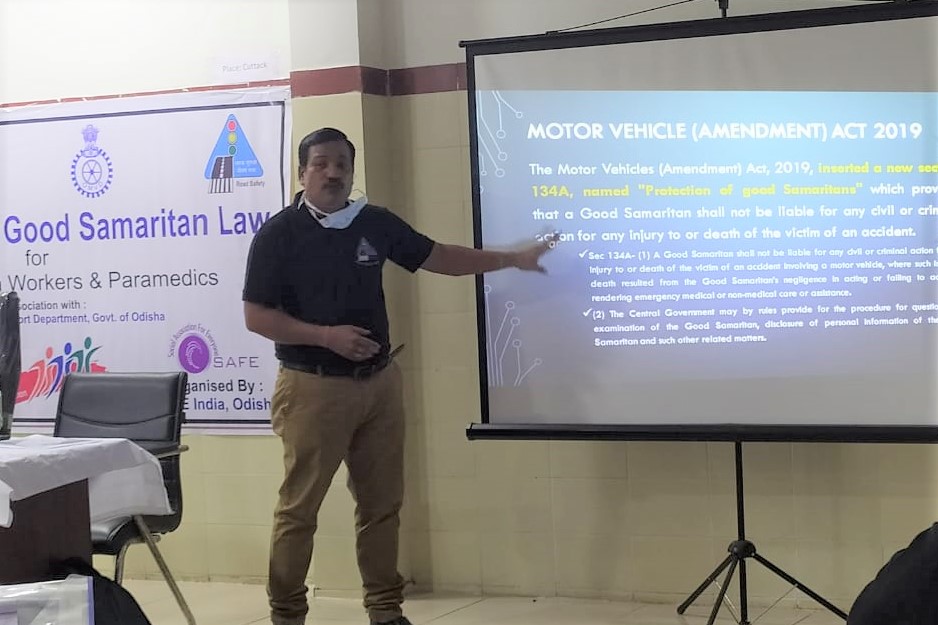 This month, the Alliance, working with Think Niti and supported by the UPS Foundation, delivered a targeted training program for member NGOs in India on the Good Samaritan Law.
The Good Samaritan Law was established in India in 2016 in response to widespread harassment of bystanders who helped road crash victims. Those who assisted victims were often assumed to be responsible and arrested or made to pay medical fees. As a result, according to a study by SaveLIFE Foundation in 2013, 74% of people would not step forward to help victims if they witnessed a crash. The Good Samaritan Law was therefore an important step to reducing the 151,112 road deaths that occur in India each year. However, this important law is not widely known among institutions, including police departments and hospitals that must implement it, nor among citizens. Therefore, harassment of Good Samaritans is still widespread and citizens are still afraid to step forward to help at the scene of a crash.
The training aimed to equip Alliance members to run targeted campaigns with relevant institutions and the community to raise awareness of the law and their responsibilities toward bystanders. We spoke to Dillip Panda, President of Alliance member Safe India, about the training and how the NGO will incorporate it into their work.
Of the law, Dillip says, "In my experience, a negligible number of people are aware of the Good Samaritan Law to the extent that it is almost like it were a new law, even though it has been in place since March 2016. It is very unfortunate that NGOs and relevant government departments are not aware of it. If this is the situation even among those who have road safety knowledge, then what about the awareness of the general public? As an example, I have found during discussions that some highest-level police officers connected to road safety in my state, are not aware about different aspects of the law, they just know its name. So, think about how that filters down to crash victims less senior police officers.
About the training and its usefulness for NGOs, Dillip says, "Doing advocacy needs a deep understanding of the issues and policies. We, as NGOs need to know the details of any laws or policies on which we are working, and we have to give time to read and study before doing any advocacy or campaign.
"Safe India studies and advocates on a number of aspects of India road safety law and policy including the Good Samaritan Law, the "Safety of School Children during Transportation" law, and the Solatium Fund Scheme. In my work, I refer closely to different orders, laws, standard operating procedures and policies from the Supreme Court, the Government of India and the state government and study for my own understanding. I need to understand very clearly before getting involving in an issue or before sitting with government officials."
Dillip plans to build the training into existing work that Safe India is doing with the Good Samaritan law. "The training has helped me to build on my understanding of the Good Samaritan Law and clarify some areas of confusion," he says. "I have already used the training to prepare a training module, which I will use immediately."
He continues, "just a few months ago, we proposed a capacity building training program to the Ministry of Road Transport and Highways (MoRTH) to train doctors and paramedics on the Good Samaritan Law. We got approval to deliver the training in our state, Odisha, in the Cuttack district, for 500 government-employed doctors and paramedics. They, alongside the police, are the key stakeholders, who will assure the protection of bystanders or Good Samaritans. Creating awareness among the public is necessary but not sufficient: if the concerned departments are not aware, then community awareness is no use.
"Our program will start it from 18 February. During the last 20 days, we have been preparing the documentation and formalities with the government administration. We need permission to start the programme in the district, and we need support from the Transport Department (RTO) and Chief District Medical Officer (Head of District Health Service). This will be the first time that a professional training/capacity building programme for government doctors and paramedics will be run in a systematic way in our state through the community and primary health centers." After each training session, Safe India will support the health centers to form a Good Samaritan Law committee to ensure that the law is followed and that bystanders are protected.
Read more about Safe India HERE and read more about the recent training HERE.
---