Global Road Safety Film Festival 2017 – Call for Submissions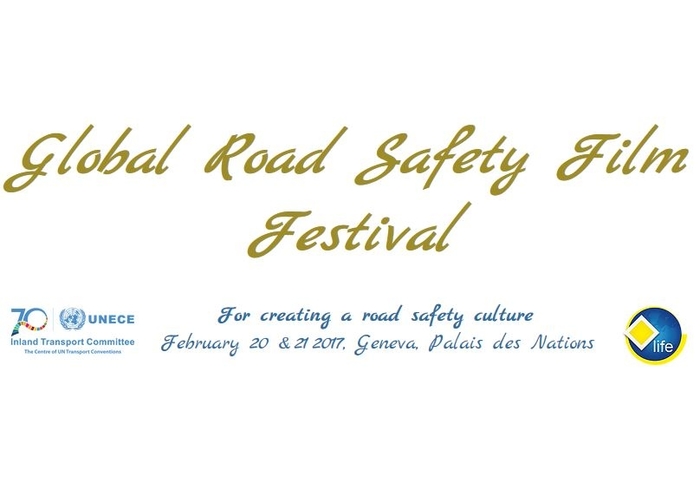 The Global Road Safety Film Festival organized by Laser International will take place 20-21 February 2017 at the UN, Palais des Nations, Geneva. It will be held back-to-back with the Anniversary Session of the Inland Transport Committee of UNECE and the Meeting of Transport Ministers and will celebrate the seventieth anniversary  of the Committee and its achievements. To demonstrate the importance of improving road safety on the political agenda, the award ceremony of the Global Road Safety Film Festival will be hosted during the lunch of the Ministerial Meeting on 21 February. Festival participants will have the opportunity to attend the Ministerial meeting, as well as the regular session of the Inland Transport Committee.
The Film Festival is open for film submissions from 15 September 2016 to 15 January 2017. Additional information, including in French, Russian and Chinese languages is available at the Film Festival's dedicated webpage: http://www.roadsafetyfilmfestival.org/.
Films with any road safety themes can be submitted to compete for the three Best 2017 Road Safety Films as well as for various special category awards. The films will be evaluated by a high-level jury, which includes actress Michelle Yeoh, film director, screenwriter and producer Luc Besson, Executive Secretary of UNECE, Christian Friis Bach and the UN High Commissioner for Human Rights, Zeid Ra'ad Al Hussein. The President of the jury is UN Secretary General's Special Envoy for Road Safety, Jean Todt.
For more information visit: http://www.roadsafetyfilmfestival.org/ or contact Lukasz Wyrowski: Lukasz.Wyrowski@unece.org or Robert Trottein: robert.trottein@roadsafetyinternational.org
---