Global Plan: A Shared Responsibility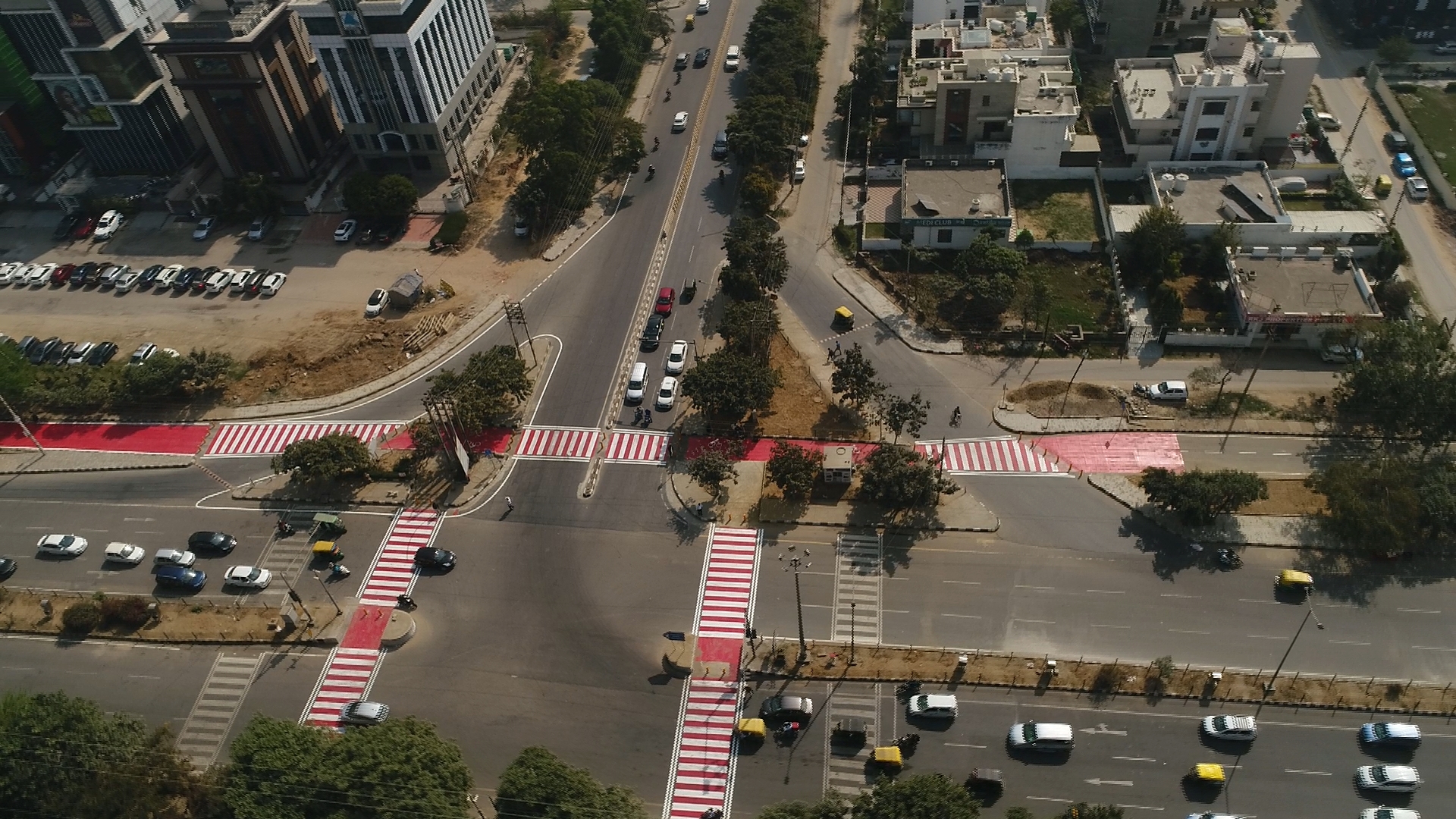 The Global Plan states that "though governmental agencies have the primary responsibility to design a safe road transport system and implement a road safety action plan, the role and influence of other actors are increasingly recognized as an important part of the Safe System." It sets out roles for government, private sector, civil society including NGOs, youth, academia, and funders.
The Alliance's session on On Track or Off Target?, marking the first anniversary of the Global Plan, featured a panel of representatives from different sectors: government, NGO, youth, and private sector, each one bringing an example of different actors playing their role. Read more about the stories they shared at the session below.
Opening the panel discussion, moderator Bella Dinh-Zarr, Traffic Injury Research Foundation (TIRF) and FIA Foundation and former US National Transport Safety Board Vice Chairman/Acting Chairman, referred to ankose, the Algonquin/Ashinaabe people's concept that 'everything is connected': "That's what we are going to be hearing about," said Bella, "That's part of the safe system approach – that's Vision Zero."
---
Government: taking a safe system approach to public transport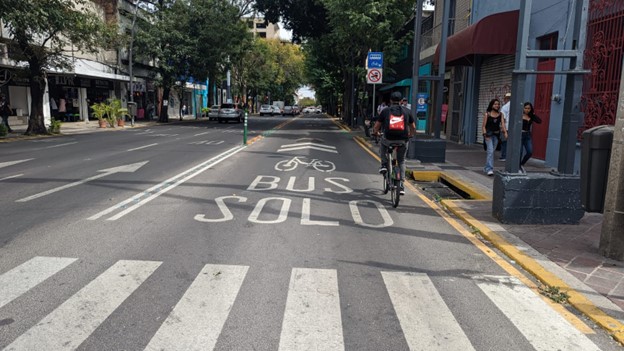 Saul Alveano Aguerrebere, Safe System Coordinator, Ministry of Transport, Jalisco, Mexico explained the state's public transport transformation based on Safe System principles.
In Jalisco state, Mexico, taking a holistic Safe System approach to public transport has increased passenger numbers and progressively reduced the number of deaths involving public transport from 46 in 2018 to 23 in 2021, while reducing the total number of crashes that result in road deaths and injuries from over 400 in 2018 to less than 200 in 2020 and 2021.
Over the past three years, the Ministry of Transport in Jalisco has initiated an in-depth transformation of public transport. Saul Alveano Aguerrebere, the Ministry of Transport's Safe System Coordinate says "The most powerful reason public transport has been addressed during this administration is due to the commitment and political will from the Governor. Improving public transportation was one of the political promises made during the campaign. That promise led to the appointment of a new Transport Secretary with extensive previous experience, and was backed up with financial resources, a well performing technical team, and political support during every step of the process (which hasn't been finalized yet)."
With the political backing and resources in place, extensive analysis of the Jalisco public transport system was carried out and a comprehensive plan was put in place that would address crashes, road deaths, and injuries alongside sustainability, urban planning, and equity issues.
The resulting plan sets out a transformative overhaul of public transport in the province.Says Saul, "It covers objectives and targets across different spectrums including social justice, climate change, gender equality, road safety, active mobility, and low carbon." Actions include:
regulation of private companies operating public transport services
a complete reorganization of bus routes
implementation of an electronic payment system
the renewal of two thirds of the bus fleet and Implementation of the first 100% electric line and largest bus rapid transport lines in Mexico, as well as the start of operations on a third light rail line in the metro area of Guadalajara.
With 70% of the global population expected to live in urban settings by 2030, the Global Plan for the Decade of Action for Road Safety 2021-2030 recommends investment in public transport systems "to facilitate safe and efficient movement of large and growing populations." It notes that "public transport systems such as buses, trams and commuter trains carry more people compared to private cars and are generally more affordable. They reduce exposure to crashes and are a key avenue to improve safety, as stressed in SDG target 11.2."
NGOs were among the drivers for the change in Jalisco and have helped to ensure accountability for promises made. Saul says, "NGOs have been strongly pushing and demanding for public transport improvements for the last decade and a half. Their presence and pressure have helped ensure that the decision making process is always transparent."
Effective public transport crosscuts many challenges, including safety but also addressing equality and equity, sustainability, congestion, and more. Using a data-driven, evidence-based approach has enabled Jalisco to increase the number of people using public transport and make it safer. "From the institutional to the technical interventions, any actions taken from behalf of the Transport Ministry have embraced the Safe System approach, supported by evidence and data." Referencing the new mobility and road safety law in Mexico and its implementation at state-level, he adds, "This fact is one of the back bones of the existing policies, which are now part of the State's Mobility and Road Safety law, approved by congress in October 2022."
---
NGO: Walkable, livable streets in India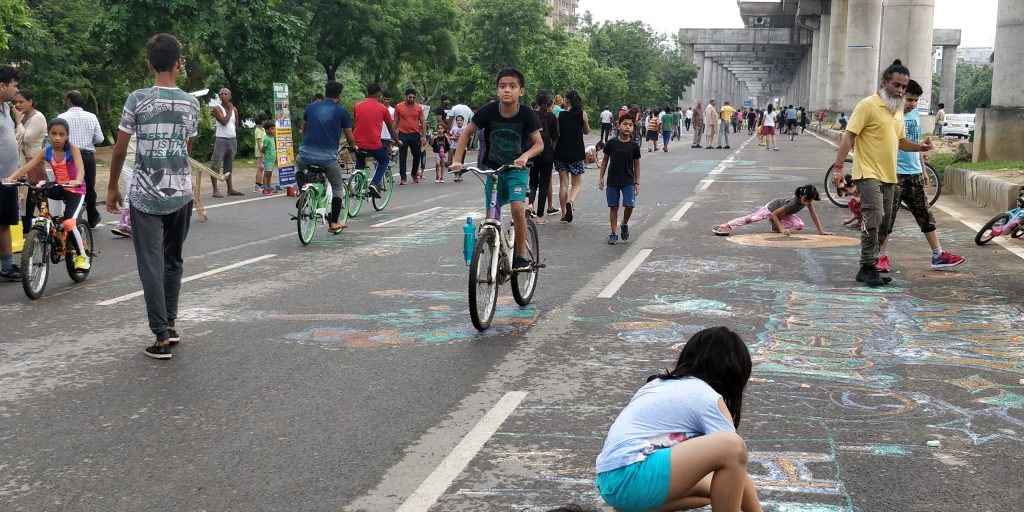 Sarika Panda Bhatt, Raahgiri Foundation, showed how NGOs are advocating through a combination of tactical activism and advocacy based on street-level data to make streets safer and more livable.
"We want to show what our streets would look like if it was safe for all road users," says Sarika Panda Bhatt, co-Founder of Alliance member NGO Raahgiri Foundation, India. Since 2013, Raahgiri Foundation has been running car-free open street days, known as Raahgiri Days, to help communities to understand and fight for their right to safe, active mobility. Starting in one street in Haryana, India, the movement has spread to 90 municipalities in 20 states across India. On one Sunday each month, a key street is closed to motorized vehicles and becomes a haven for walking and cycling.
Backing up these tactical community activism events, the NGO works closely with local governments in Haryana and Gurugram to put the concepts promoted by the Raahgiri Days into action, street by street. Raahgiri Foundation has a team of trained road auditors who identify blackspots using crash data and then assess the road in terms of reducing fatalities and enabling and protecting vulnerable road users, including pedestrians and cyclists. "Everything we do is with a vision zero approach," says Sarika. The team then makes its recommendations to the municipality. They works closely with local bodies and individuals to ensure that the right solutions are suggested. In many cases, the municipality will take up the recommendations and implement the street improvements. "Acceptance has grown over time," says Sarika of the willingness of municipalities to take on and implement the recommendations. "From the chief minister down, officials understand the problem and that vision zero is the solution. But implementation can be slow."
In this example, Raahgiri Foundation is fulfilling several of its mandated roles within the Global Plan: augmenting the evidence base, empowering communities, and helping municipalities to fulfill their duty to their people.
---
Youth: Bringing a youth voice to decision making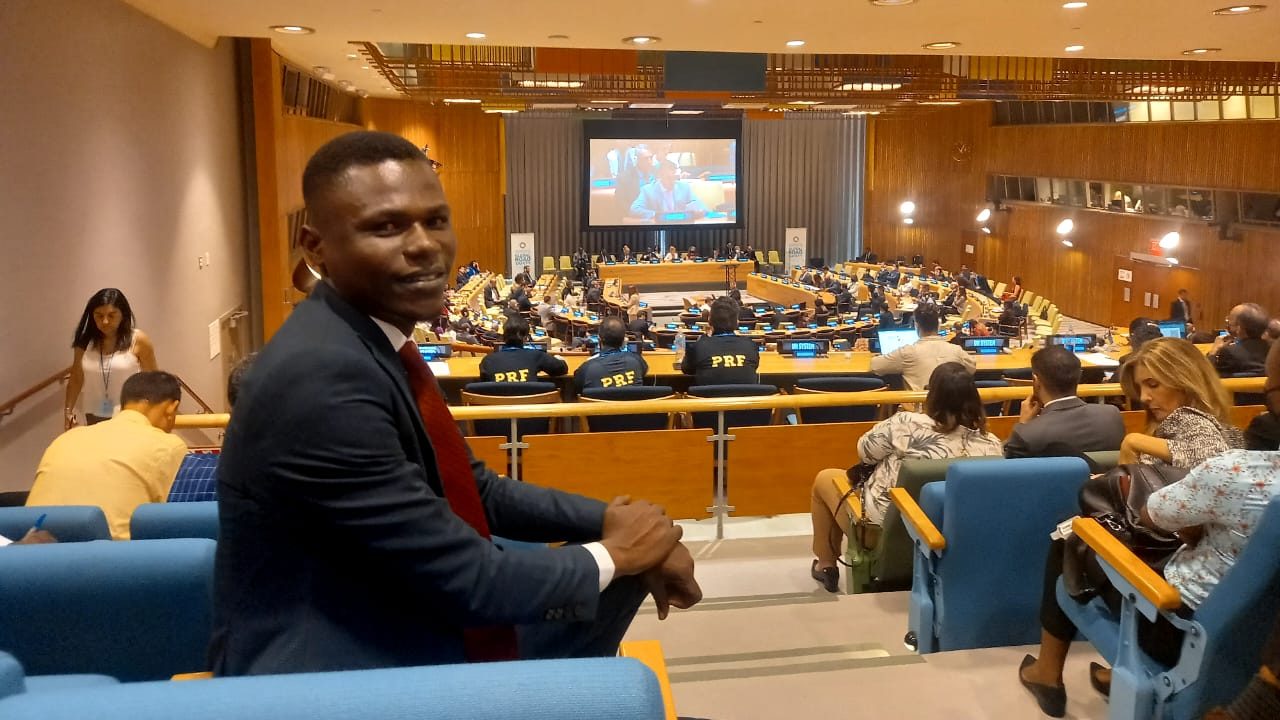 Simon Obi Patrick, Greenlight Initiative and Global Youth Coalition for Road Safety has been able to bring a youth perspective to the national road safety commission in Nigeria.
In 2015, while working for an NGO as part of his national service in Nigeria, Simon Patrick Obi read a report which indicated that more Nigerians were killed by road traffic crashes than by the Boko-Haram terrorist group, yet the fight against terrorism received more investment and road crashes rarely even made the news headlines. He decided to focus on road safety advocacy through the NGO that he founded, Greenlight Initiative, and as part of the Global Youth Coalition, an international network of young people taking action on safer mobility and championing meaningful youth participation.
He started off by producing and broadcasting a 45 minute weekly radio program on road safety on the Nigerian Armed Forces Radio in Abuja and organizing events such as a public awareness walk for World Day of Remembrance. He sought to involve the Federal Road Safety Corps (FRSC) in each of these activities through the local command. Simon says "In the early days it was hard to get the FRSC's buy-in but we persisted and eventually we gained their trust and commitment." One particular success was when he convinced the FRSC in Abuja, Nigeria, to partner with GreenLight Initiative to organize a road safety quiz and debate competition for young people in the city. As Simon's profile increased as a youth advocate for road safety, in 2019, he was invited to join a national committee, constituted to advise the government on road safety interventions, alongside staff from the Federal Ministry of Transportation, Federal Road Safety Corps, WHO Nigeria and key civil society stakeholders. As a result, Simon has been able to represent the mobility needs and journey habits of young people in Nigeria by consistently advocating for meaningful youth participation with decision makers since 2019. As part of these efforts, youth were even included as part of the Nigerian government delegation to the High-level Meeting on Improving Global Road Safety in New York. Simon has also been involved in writing an FRSC and Ministry of Transportation proposal to the UN Road Safety Fund in 2019, 2020 and 2022.
"It is true that young people can be adventurous and sometimes become problematic road users," says Simon "but young people are creative, energetic, and have the answer to safe and sustainable mobility if only we can harness their potential and co-create policies and interventions with them."
The Global Plan gives two key reasons why young people should play an active role in shaping transport systems; "First, they are the age group most affected by road trauma … Second, they are the generation that will inherit the outcomes of decisions made today about the safety of the evolving transport system." Involving young people and other diverse groups of road users to co-create as well as meaningfully engage them in the decision making makes for safer, more livable streets that meet the needs of the people that use them. It brings a wider range of experience beyond that of the traffic planners themselves. Simon's case brings some examples of how young people can ensure that their perspectives are included.
---
Private Sector: Supporting City Authorities Toward Safe, Sustainable Transport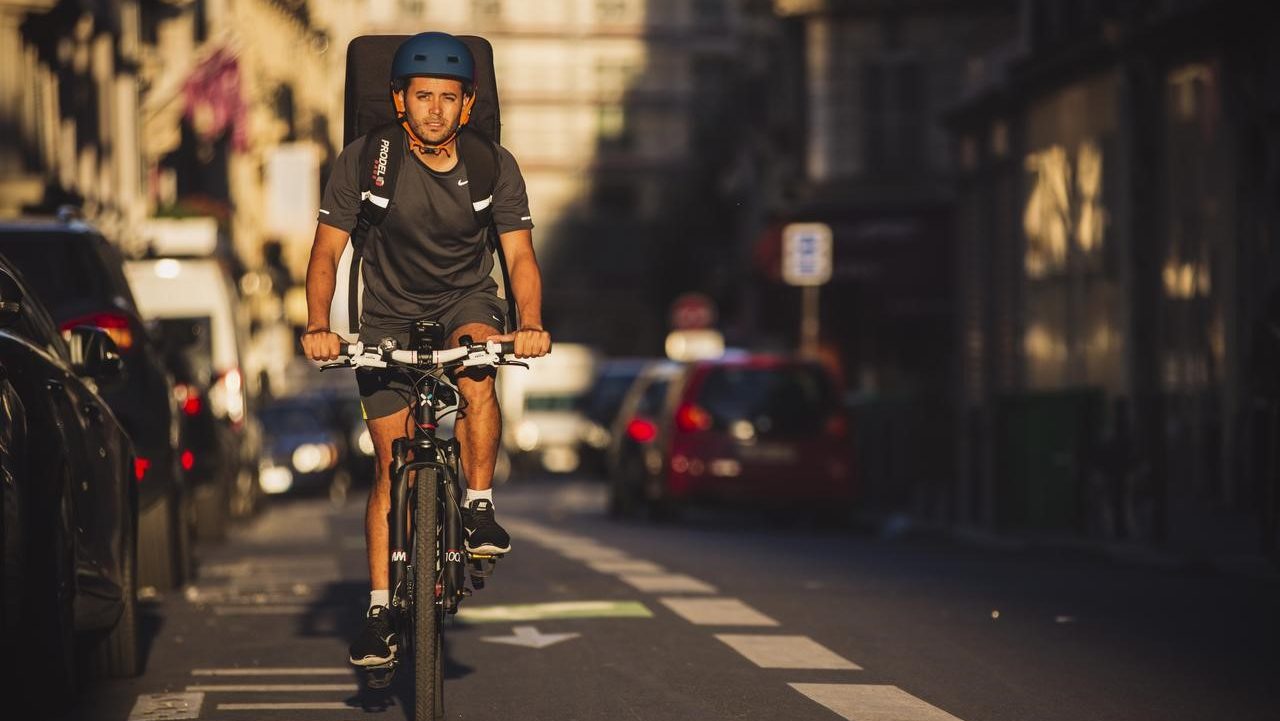 Kirstin Smith, Uber, discussed how Uber is using technology to help cities achieve vision zero.
The Global Plan for the Decade of Action for Road Safety 2021-2030 (Global Plan) sets out a number of ways that private sector companies share responsibility for achieving the Decade of Action alongside governments and other civil society organizations. "Corporations and businesses have tremendous influence on society and transport systems through their products; their fleets and how they manage them; their influence on employees, contractors, as well as their potential to financially support road safety," it states. "Businesses and industries of all sizes and sectors can contribute to attaining the road safety-related SDGs by applying Safe System principles to their entire value chains (including internal practices throughout their procurement, production and distribution processes) and reporting on safety performance in their sustainability reports."
Kristin Smith, Head of Global Road Safety Policy at Uber, speaking at the Alliance's On Track or Off Target? session, pointed to the many ways that the private sector can contribute with their technological strength, offering new solutions to help fill gaps and support cities' safety and mobility strategies. For example, Uber's Bike Lane Alert feature that uses open-source bike lane data to alert a customer when they are being dropped off near a bike lane.
"We believe that private sector companies are critical partners in helping governments achieve their Vision Zero targets" says Kristin, for example by acting as the first mile/last mile for people to use public transport, helping cities to achieve a modal shift that supports safety, sustainability, and reduces congestion.
Kristin highlights that another way that the private sector can engage is by joining forces with NGOs other advocates: "While we're proud of the technology and education we've launched around bike safety, we know that the best way to improve bike safety is for cities to build more protected bike lanes."
It is estimated that between a quarter and a third of road crashes in the U.S. and Europe are a result of work-related travel. NGOs can engage the private sector both to help them to continually improve safety and as advocacy partners pushing together for safer roads. "We partner with road safety advocates around the world to help improve road safety in their region," says Kristin. "It's an honor to be part of this discussion."
---