Congratulations to Winners of the FedEx Award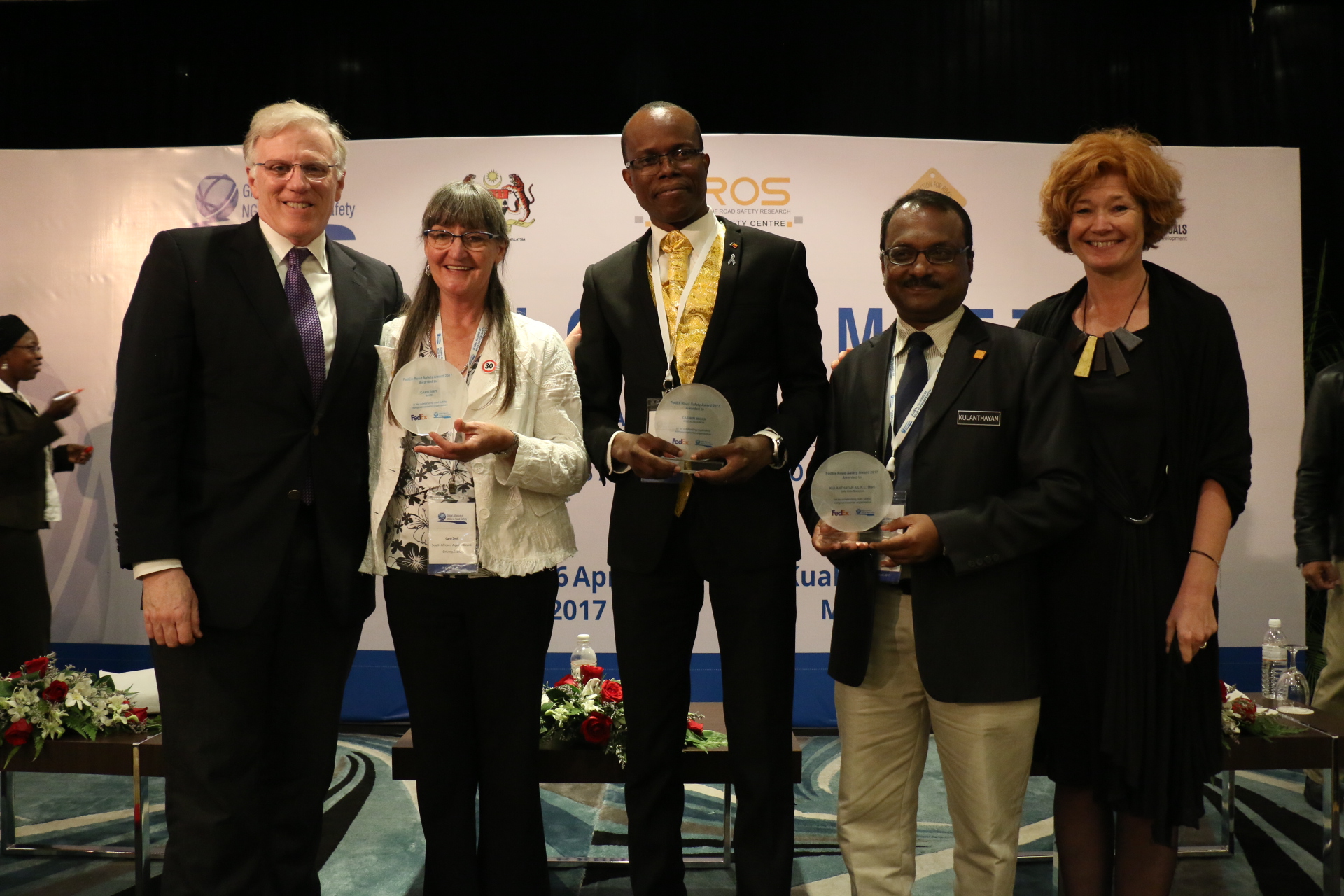 On 6 April 2017, FedEx presented awards to three road safety nongovernmental organizations (NGOs) at the Fifth Global Meeting of Nongovernmental Organizations Advocating for Road Safety and Road Victims.
This year's recipients are Safe Kids, Malaysia; South Africans Against Drunk Driving, South Africa; and Alinagnon, Benin.
The inaugural FedEx Road Safety Award recognizes the results-oriented commitment, involvement and willingness to learn of NGO members of the Global Alliance of NGOs for Road Safety. It is given to organizations that:
demonstrate outstanding commitment to road safety and/or post-crash response over a period of time,
are actively involved with the Alliance and have contributed positively to advancing our mission, and
show a willingness to learn by seeking advice, applying best practices, or seeking out practices or knowledge from others.
The awards recognize the potential of road safety nongovernmental organizations and seeks to honor small, growing organizations that seize opportunities and amplify best practices in the road safety community.
"At FedEx, our road safety initiatives connect people to the opportunity to be safe on the road and have walkable neighborhoods," said Shane O'Connor, communications advisor at FedEx. "We are proud to collaborate with the Alliance as part of our FedEx Cares commitment to invest $200 million in over 200 global communities by 2020. We congratulate all three award recipients for their efforts in road safety."
Global Alliance of NGOs for Road Safety executive director Lotte Brondum said, "We are extremely grateful to FedEx for their support. They provide generous assistance to us and to our members, as well as a vocal advocate for road safety. We are proud to present the FedEx Award and proud of those NGOs receiving it. They do meaningful work that makes a difference, and this is essential if we are to achieve the global goal to reduce the number of road deaths by 50% by 2020."
---