Why do drivers speed?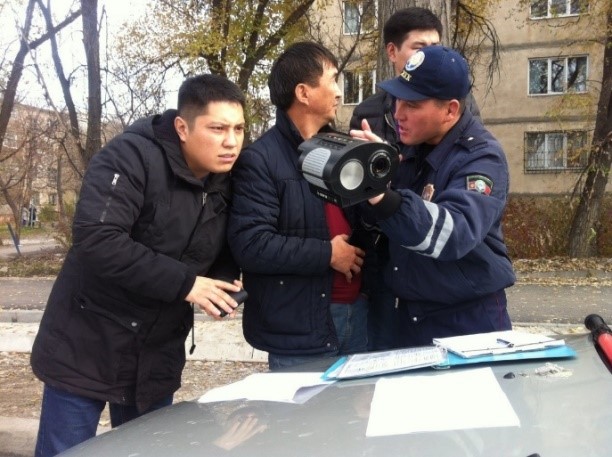 It is easy to assume that once speed limits are implemented and enforcement is in place, that the battle is won. The experience of Alliance member Road Safety in Kyrgyzstan demonstrates that these measures alone are not enough to change behavior. Driver attitudes and actions are not easily or quickly changed. As part of UN Global Road Safety Week, Road Safety have issued a press release sharing the findings of a survey done as part of their pilot project in 2016. 
A key feature of the pilot was a survey among drivers stopped for speeding on a stretch of road near a school with a 40 kilometers per hour limit. The survey found that 95% of speeding drivers who were stopped, did not want to admit their guilt. Many were confident that they would not be prosecuted and a number were aggressive, making statements such as "I am not the only violator" and "What right do you have to stop me?". 34% of respondents in a further survey admitted that they exceeded the speed limit because they were in a hurry. If we are to reduce road crashes due to speeding, we need tackle the reasons behind it. Road Safety point to "lack of appropriate penalties, the possibility of escaping penalties, unintentional or deliberate violations, illegally obtained driver licences, and corruption."
Road Safety's pilot project was featured in our newsletter in May 2016. Click HERE to read the article. Click HERE to read more about Road Safety.
Here is their UN Global Road Safety Week press release, highlighting their findings and calling for action:
"According to statistics provided by the Road Police of the Ministry of Internal Affairs, speeding was the number one cause of road crashes in Kyrgyzstan in 2016.  Speeding accounted for 2138 road crashes,  376 people died, and 1946 were injured.
Many lives could have been saved if drivers had maintained a safe speed! Speed violations are observed everywhere. For example, within a few days of a surveillance camera being installed in Sokuluk, over 2000 speed violations were recorded!
Speed limits are not observed by drivers. Why does this happen? The reasons are the lack of appropriate penalties, the possibility of escaping penalties, unintentional or deliberate violations, illegally obtained driver licences, and corruption.
In early 2016, TRACECA's road safety project team along with the road police, conducted a small project on preventing speeding. We selected the repaired section of Zhukeev-Pudovkin Street in capital city Bishkek near the school where a 40 km/h sign has been installed to observe whether the rule was being obeyed. When drivers violating the speed limit were being stopped, almost 95% of drivers didn't want to confess their guilt.  Moreover, absolutely no one wanted to be charged and were trying to call friends and family. The drivers confidently believed that they would not bear responsibility and were yelling out of spite: "what right have you to…", "I'm not the only violator…"
"I'm not the only violator" – yes, there are thousands of violators. That's why the Government should be able to hold everyone accountable. Hope still remains on the "Safe City" project, when finally the investigations and court cases are over. But "road criminals" do not wait.
Within this project, a survey among 100 drivers of route and private taxis in Bishkek was also conducted to study the behavior of drivers and the reasons for speeding. Participants in the survey responded that one of the main problems in the city is speeding. Here are just some of the answers that characterize the situation today:
To the question "Do you drive under the speed limit in the suburban roads?" half responded "Yes, I do" – 51%. But, 34% exceed the speed limit due to lack of time. The problem of time management arises. However, lack of time must not serve as an excuse for injuries and fatalities! This answer was repeated in response to the next question.
To the question: "Why do you think drivers violate the speed limit?" 38.3% answered "Because they are often in a hurry."  As a result we can conclude that rushing threatens one's own and others' health and lives. 32% of responders think drivers do not always observe road signs. The problem of road infrastructure also arises. Unfortunately in Kyrgyzstan, we are lack the infrastructure to help motorists drive safely.
To the question: "What should be done to prevent speeding?"  43% suggested promoting safety by releasing audio / video and printed materials. 15% think fines should be increased. Consequently, drivers themselves agree there is almost no promotion of safe driving, no information on TV, radio, newspapers. Especially now, when the deaths and injuries have increased.  Where is the state propaganda and preventive work in this area?
According to Australian Transport Council research, when Driving at 50km/h, it takes at least 27 meters to react and stop. When driving at 60km/h, it takes 36 meters to stop, when 70km/h and 80 km/h it takes 46 meters and 57 meters relatively. Not surprisingly, with  drivers frequently speeding at 70-80 km/h, we have very serious consequences both for us and for other innocent drivers and their families!
At present, the "Safe System" approach is being adopted around the world., Safe speed is one of the four components, along with safe roads and roadsides, safe transport and safe road users.
The WHO Managing Speed brochure describes two types of speed: extreme and inappropriate speed. Both are life and injury hazards, representing half of accidents in middle- and low-income countries.
The following actions can help to manage speeding worldwide: Construction and modification of roads, such as roundabouts and speed bumps; speed limit development according to the functions of roads; enforcement of speed limits; development of technologies in cars to track speed; increased awareness through campaigns.
It is known that the lower the speed, the less kinetic energy the driver or passenger has. When there is a collision, one part of this energy dissipates into other objects, and the other part hits the person, causing severe trauma. In this case, the human body is not able to absorb more energy than it has. Therefore, the less the energy that the body is subjected to, the less damage it causes.
8-14 May, events dedicated to the UN Fourth Global Road Safety week will be held in Bishkek ("Save lives: slow down". We call on all road users to join the "Slow down!" Week and not to violate the speed limits both during this Week and every other day to save lives."
---