FedEx Road Safety Award
The FedEx Road Safety Award recognizes the results-oriented commitment, involvement, and willingness to learn of NGO members of the Global Alliance of NGOs for Road Safety. It recognizes the potential of road safety nongovernmental organizations and seeks to honor small, growing organizations that seize opportunities and amplify best practices in the road safety community.
The award is presented every two years at the Alliance's Global Meeting. In 2021, due to the pandemic, the awards were presented virtually.
Read more about the 2021 award winners HERE.
Criteria
The award is managed by the Global Alliance of NGOs for Road Safety and given to organizations that:
demonstrate outstanding commitment to road safety and/or post-crash response over a period of time
are actively involved with the Alliance and have contributed positively to advancing our mission
show a willingness to learn by seeking advice, applying best practices, or seeking out practices or knowledge from others.
Award Winners
Awards 2023
Three NGO members of the Global Alliance of NGOs for Road Safety (the Alliance) were awarded the FedEx Road Safety Award for their outstanding commitment to road safety and the NGO community, growth, and advocacy for evidence-based interventions that contribute to reducing road deaths and injuries by 50% by 2030. The awards were presented at the Eighth Global Meeting of Nongovernmental Organizations Advocating for Road Safety and Road Victims (Global Meeting) in San Salvador, El Salvador.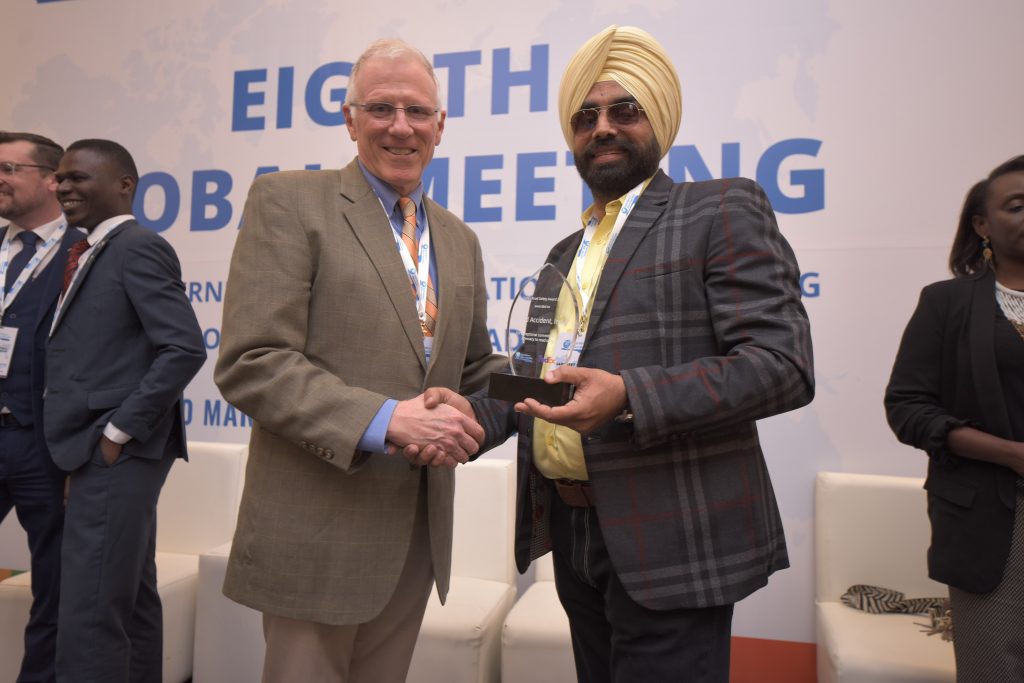 Avoid Accident has demonstrated exceptional growth. By taking advantage of Alliance offerings, including the Alliance Advocate Program, Alliance Incubator, and campaigns, Avoid Accident has strengthened its advocacy for evidence-based interventions, in particular, 25 and 30 km/h zones, and built coalitions and partnerships among Alliance NGOs in India.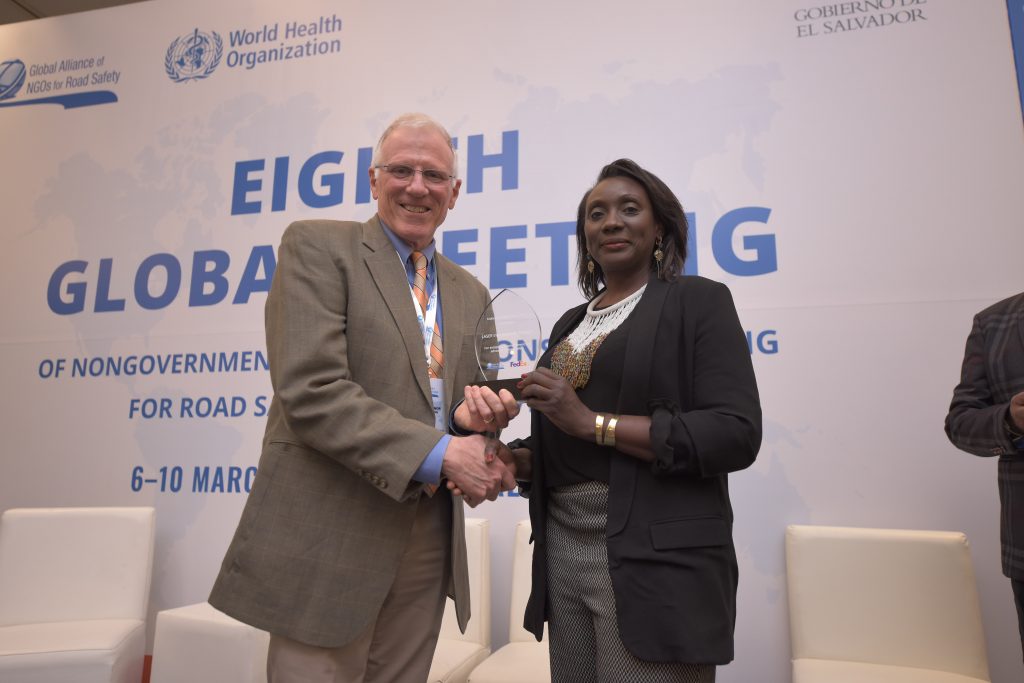 Sustained advocacy for evidence-based action paid off for LASER International in 2022, when a bill for 30 km/h zones around schools was passed through parliament. The NGO leveraged the #Love30 campaign and the Alliance Incubator Programs to push its advocacy further. LASER International has been an instrumental force in the Africa Chapter and among francophone Alliance members.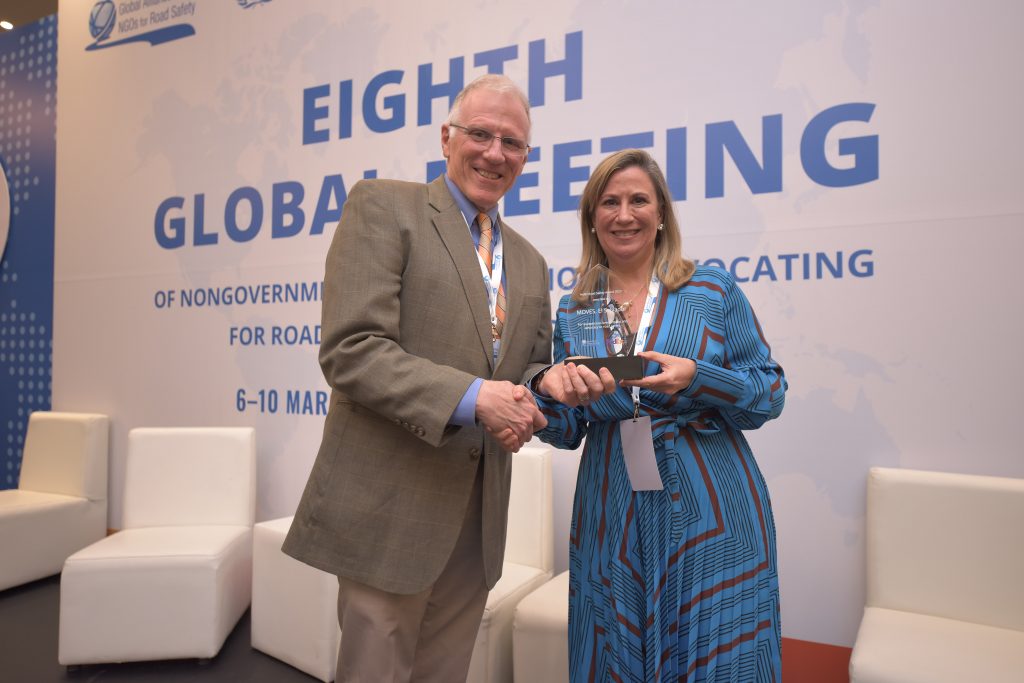 MOVES has demonstrated commitment to the Alliance by facilitating the Global Meeting, utilizing its time, energy, and contacts to make the meeting a success. MOVES' advocacy connects road safety issues to gender through its work to ensure safe public transport for women.
Awards 2021
In 2021, due to the pandemic, the award was presented virtually to five NGO members of the Alliance, including the Irish Road Victims' Association and a coalition of four NGOs from Latin America. Read the press release HERE. Watch Rock Sherman, Vice President, Roads Network, FedEx Express Europe, and Lotte Brondum, the Alliance's Executive Director, present the award below.
Award Winners 2021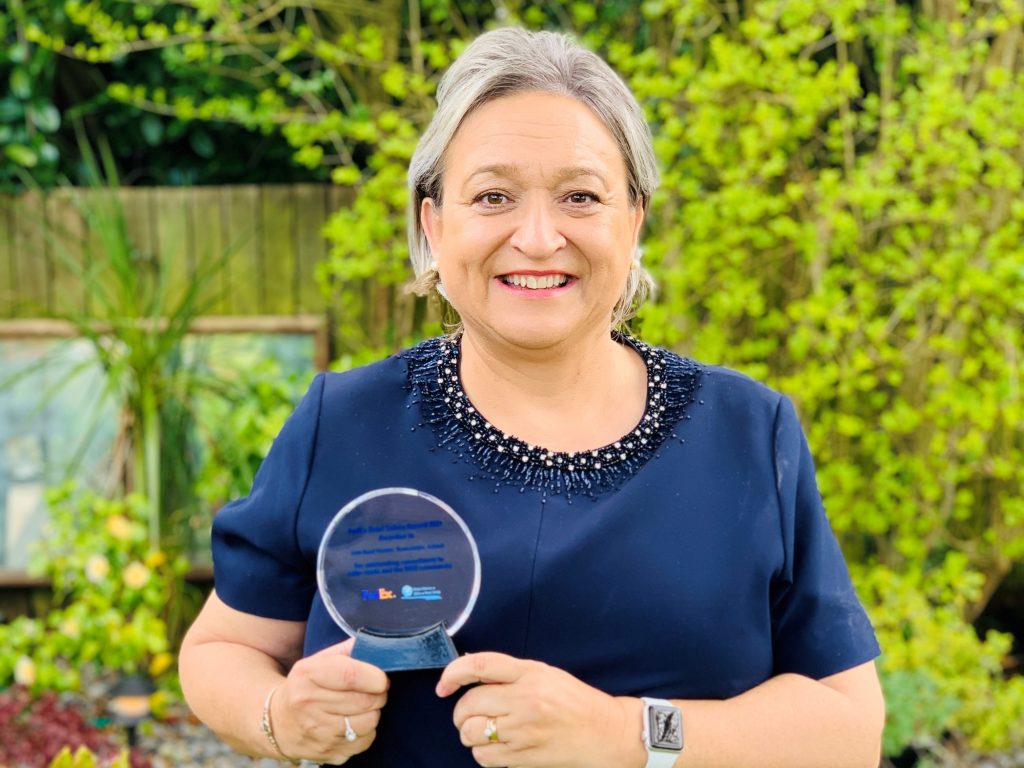 Irish Road Victims' Association
IRVA is a valuable voice for road safety and road victims in Ireland. Two of its members have recently been re-elected for a second term to the national Road Safety Authority (RSA). IRVA's founder, Donna Price, has built on the NGOs' experience in Ireland to start the International Road Victims' Partnership (IRVP), a network of NGOs around the world harnessing their joint experience to improve post-crash response.
"We are delighted to be recognised for our road safety efforts in this way. This great honour means a lot to me personally, as it does to all of the IRVA board members, volunteers and bereaved families who work tirelessly to prevent road deaths and serious injury, and to support road victims and their families. I dedicate this FedEx Award to my 18-year-old son Darren who was tragically killed in a crash in March 2006. I accept it in his memory, and in honour of all of our loved ones killed and seriously injured in preventable crashes on roads all over the world."

Donna Price, IRVA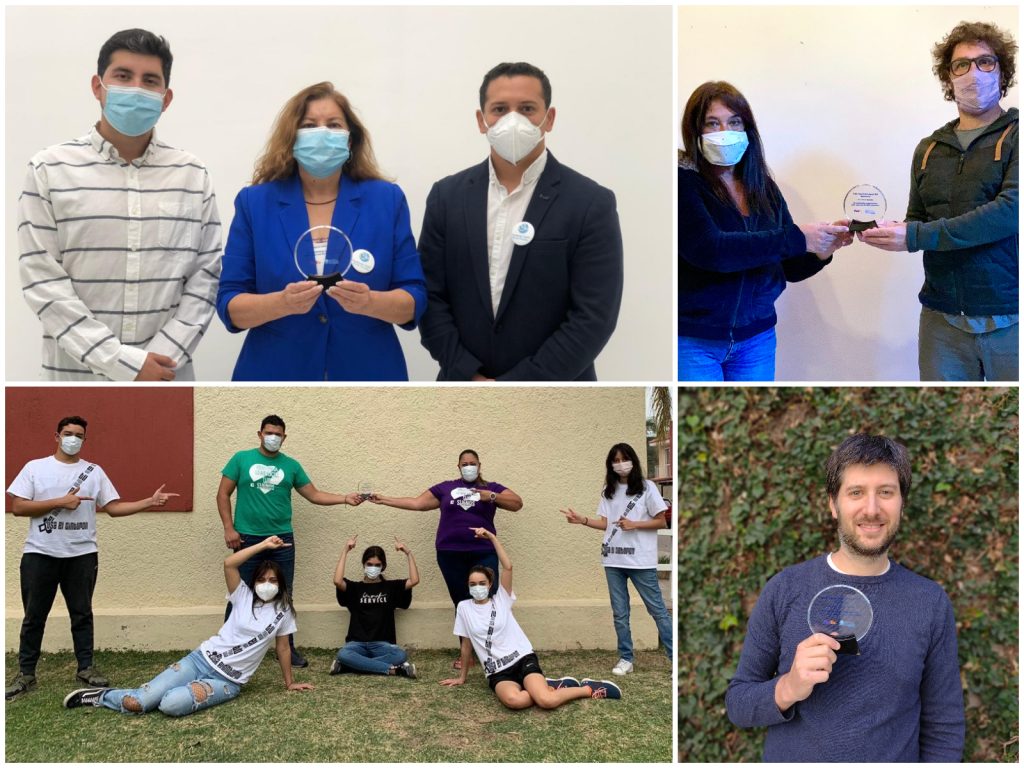 Latin American Coalition:
Association MiNU and ACTIVVAS, Argentina, Fundacion CAVAT, Ecuador, and Jovenes Salvaguarda, Mexico
These four NGOs are working as a coalition under the Alliance Incubator program to promote the safe use of bicycles in the Latin American cities they work in. In addition to awareness programs with delivery workers, families, and young people, the coalition partners will launch advisory boards for cycling in each country involving national, regional and local government, private sector, NGOs and experts. The NGOs have combined their individual strengths in their coalition and have used the Alliance as a platform for further growth. Although based in different countries, they have harnessed a shared experience to further their visions and missions in Latin America.
"We are honored to receive the FedEx Award for the work that we are doing as a coalition to advocate for safer cycling in countries across Latin America. The Incubator Program has given us the opportunity to work in closer collaboration, enhancing the work of our individual organizations and increasing the impact of our activities as we strive to achieve common goals. The FedEx Award will allow us to expand the reach of our work and gain more visibility for both the project and the NGOs in our home countries."

Martin Galanternik, MINU Asociación Civil
---
Award Winners 2019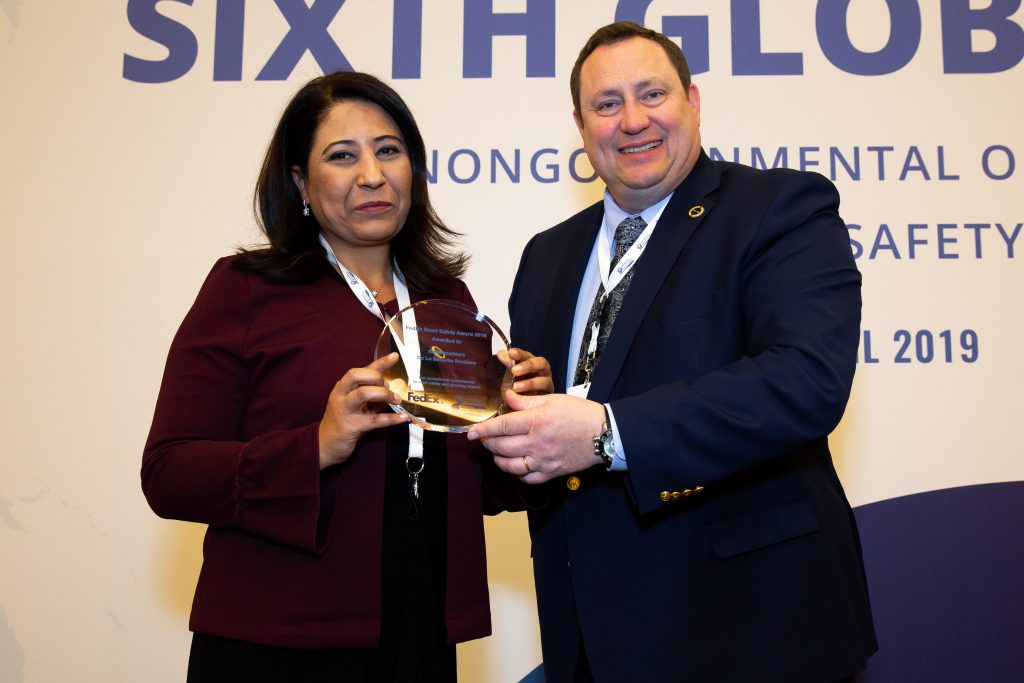 Ambassadeurs De La Securite Routiere
Afef Ben Ghenia who leads ASR, has grown the NGO from a small grassroots organization to one of national and international significance. ASR's breakthrough moment was a campaign to improve seatbelt usage in Tunisia. Through a media strategy that targeted public opinion by engaging celebrity ambassadors from different fields, mobilizing journalists to support the campaign, and advocating with government decision makers, ASR was able to reactivate a dormant seat belt law. The law was implemented in April 2017, and in the two months after it was passed, road deaths fell by 35% from the same months the previous year.
"The 2019 FedEx Road Safety Awards represent a big jump for ASR. It will give us more responsibility and a deep motivation to aim for more achievements in road safety and to maintain the work we are already doing in Tunisia." Afef Ben Ghenia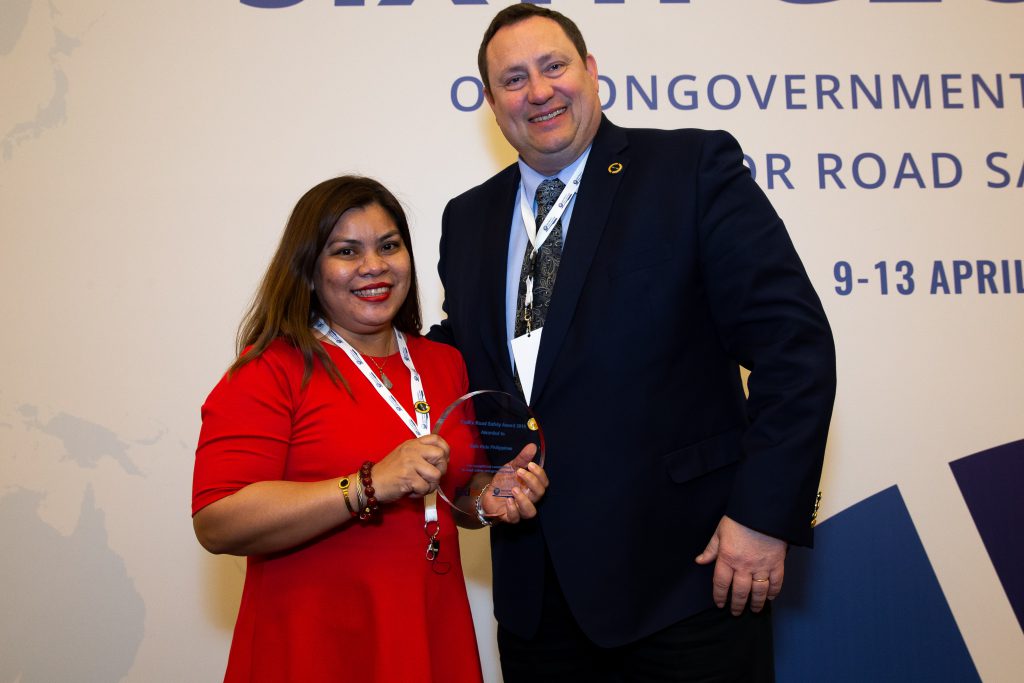 Safe Kids Worldwide Philippines
Safe Kids Philippines has built partnerships with helmet manufacturers and motorcycle dealers to increase the affordability and distribution of safe helmets for children. Alongside this, it was at the forefront of a push to implement a law to make helmets mandatory for children on motorcycles. Safe Kids was the only NGO to serve as a regular consultant on the law. In addition, Safe Kids Philippines has been active with the global, FedEx-sponsored Walk This Way child pedestrian safety campaign for 15 years, reaching more than a million children with lifesaving and injury-preventing education and training.
"The FedEx Road Safety Award 2019 is a big honor for our organization and also to my work as road safety advocate. The award will help Safe Kids Worldwide Philippines to push more forward our programs in the country, especially on child road safety. This award is for Filipino children and to all our partners from schools, government, and non-governmental agencies in the country. Thank you FedEx and the Global Alliance of NGOs for Road Safety." Amy Rolloque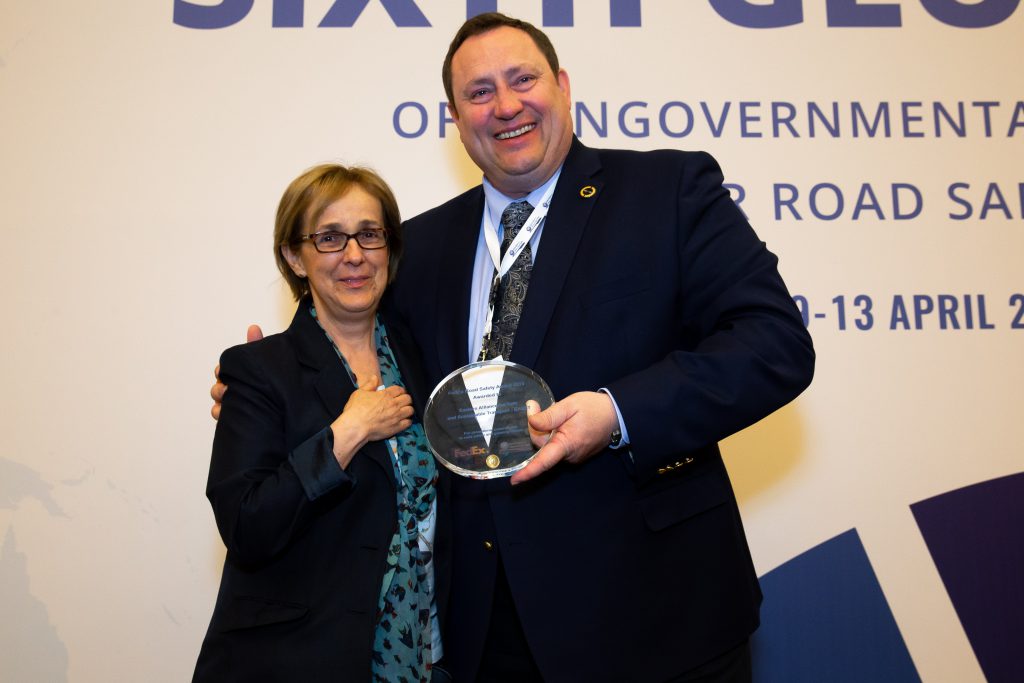 Eastern Alliance for Safe and Sustainable Transport
EASST and its local partners have achieved impressive results at local, national, and regional levels, using evidence-based approaches to address road safety issues that make a difference. Examples include a project in collaboration with the Automobile Club of Moldova that saw fatalities on public transport fall by 85% and a pilot project with the Young Generation of Tajikistan and the European Bank for Reconstruction and Development that increased seat belt use in Dushanbe from 13% to 21% in six months and brought the issue to the attention of decision makers.
"We are delighted and honored to receive this award, which we dedicate too to all our partners. This year marks EASST's 10th anniversary—to be recognized by our peers and FedEx for all that we have achieved is a great source of pride and a wonderful way to top off our celebrations." Emma McLennan
---
Award Winners 2017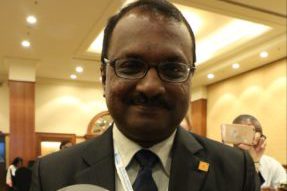 Safe Kids Malaysia
Safe Kids Malaysia is part of the Safe Kids Worldwide network. It provides evidence-based, practical resources to protect children from unintentional injury. Projects include walkways for children to enable safe journeys to school and helmet campaigns. Kulanthayan Mani is one of our Alliance Advocates.
"Thank you Lotte and Shane for believing in us. Hopefully we can deliver well. We keep to your word to strike a gold in 2020 SDG 3.6 Olympics. We will do all we can with this four years single intervention to save children travelling on motorcycles. Praying hard to strike a medal in 2020 as we come to the end of SDG 3.6." Kulanthayan Mani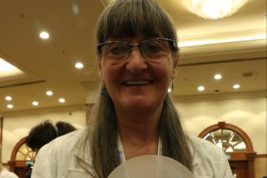 South Africans Against Drunk Driving
South Africans Against Drunk Driving's mission is to stop drunk driving, protect families from needless deaths, and make a difference, They do this through education, victim support, alcohol and breathalyzer training, and sale of resources.
"Caro Smit is very honored to have been acknowledged by FedEx and the Global Alliance. SADD will continue to grow as a road safety brand in South Africa, and across the world, and hope to be an instrumental organization in ensuring safer roads for all." SADD Spokesperson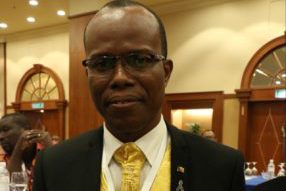 Alinagnon
Alinagnon trains educators and young people in road safety, undertakes road safety studies and research in Benin, advocates for safer roads, and assists road traffic victims.
"Thank you for all your words of encouragement. I will do my best to give more results…All Alinagnon's team remained stunned in front of the trophy and not knowing what to say in front of this great victory that you allowed us to win." Caismir Migan