Road safety through the eyes of children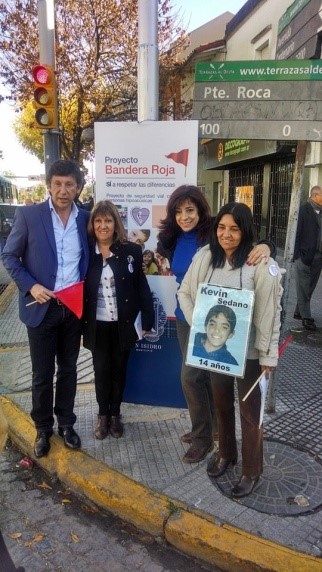 Five-hundred  children are killed on our roads every day, and the Alliance wanted to draw attention to the urgent need to better protect children and generate action on the measures needed to do so. For the Third United Nations Global Road Safety Week from 04­-10 May 2015, we identified and mobilized ten Alliance member NGOs from Belarus, Moldova, Kyrgyzstan, Mexico, Uruguay, Vietnam, Malaysia, Nepal, South Africa, and Kenya to run a child reporter activity.
In Belarus, Belarus Automoto Club supported a series of live stories on road safety though the eyes of children under the slogan Stop Killing Us on Roads. Children served as reporters and interviewed other children victims who were injured in road accidents. All the interviews included appeals to adults to ensure children safety on the road.
In the case of Kenya, the adults that the children interacted with, through the support of ASIRT Kenya, made commitments to do what all they can within their power to ensure safety for children. The highest-ranking policy maker in the road safety sector that the children interviewed was the Director General of the National Transport and Safety Authority, who received the child declaration and promised to act on it.
Kyrgz Road Safety NGO in Kyrgyzstan did a lot of work in order to distribute video and audio clips to TV and radio channels, agreeing to air them in support of the #SaveKidsCampaign. Kyrgz Road Safety also did follow-up monitoring work to check which of the channels stayed true to their word, and to determine the number of times the clips were aired.
While it was a bit challenging in the case of Mexico due to the unanticipated effect of the elections, it was, however, an incredible experience for Mexico Previene to learn how children think of their streets, and how they feel when they walk on it. It was also an eye-opener for the organization to learn that children are aware of possible solutions to road safety problems, i.e., speed limits, create more parks and walkable cities.
A video clip entitled "Unsafe to School, Unsafe Home" was produced by the Automobile Club of Moldova, with children of the Kiril si Metodiu Lyceum in Chisinau actively involved in making of the video and developing ideas for the clip. The children themselves did the last-second shooting of the video.
In South Africa, South Africans Against Drunk Driving (SADD) shared that three large McDonald stores and 10 schools took active part in the child reporting event, and many other schools, trees, and petrol stations were wrapped with #SaveKidsLives messages. Coverage of the main #SaveKidsLives event and #SaveKidsLives week and the Child Declaration recommendations were well covered by all media outlets throughout South Africa. SADD has committed to continue working with some of the schools to show them the video clips, and to encourage them to implement and demand better road safety facilities.
In Vietnam, AIP Foundation shared that students asked questions and presented solutions to road safety leaders that aim to enhance safety of child road users and improve traffic environments, during a panel discussion organized as part of a Traffic Safety Forum for Children by AIP Foundation, in cooperation with the Ho Chi Minh Government. Leaders from the National Traffic Safety Committee and Ho Chi Minh Department of Transport, Traffic Safety Committee, Traffic Police, and Department of Education and Training attended the forum. While it was
difficult to get news channels to solely feature students as child reporters in their news stations, the students, however, did a great job as child reporters in this event.
Safe Kids Malaysia engaged 28 government schools in a national launch of the #SaveKidsLives campaign. The launch was featured in Star TV, Chinapress and at Minnal FM students talked about the World Health Organization's 10 strategies on keeping child safe on the road.
Fundación Gonzalo Rodriguez from Uruguay, chose to illustrate the road safety situation thorough following Pilar – a 7 year old girl told in second grade. Her story was about how she gets to school and the dangers she faces on her route to school. A popular magazine among students in primary and middle school featured her story.
In Nepal Swatantrata Abhiyan had planned for 6 children with 6 journalists to attend a half-day workshop about road safety and how to report the news. With support from the journalists, children's stories were planned to be broadcasted, published and posted through TV/Radio, newspapers and in social sites. However, all activities had to be cancelled due to the two big earthquakes in late April and beginning of May.
---