Prince Michael Award Winners 2019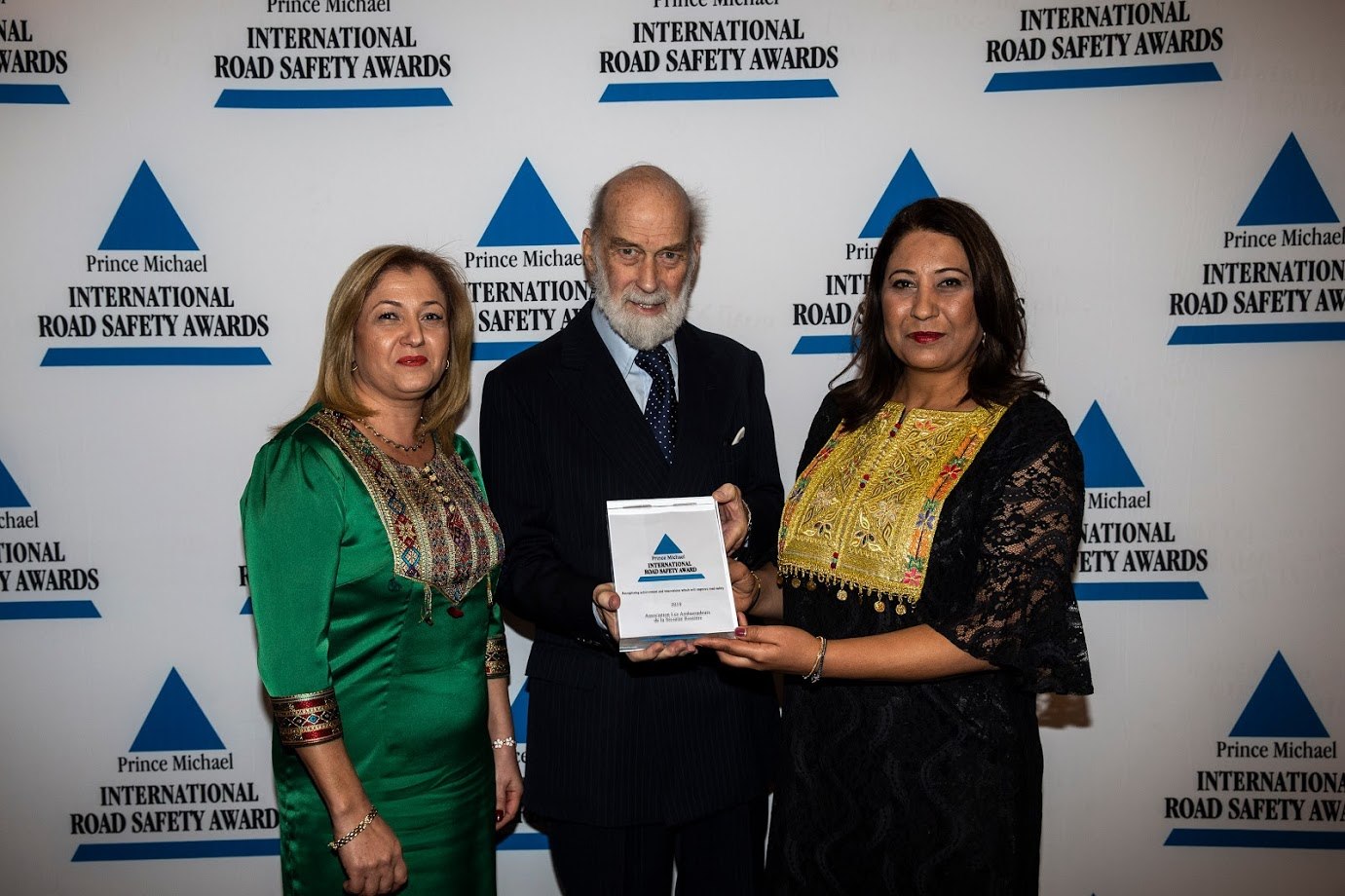 The 2019 Prince Michael International Road Safety Awards were announced on Tuesday 10 December at its Annual Awards Luncheon Ceremony held at The Savoy Hotel in London. The awards were presented by the Prince himself, His Royal Highness Prince Michael of Kent.
More than 300 of the world's leading road safety professionals attended the awards ceremony, which recognizes outstanding and innovative road safety initiatives of businesses and organizations, including NGOs, worldwide.
This year, four Alliance members received the prestigious award:
Association Les Ambassadeurs de la Securite Routiere (ASR) for its seatbelt campaign (Category: Safer Road Users)
ASR is an NGO based in Tunisia. In 2015 twenty nine percent of deaths were because passengers were not wearing seat belts. The NGO was the driving force behind a successful campaign, delivered through many private and public sector partners including TV, newspapers, and radio as well as social media to raise awareness increasing the visibility of the issue.
Key is this approach was the use of celebrities to carry the message. These came from, cinema, theatre, football, music and TV.
This successful national campaign was the result of Afef Ben Ghenia's Alliance Advocate action plan developed at the Advocate training in 2016. It was delivered in collaboration with the Ministry of Transport and private sector partners has led to a nine percent decrease in deaths.
Belarusian Auto Moto Touring Club (BKA) for its Road Safety Education Programme (Category: Safer Road Users)
In Belarus provision of road safety education for children with disabilities was non-existent until the BKA developed new materials and procedures for teaching these children and those with special educational needs. The programme based on the EASST evidence-based Road Safety Education Pack has already been used with over 700 children with differing disabilities and needs.
This programme includes inclusive education sessions for children with and without disabilities. It has also sparked a greater public awareness of the need for institutional engagement and change around safer mobility and road safety for people with disabilities.
New Car Assessment Program for Southeast Asian Countries (ASEAN NCAP) for its Crash Test Laboratory (Category: Vehicle Safety)
ASEAN NCAP, hosted by the Malaysian Institute for Road Safety Research (MIROS), aims to elevate vehicle safety standards, raise consumer awareness, and build a market for safety across South East Asia. In 2012, it inaugurated its own crash test laboratory MIROS with technical support provided by Australasian NCAP and Euro NCAP. With support from Global NCAP some 100 crash tests have been conducted covering 90% of the market. One in ten cars in the region now have been rated and pleasingly 90% of the cars are rated 4 or 5 stars.
Its extraordinary rate of progress was marked by another major legislative achievement. From 1 March next year all manufacturers in Malaysia will be required by the Government's Ministry of Domestic Trade and Consumer Affairs to display an ASEAN NCAP safety rating label for all passenger cars.
Safe Kids Worldwide and FedEx for their Safe School Zones project (Category: Safer Roads)
Safe Kids Worldwide is a global network of organizations whose mission is to prevent unintentional childhood injury, the leading cause of death and disability to children ages 1 to 14. Eighteen member countries and more than 600 coalitions and chapters across the U.S. bring together health and safety experts, educators, corporations, foundations, governments and volunteers to educate and protect families
The Safe School Zones Grant programme created by Safe Kids Worldwide and FedEx improves child pedestrian safety across the United States and in Brazil, Canada, China, India, the Philippines, South Korea, Thailand, South Africa and Vietnam by tackling the biggest problem in dangerous school zones – inadequate infrastructure. Safe Kids coalitions receive grant funding and access to industry experts to make environmental improvements near schools in their communities. Many projects receive additional funding from local government.
The Safe School Zones Project aims to reduce the number of collisions, injuries and fatalities on the road around schools. This project is a model to other schools, governments and organizations working to improve safety. It demonstrates the need to identify environmental and behavioral risks, the effectiveness of multi-level interventions and the value of data.
Provision is made for up to $40,000 USD per Safe School Zone Project based on the community's needs and itemized budget that includes all associated costs. The projects take between six months and two years to complete.
Other recipients include the UPS Foundation, for their support of AIP Foundation's Safety Delivered project, and the World Health Organization (WHO) for its implementation of the Decade of Action for Road Safety 2011-2020.
Our earnest congratulations to all of the winners.
---