Auditing Infrastructure in New Delhi, India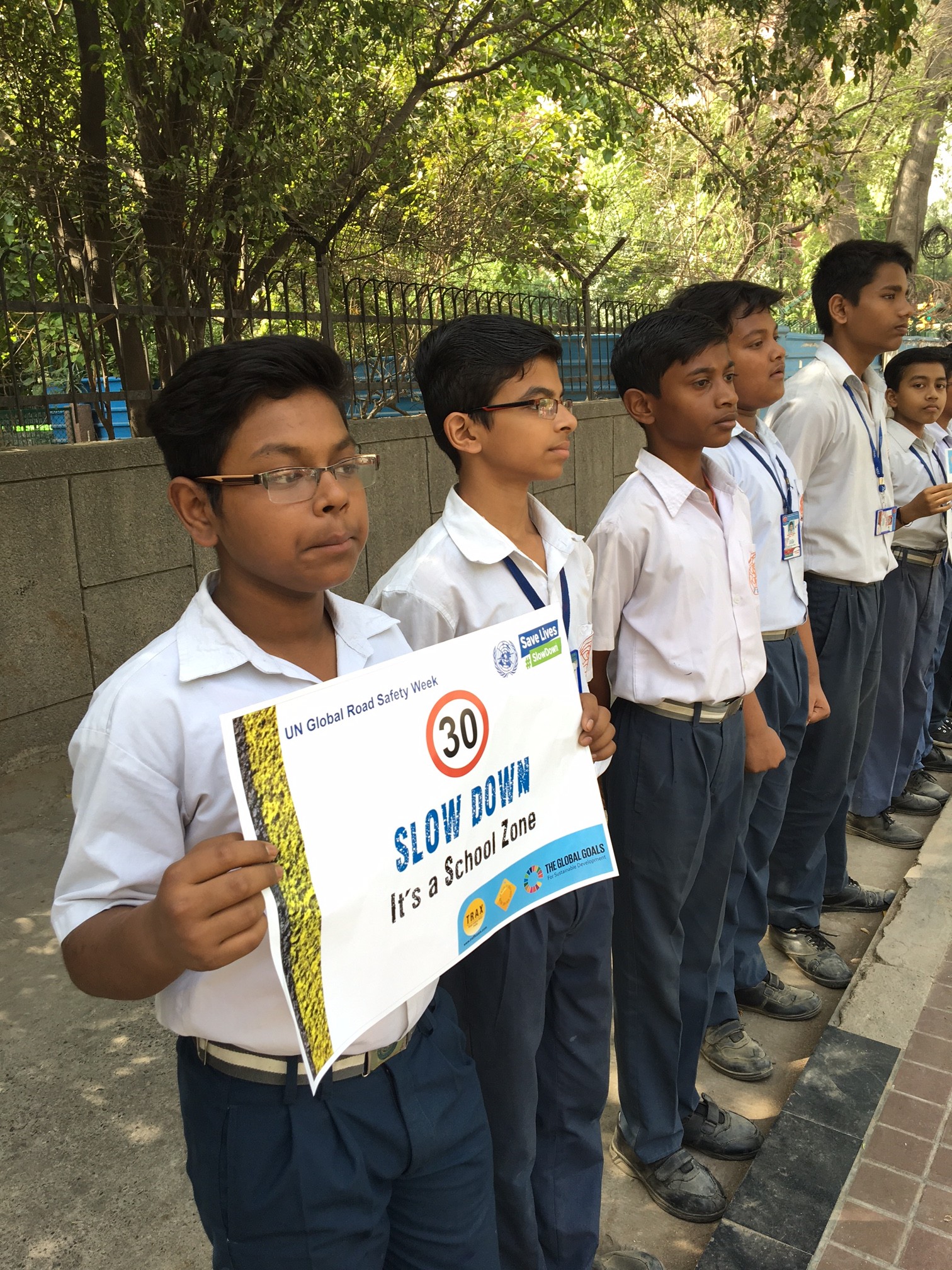 Traffic Zam (TRAX) India's campaign "It's a school zone" has focused around implementation of a 30 kilometers per hour speed limit around a stretch of road in Mandir Marg, New Delhi, where seven schools are located.
In preparation for the campaign, TRAX have been conducting surveys of road user behavior and existing infrastructure, and which is being audited by the International Road Federation (IRF). Their main findings were:
The absence of crosswalks in front of some schools and the flouting of rules by pedestrians as well as motorized vehicles where crosswalks (often in disrepair) do exist. The lack of zebra crossings leads students to take the shortest, potentially dangerous route across the road.
The absence of stop lines before existing zebra crossings and vehicles stopped on the crossing, making it invisible and therefore putting pedestrians at risk.
Although school zone signs existed, many were covered by trees and hard to see. Additionally, despite the schools, the speed limit was set at 50 kilometers per hour for cars and 40 kilometers for trucks.
No divider rails to prevent pedestrians from crossing at dangerous points.
Nuisance caused by plants bordering the sidewalk.
The condition of the subway makes female students wary of using it.
TRAX took their findings to the school, asking them to play their part by implementing the following measures:
Parking spaces for school buses to avoid traffic congestion during drop off and pick up times.
Appointment of a road safety warden.
Road safety talks during Parent-Teacher meetings.
Small-scale interventions on road safety by school authorities as a part of the curriculum.
They also arranged meetings with officials including the District Magistrate of Central Delhi, New Delhi Municipal Corporation, the Delhi police and traffic police to address infrastructure issues:
The absence of crosswalks / zebra crossings.
The absence of stop lines.
A reduced speed limit around the school zones.
Visibility of school sign boards.
Speed breakers near the schools.
The issue of plants bordering the sidewalks.
Traffic congestion at drop off and pick up times.
Open maiden cuts (to avoid U-turns that create congestion).
To draw attention to the campaign, during UN Global Road Safety Week, 250 students formed a human chain around the schools and #SlowDown campaign has received the support of the Minister of State at the Ministry of Road Transport and Highways, and TRAX hopes that this will assist them in pushing through the changes needed. They have already had one success. Since their initial discussions, permanent hoardings have been fixed at the school gates.
Read more about TRAX HERE.
---