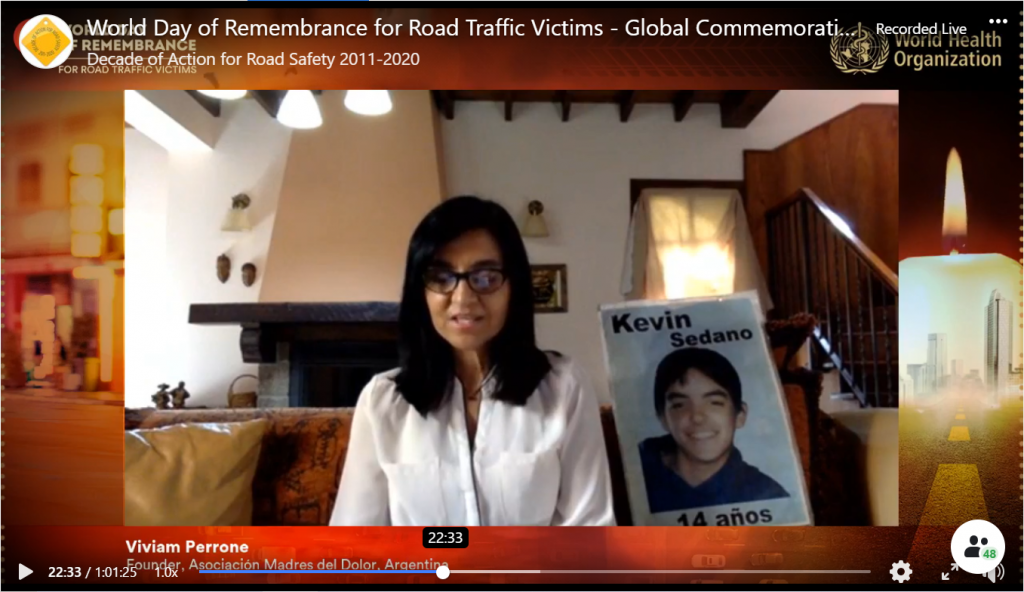 Viviam Perrone, Asociación Civil Madres del Dolor
"World Day of Remembrance. It's a day we wish we didn´t spend in remembrance and grief and instead we would give whatever we could to be living it with our loved ones. It's a day that reminds us of that moment when our lives and our families´ lives imploded, shattered.
Today I remember my son, Kevin, and all of those who like him, loved life. At the age of 14, his life was all about friends, soccer, playing the drums and smiling. That beaming smile which I now remember in silence. That burst of laughter that came together with the smile. That catchy burst of laughter which made all of us laugh together but now makes us remember him in sadness.
Why did this smile disappear? What did I do wrong? These are the questions that torture me every day of my life. The answer is that Kevin, his love for life, for his friends, for his family shouldn´t have disappeared in that one second when someone driving at double the speed limit, ran over him and left him there.
While Kevin was fighting to live, the man that ran over him was already on vacation, skiing far from where Kevin was hospitalized, far from where his friends and family were praying day and night. That´s when we realized how important first responders are. The police, the man driving the ambulance that took him, the nurses and doctors all helped to make those terrible days more bearable.
Kevin was like so many others at his age but so special. He played the drums in the school band, the same school where I taught so I saw him every day at school as well as at home. He played soccer in the local team. Now the picture of his face is on the wall next to the soccer field. His friends still remember him and also suffer. Every year, in the month of May which is when he died, they come home and together we remember how they had fun together. Many of them are now fathers and mothers, which is something that we will never be able to see Kevin become. He liked going to school, being with his class mates. Living. Living and smiling.
Kevin´s smile, and those smiles that are behind the statistics, the numbers showing deaths and wounded should remind us that we have the Right to live; they had the Right to live but someone decided the opposite.
Someone decided to step on an accelerator and go over the allowed speed limit and that decision changed the lives of all those who knew Kevin. We had to start learning about going in and out of courtrooms, learning new law terminology, speaking to lawyers. We did all this because Kevin´s right to live, to have his own family, to study, to have friends all disappeared in an instant. So we wanted justice to be served. Justice, not vengeance. But that was also hard for us, almost impossible.
Everything I do now is in my lovely son´s honor. I am compelled to act so that his sudden, violent and unnatural death was not in vain and to try ensure that what happened to our family doesn´t happen to others. But it does; and the list of names of so many, who had taken from them the right to live, is growing every minute. We not only wanted justice to be served but also lessons to be learnt from Kevin's death in order to prevent a recurrence.
For us, the families of the victims, since that day, the day our souls sunk in sadness, the day our lives caved in, every single second, every breath we force our bodies to take is shrouded by their remembrance but at the same time illuminated by their smiles.
On the World Day of Remembrance, their smiles give us hope. This feeling of hope pushes us to work together so that we can change this reality and save lives.
Kevin, mamy te quiere!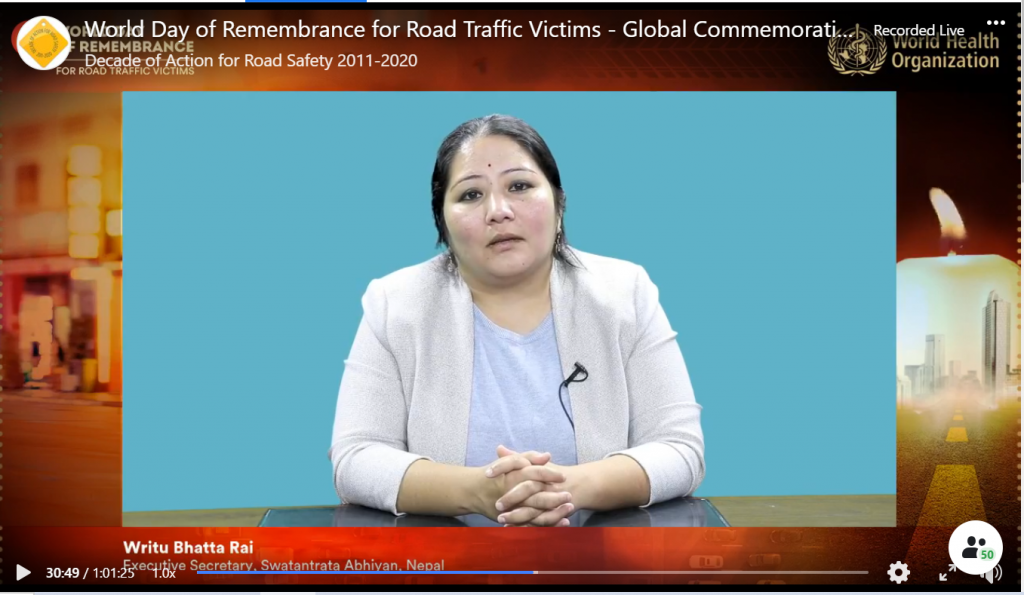 Writu Bhatta Rai, Swatantrata Abiyan Nepal
I am Writu Bhatta from Nepal. I have been leading a non-governmental organization called Swatantrata Abhiyan Nepal. This is a road safety advocacy organization and also a member of the Global Alliance of NGOs for Road Safety. Since 2012, we are advocating for safe road behaviors, policy changes, and people's mobilization activity to make safe travel in Nepal. Despite long road safety campaigns and some progress in commitments from the government of Nepal, we are still suffering road crashes, injuries, and loss of human life as a major issue. I am one of such victim's families. I lost my family member three years back in a road crash.
Three years on, I still believe that my aunt lost her life in a way that she should not have had to, if only there had been support.
That day, my aunt and uncle were riding their motorbike on a hilly, bending road, returning from their village to meet their 80-year-old mother who lives in the southern Nepalese city of Biratnagar.
It is a highway with bending roads.
In Nepal, motorbike is the most efficient and affordable choice of private vehicle among the large middle class population. So, this was my uncle and aunt's main transport. On the twisty, hilly highway, they were hit by a big truck that drove off and left them there without stopping. My uncle suffered some bruises but my aunt had internal bleeding, although they did not know this at the time.
After they were hit by the truck, they waited almost 90 minutes for an ambulance. The government health policy says that there should be a single hotline number for crash response cases but we had no number still then. There were passersby, but they were too scared to rescue them because people who help at a road crash scene often get trapped in legal prosecution. This has led to passersby being reluctant to help victims of road crashes. Even if the ambulance had been there in 30 minutes, they could have reached hospital in time and they could have saved her. In addition, when it finally arrived, the ambulance did not have basic facilities like oxygen, paramedics, and other medical equipment. Nepal's Road Safety Policy includes plans to place first aid and a rescue network every along the highway with access to an ambulance within 1 hour's drive. However, that was not the case for us.
After my aunt lost her life, my uncle could not resume his business for a year; her son was preparing for the medical school entrance exams, which he could not continue and had to defer until the next year. Her daughter, who is a dentist, could not continue her practice at a local clinic and has had to defer her plans to do a master's degree, which she has still not been able to start, three years after crash.
My aunt lost her life, due to absence of a timely ambulance service and immediate road traffic injury response.
I believe she paid with her life and that she should not have had to. Thus, I call on policy makers to strictly enforce that rescue teams are available every 20-30 KM, that first aid providers and ambulance facilities are available, and that emergency phone numbers are available everywhere and to everyone to assist in road crashes.