Science meets practice at the Safety 2016 conference in Finland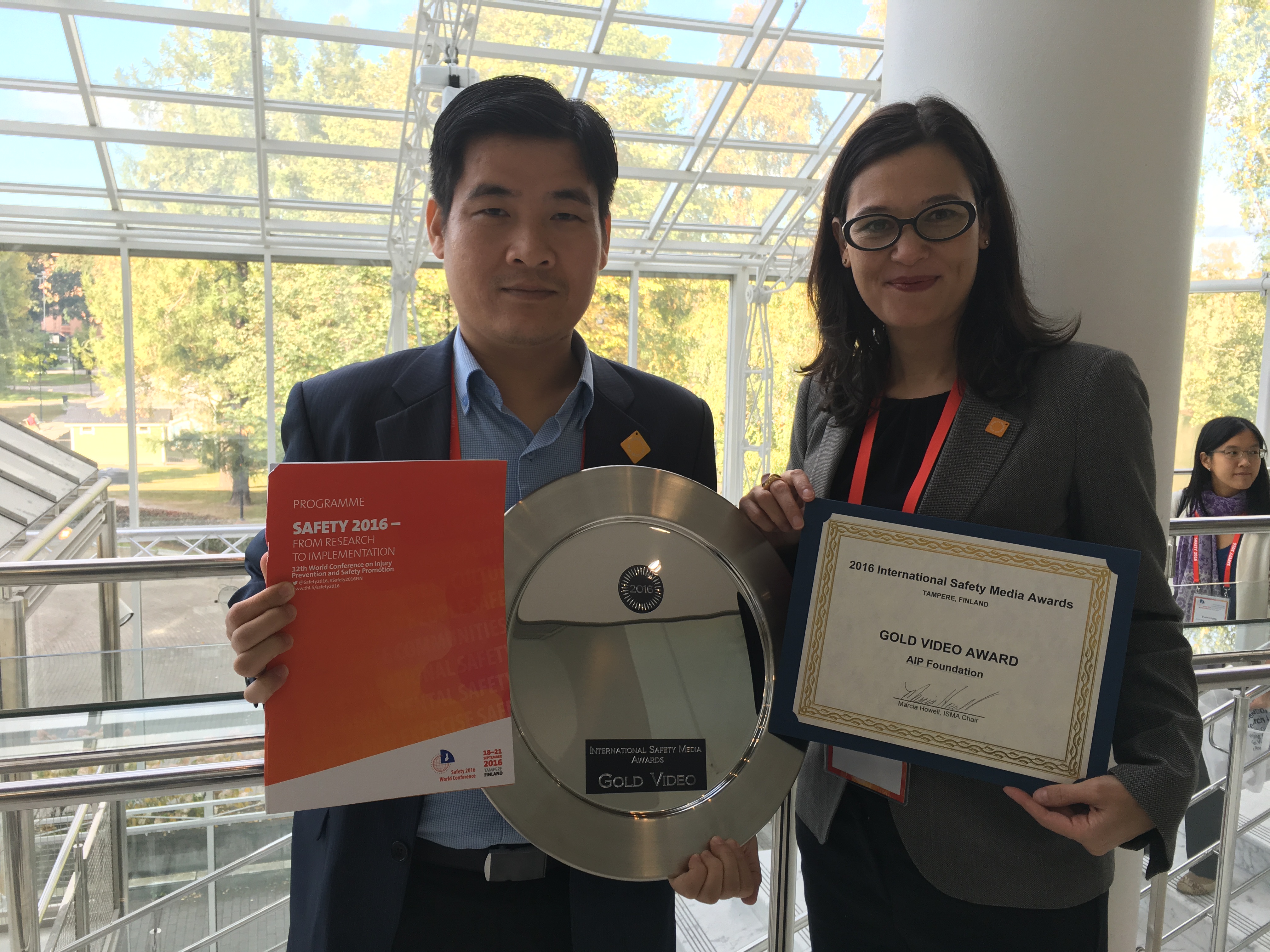 The 12th World Conference on Injury Prevention and Safety Promotion took place in Tampere, Finland from 18-22 September. Speakers and researchers from around the globe came together to share science and practice from a range of safety subjects including road and traffic safety. Many Alliance Member NGOs joined and presented their work and several Alliance Members won media awards. 
Alliance Member Usalama Watch Initiative presented their work on creating a task force to amend a traffic bill in Kenya. The task force fought for safer passage for school children and tapped into task force members' strengths to create political will. Safe Kids Thailand presented a poster titled "PHOTOVOICE: Child Participation to Develop Safe School Zones". Their presentation outlined how childrens photo's of their road to school have been used as a tool for advocating for safer infrastructure in Thailand. The Alliance presented two posters. One poster was on our Alliance Empowerment program and the other explained the Global Alliance as a whole.
Many more Alliance Members made presentations.  All posters and presentations are published in the BMJ September 2016, Volume 22, supplement 2 edition.
Two Alliance Members received awards for their work: Safe Kids New Zealand and AIP Foundation Cambodia. AIP Foundation was honored at the conference's International Safety Media Awards where they won "Excellence in Media Evaluation" and "Gold" in the short video category for their mass media efforts promoting helmet safety in Cambodia. The accolades were announced as part of the closing ceremony of the conference. AIP Foundation's Cambodia Country Director, Pagna Kim, and CEO, Mirjam Sidik, accepted the awards. Kim also joined other award winners during the conference session to present on the successes and challenges they faced evaluating the effectiveness of the Cambodian media campaign. The award-winning behavior change campaign was implemented as part of "Head Safe. Helmet On.", a project co-founded by the US Agency for International Development. The project launched in 2014 and aims to increase awareness of road safety laws and promote helmet use nationwide. FIA Foundation, the US Centers for Disease Control and Prevention, the UPS Foundation, and multiple Cambodian government agencies have also supported the campaign. Watch one of the public service announcements from the "Head Safe. Helmet ON." campaign HERE.
The conference brought together the scientific community to debate which policies and interventions work and will save lives. WHO, JHSPH, Bloomberg, FIA Foundation and Centers for Disease Control were among the several organizations that spoke on topics such as research implementation, safety policies, safety and sustainability development goals, and innovative approaches to capacity building in injury prevention in low- and middle-income countries.
In a note for the attendees, Dr. Etienne Krug, the chair of the conference's international organizing committee remarked, "In 2016 we convene at an auspicious time for the violence and injury prevention field, given the newly adopted Sustainable Development Goals, and the opportunities afforded by this goal framework for transforming our world."
---