#SpeakUp: I demand the right to walk
This week, during UN Global Road Safety Week, Alliance member Patiala Foundation are speaking up about the right to walk of citizens in Patiala as part of a longer term, multi-stage campaign. The campaign already has the commitment of the local authorities, who are implementing road improvements to install and reinstate footpaths and separate motorists from other road users. Patiala Foundation's UN Global Road Safety Week campaign therefore focuses on the community and how the new infrastructure will be used: building public support, encouraging the community to use the new footpaths, and building a sense of ownership.
Ravee Singh Ahluwalia, Chief Functionary at the Patiala Foundation, describes why he first took up this demand. "I used to do talks at schools, telling the children to use the footpaths and zebra crossings," he says, "On one occasion, they told me, 'you came last time, and you told us to use the footpaths and the zebra crossings. But there are no footpaths and zebra crossings.' I started going around the city, looking for footpaths and crossings and discovered that they were right.
"So I went to the local authorities to ask them why. They told me that wider roads were needed, and that there was not enough space for footpaths, that pedestrians were lower priority. They were taking away footpaths because of the needs of vehicular traffic.
Patiala Foundation decided to find out whether the assumption that motorized traffic needed higher prioritization was correct. It worked with TRIPP Department of Civil Engineering Indian Institute of Technology (IIT Delhi) to do a survey. The survey looked at police and census data about the modal share of work trips in Patiala (census 2011), major cause of fatalities and where the crash blackspots were.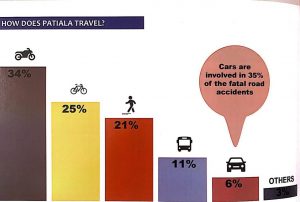 The survey found that almost half of the population in Patiala walks or cycles to work daily (21% were pedestrians and 25% were bicycles) and only 6% of people used cars going to work. Ravee says, "Contrary to what the authorities were doing, infrastructure was being planned based on the needs of 6% of the total traffic. We took this logic, along with an online petition from the local community, to the authorities and they agreed with us that all stakeholders need space.
"If we expect pedestrians to walk on the vehicular road, we cannot hold drivers responsible for that, they have to drive on the road, and pedestrians have nowhere else to go, so we cannot hold them responsible either. We need to focus on how to reduce road traffic injuries.
As a result, the local authorities have started reconstructing footpaths. Tenders for new roads will include provision for footpaths. The work is being done in a phased manner and, so far, six main roads are being renovated. 
Patiala Foundation is a member of the district road safety committee consulting on the work and is supporting the local government's commitment and action by building public support. With the involvement of the local government, the NGO is holding a public exhibition at seven locations in the city, showing the new street design versus the old, and gathering feedback that will be presented as evidence. "Everyone says that there is a lot of traffic. If a road has two lanes of traffic, then cars will use two lanes but if a road has four lanes, then they will use all four. If we design a road to separate all road users, then they will stick to that, and it will reduce congestion.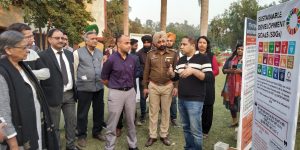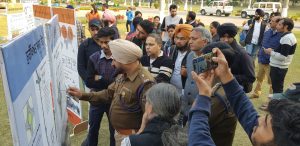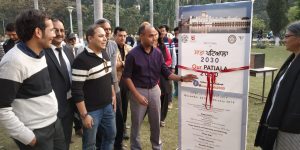 "The exhibition gives a feel of the street design, to show the things that we say are possible within the same space—we don't need more space, just better use of space."
The first implementations will take two months to complete and then Patiala Foundation will evaluate how the new footpaths are being used. Ravee says, "When the infrastructure is complete, the difference will be how it is being used and how people feel about it. If the feedback is negative, it won't make a difference [to the safety of the road]. We need to be sensitive and give a sense of belonging. The real fight is still there…whether it takes off or bounces back."
If this initial stage is effective, Ravee hopes that the roll out can be replicated across the State of Punjab and beyond. Read more about Patiala Foundation HERE.
---