The Road to Sweden 2020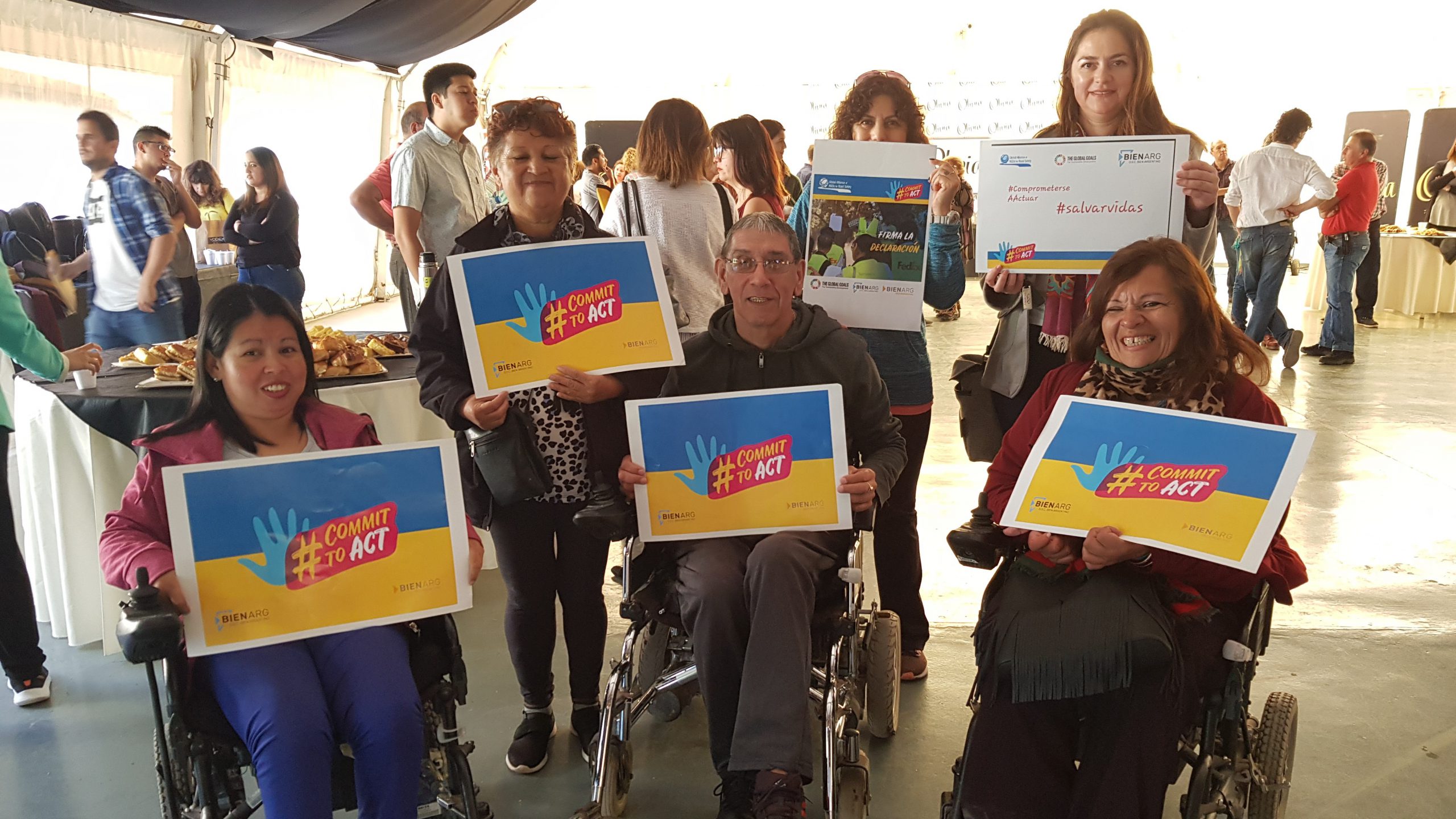 Around the world, our members have been working tirelessly to advocate for road safety and prepare for the 3rd Global Ministerial Conference in Stockholm, Sweden, next month.
Many organizations have pushed for action through the #CommitToAct campaign, utilizing their government contacts to push their ministers to engage with the conference and using the conference to highlight road safety challenges in their countries.
Humanity & Inclusion (HI, also known as Handicap International) works alongside people with disabilities and vulnerable populations to improve their living conditions and promote their fundamental rights. The organization works in about 60 countries across four continents and their projects involve various activities, including road safety education, engineering, advocacy, rehabilitation, and emergency response. In the lead-up to the Ministerial Conference, Valentina Pomatto, Inclusive Development Advocacy Officer at Humanity & Inclusion (HI) said, "The international advocacy team of HI developed a toolkit to support advocates in reaching out to their respective ministers and encourage their participation in the Ministerial Conference. Outreach efforts were made in Burkina Faso, Haiti, Democratic Republic of Congo, and France, with positive reactions." She also said that "a research study on road users in Haiti was also conducted by HI and the Department of Laboratory Epidemiology and Research (DELR/MSPP), and subsequently used to raise awareness on the state of road safety in the country and encourage state and non-state actors concerned to take significant steps to tackle the road safety crisis, including signing the People's Declaration and participating in the Ministerial Conference."
The upcoming conference has created opportunities for civil society to open up dialogues with their governments and push for legislative change and accountability. In Colombia, Mary Bottagisio, Executive Director of Por la Via Por la Vida – Liga Contra la Violencia Vial, said, "We have used the conference to pressure legislators to support our bills and regulatory decrees on infrastructure, speed and vehicle safety. We have evidenced the failure of public policy both at local and national level. We have taken advantage of the recent change of legislators to highlight this failure and its economic and social cost. We have encouraged different political decision makers to participate in the conference in order to increase their level of knowledge and the importance of working for road safety. The greatest benefit we have taken is the pressure to resume the measures that have already been raised and formulated but not yet legally adopted."
Barriers
In reaching out to government leaders, some organizations have faced barriers. Limited responses from ministers, changes in government, low prioritization of road safety, and lack of coordination are some of the challenges our members dealt with in the lead-up to the conference.  
In Spain, Ibero-American Federation of Associations of Victims Against Road Violence (FICVI) has promoted the participation of authorities related to transport and road safety through its member organizations in Latin America. Jeanne Picard, President of FICVI, said, "Unfortunately, we have not had a level of response according to our expectations from those we made contact with. The political agenda and changes in government in some countries have been a particular obstacle. This has been partly due to the fact that many authorities contacted were not aware of the conference, and partly because the issue of road safety has not yet been incorporated into the public agenda with the relevance it requires."
In Kenya, Bright Oywaya, Executive Director of the Association for Safe International Road Travel (ASIRT), said, "We invited our ministers to attend the conference, however our president has reshuffled his cabinet and some of the appointees like the Cabinet Secretary for Health will only assume office once vetted by parliament which is currently on recess til February." 
In Nepal, Writtu Bhatta of Swatantrata Abhiyan Nepal, said, "The roundtable we hosted was effective in bringing political leaders and other stakeholders together. We did, however, find that the limited time availability of parliament members, the transfer of bureaucrats, little record keeping of road safety programs, and inadequate follow-up action to be challenging."
In Ethiopia, Mesganaw Bimrew, Executive Director of Save the Nation, said, "Ethiopia has not been able to fully achieve the decade-long United Nations plan on road safety so it will be our starting point in deciding to do better by 2030."
In Australia, Peter Frazer, President of Safer Australian Roads and Highways (SARAH), told us, "From discussions with Australia's Deputy Prime Minister, Hon. Michael McCormack MP, SARAH is hopeful that he will attend the conference in order to discuss what has been achieved, what needs to be done as we pursue Vision Zero, and how governments and civil society can make a difference by working together. Having said this, Australia continues to face two major issues: one, at policy level, while there is general goodwill at all levels of government (national, state and local), there is a lack of agreed focus and subsequent coordination between each level; and two, at a practical level, road safety tends to take a 'back seat' to other national issues. This lack of Vision Zero focus has been exacerbated over the past four months due to the devastating bush fires that have been occurring across the nation. Irrespective of this, SARAH continues to encourage the Australian Government's road safety attendance and leadership at the Third Ministerial Conference."
We would like to thank all of you for your unwavering dedication to improving road safety in the face of the many obstacles unique to your countries and regions. 
---