Does Road Safety Need More Anger?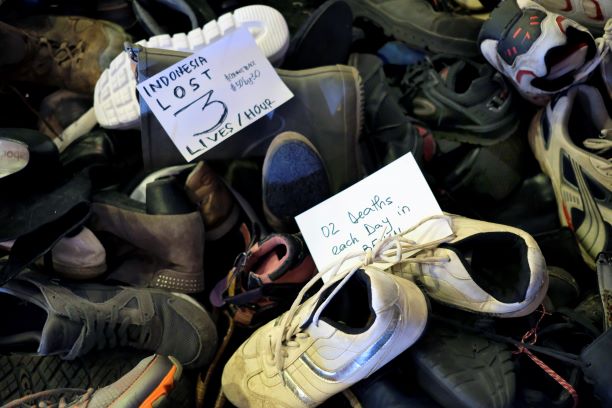 During the People's Survey Meeting and in several sessions at the 3rd Global Ministerial Conference on Road Safety, a reoccurring question was asked: Do NGOs need to be more angry?
The debate was heightened by an act of activism by NGO members at the opening ceremony of the conference. Two Alliance members were removed from the conference as they stood up from their seats to draw attention to the human cost of road crashes, the victims and their families. The incident, though small, drew attention to the way that NGOs get their message across and whether direct activism is a tool that we should use more often.
The aim of the act at the opening ceremony, said Viviam Perrone, Madres Del Dolor, Argentina, who, alongside Caro Smit, SADD, South Africa, was one of the two Alliance members involved, was to highlight the human imperative to reduce road crashes by remembering the victims and their families: "We wanted everyone to know that the victims were present…We didn't intend to be disrespectful but unfortunately as happens to us many times, we weren't understood…Our only aim  is to make our voices heard. We don't want any more Kevins, we don't want any more Chas'." 
At the conference, Fikile Mbalula, Minister for Transport, South Africa tweeted his support for Caro and Viviam saying "You are doing amazing work, I saw you during the Assembly when you led a protest – sorry to hear you were arrested for it. That's the consequence of activism." Both Lotte Brondum and Etienne Krug referenced them in their closing speeches. In several of the side events and sessions, the incident was mentioned in the context of whether civil society has been too polite in its call for action and whether an angrier approach would be more effective in compelling governments to take action with support voiced not only from NGOs themselves but also from academia and multi-lateral organizations.
We asked the views of NGOs in several different countries on the role of activism and whether NGOs should be more angry. The overall sense was summed up by Ahmed Shelbaya, NADA Foundation, Egypt, who said: "We as civil society have a duty to speak on behalf of our fellow citizens, especially the vulnerable…to influence decision makers to act quickly and effectively on issues that are critical and urgent like ours (road safety)." There is also a clear sense that, as NGOs, we have not made our point clearly or loudly enough. Bright Oywaya, ASIRT Kenya said, "We are already angry but must now begin to be more expressive. Victims of other disasters seem to catch the attention of government more than victims of road crashes." This is a view echoed outside the NGO sphere; Matthew Baldwin, European Coordinator for Road Safety and Sustainable Mobility, European Commission tweeted in respect of the youth and NGO movements, "The time for politeness is over." 
However, what is appropriate and effective in one country, may not work in another. It is clear that in some cultures and contexts, physical expressions of activism are effective in getting road safety issues to the attention of decision makers. Says Viviam, "When the courts were about to close my son's case, I tied myself to a tree. I was there for eight hours. When I spoke to my lawyer, he told me that the judge changed his mind about closing it." Caro told us that in South Africa, SADD have used peaceful protests many times outside the courts alongside victims' families to draw attention to victims' rights. This approach has enabled it to raise media awareness and ensure appropriate sentencing for drunk drivers.
In some contexts, direct action should be carefully considered to decide whether it can achieve its aims. Says Bright, "In Kenya, [direct protests] may not be effective. Our leaders are not really moved by that. Using social media, mainstream media, processions, presenting petitions to relevant authorities, using a "champion " may work better in my view."
Wisdom (and sometimes legal advice) is needed, says Ahmed, "There are many ways and many paths for making our voices heard; the best of which is the one that has direct access to the decision maker. In some situations, ground work is needed to capture the decision makers' attention (e.g. investigative media, citizen reports, use of social media platforms, and others). However, in some instances, channels of communication may be blocked, or there is stagnation, apathy and complacency. That's when voicing frustration is needed. Voicing frustration has a spectrum ranging from mild expression through innovative means that capture public attention of public…all the way to intense ways of shouting or cornering decision maker during public events. The choice of intensity and method should be left to the civil society to assess and tailor according to the environment it's working in. There is no value of people who are silenced in jails or exposed to life threatening situations." 
It is clear that NGOs need to shout louder to get the voices of our communities heard. How and where we shout, depends on how we can be most effective in addressing our decision makers. 
---