#RethinkMobility Twitterstorm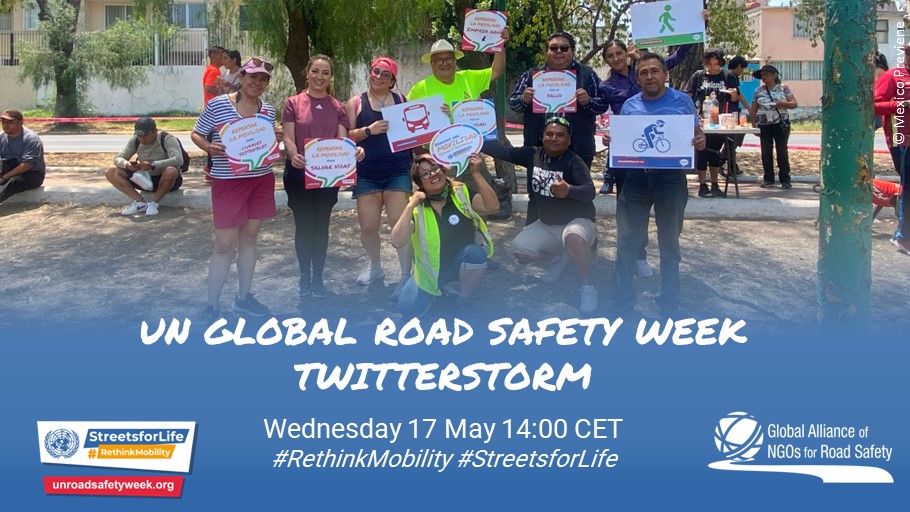 A social media campaign will run throughout the UN Global Road Safety Week, using social media banners, photos, and video clips to push for government commitment and action to #RethinkMobility and achieve a 50% reduction in road deaths and injuries by 2030.
Please join us at 14:00 CET on Wednesday 17 May 2023 for a Twitter Storm to create social media momentum for #RethinkMobility by raising our joint voice at a single moment to call for action.  
Get involved
Post your photos and video clips with your caption on why we should #RethinkMobility on Twitter, Instagram, and Facebook
Use the materials HERE to download banners and the video frame and print signboards to make your message more visible
Use the hashtags #RethinkMobility and #StreetsForLife (in English for tracking purposes) and tag @roadsafetyngos
Tag the decision makers that you are seeking action from, as well as opinion leaders and influencers in your country
Like, share, and comment on each other's posts to help create a buzz.
Tips for your video clips
Prepare your message: keep it short, one or two short sentences – no more than 20 seconds
Ideally record your video outside (showing a street for life near your home or office)
If possible, use wireless earphones with a built-in microphone to capture the sound better (these do not need to be highly technical, the earphones that you use for video calls should be sufficient)
The camera should be held horizontally.
---