PRESS RELEASE: Alliance Advocates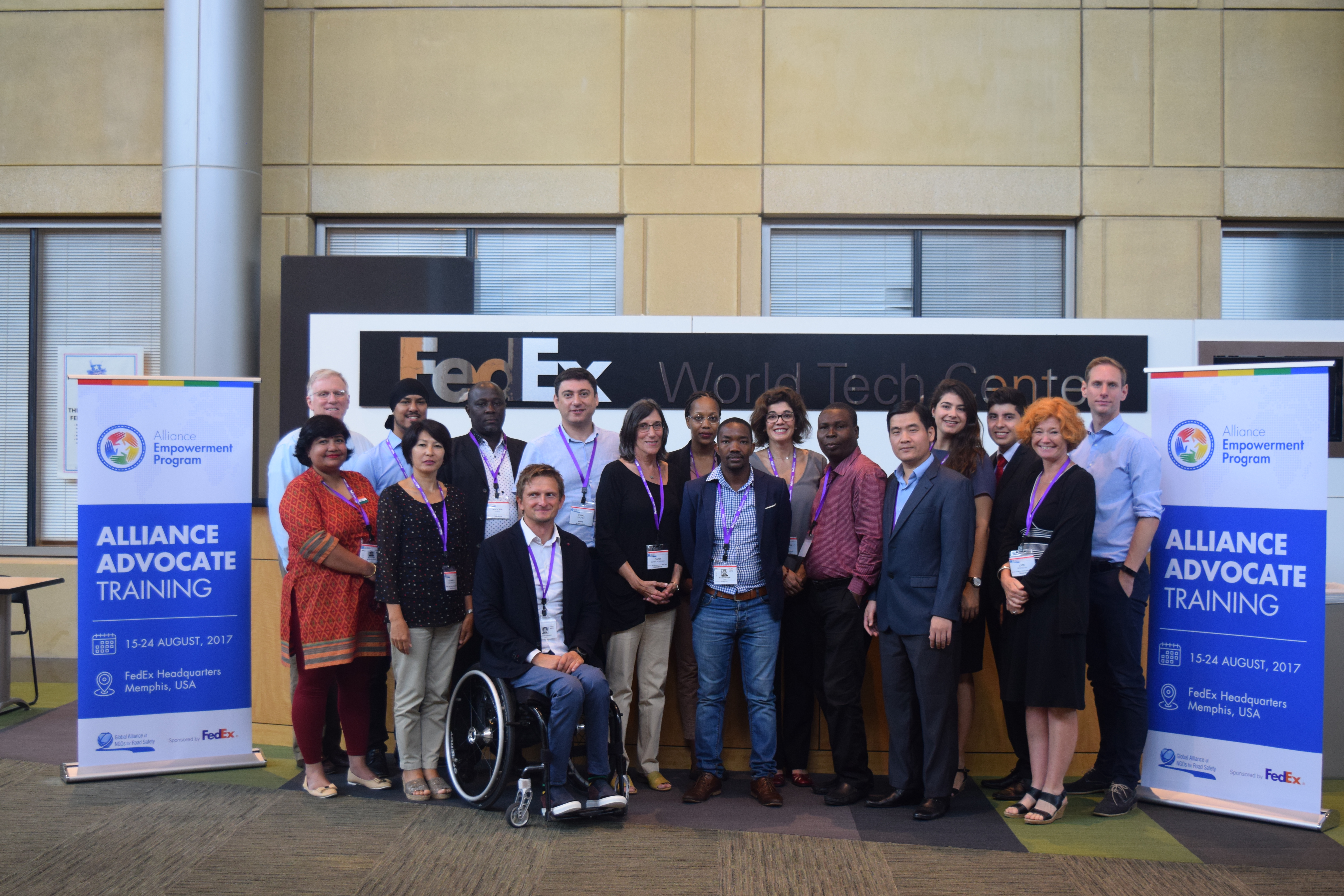 Global Alliance of NGOs for Road Safety Equips Road Safety Advocates to Save Lives
Graduates to Lead Development of Road Safety Initiatives by NGOs in 15 Countries
MEMPHIS, Tenn., Aug. 14, 2017 —Today, the Global Alliance of NGOs for Road Safety (the Alliance) launched its second Alliance Advocate Training Program at FedEx Express World Headquarters in Memphis. A group of 15 road safety professionals from 15 countries on five continents will gather for an intensive two-week program that will strengthen their professional skills in advocacy, communications, project management, strategic planning, and more.
Prior to the training, each advocate identified a key road safety issue in their home country, which, if addressed, could have a measurable effect on the number of road crashes that currently take 1.25 million lives around the world each year. Issues selected include drunk driving, speeding, safe school zones, and the quality of road infrastructure.
During the training, each advocate will create an evidence-based, measurable action plan that they will implement in the coming months. With delegates attending from a diverse range of high-, medium-, and low-income countries, and with widely different cultural, economic, and political challenges, the training is highly tailored to be applied in different environments.
The Alliance advocates were selected through a highly-competitive selection process, and represent an elite group within the Alliance, which represents more than 190 road safety NGOs (non-governmental organizations) in more than 80 countries. Much is expected from the advocates upon completion of the training.
Graduates of last year's program are already making their mark on global road safety, confirming the value of the program. Impacts include implementation of a national seat belt law in Tunisia, which saw road deaths fall within the first month, and a new law in the Philippines requiring children to wear helmets on motorcycles.
The Alliance Advocates training is part of the Alliance Empowerment Program, a capacity-building initiative, launched in 2016, which aims to improve the ability NGOs working in road safety around the world.  FedEx Corp. (NYSE: FDX) sponsors and supports the Empowerment Program, not only through funding, but also by providing expertise and resources to grow the potential of Alliance member NGOs.
"This is an important initiative for the Alliance," said Lotte Brondum, administrative director of the Global Alliance of NGOs for Road Safety.  "The Alliance Advocates face a lot of road safety challenges in their home countries. We know from the 2016 cohort of advocates how much can be achieved following the training and we look forward to a challenging and fruitful two weeks."
"Road Safety is a top priority at FedEx," said Neil Gibson, vice president, Corporate Communications, FedEx. "As part of our FedEx Cares commitment to invest $200 million in 200 communities worldwide by 2020, we are dedicated to saving lives and developing solutions that responsibly and sustainably make roads safer.  We are delighted to sponsor the Alliance Empowerment Program and Alliance Advocate training and to be able to use our expertise to empower road safety organizations around the world."
---