This week: Third Global Meeting of Nongovernmental Organizations Advocating for Road Safety and Road Victims!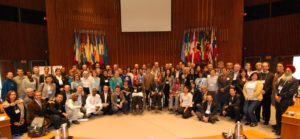 On 4-5 April 2013 the Global Alliance of NGOs for Road Safety is organizing the Third Global Meeting of NGOs Advocating for Road Safety and Road Victims, which will take place in Antalya, Turkey. The Alliance is proud to have the support of World Health Organization, Turkish Police, Global Road Safety Facility, Road Safety Fund and TUV for this important meeting. Almost 70 member NGOs will gather to share knowledge, experiences and good practices on road safety.
Some of the speakers include: Dr Etienne Krug, Director at World Health Organization and Chair of the United Nations Road Safety Collaboration, Mr. Marc Shotten, Senior Transport Specialist at the World Bank and Professor Adnan Hyder, Director international injury research unit at Johns Hopkins Bloomberg School of Public Health. Also there will be an expert panel discussion on funding in road safety, among the panelists are known champions in the field as Mr David Ward, Secretary General at the FIA Foundation and Mr Raoul Powlowski from GRSP.
The Alliance is hoping, by providing this platform, to encourage partnerships among the NGO members, and accelerate a free exchange of knowledge and experiences. Many NGOs from all over the world will have an opportunity to present their work and hopefully inspire others. In addition, with some interesting break out sessions on Social Media, Victim Support, Evaluation Methods and Legislative Advocacy, we hope to further strengthen the capacity of participating NGOs. The meeting also provides a perfect opportunity to encourage and mobilize the NGO community contribution to the upcoming 2nd United Nation Road Safety Week, with the theme Pedestrian Safety, `Make Walking Safe´.
The meeting will close with a first General Assembly for the Alliance member NGOs, which will give direction to the future steps of the Alliance.
---