NACTO Street Transformation: Safe, Sustainable, and Beautiful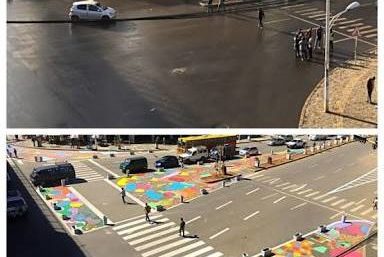 Visually stunning street designs have helped transform road intersections in Addis Ababa, Ethiopia, making them safer and more attractive and inviting for pedestrians. 
In a project conducted by the National Association of City Transportation Officials (NACTO) over the course of three nights, a task force in Addis Ababa used paint and planters to make pedestrian walkways more visible, reduce crossing distances, and create safe spaces for all street users. These are all design strategies that encourage slower turning speeds and safer pedestrian behavior.
The task force included Alliance member, Tatiana Milhailova, Automobile Club Moldova (ACM), which is a member of the Eastern Alliance for Safe and Sustainable Transport (EASST). Tatiana had first become involved with NACTO when she attended the Designing Cities Conference 2017 to represent EASST. She began working with the NACTO team as a knowledge exchange fellow so that she could learn about its street transformation methodology and practices. Tatiana then joined the task force in Addis Ababa, Ethiopia where she was able to witness at first hand and take part in the on-site transformation.
At the launch event for the Safe Intersection Program NACTO explained how these simple interventions can be effective tools in urban road design. The meeting was also attended by another Alliance member and Addis Ababa resident, Mesganaw Bimrew, Save the Nation Association (SNA). 
Tatiana is taking what she has learned and experienced to bring the principles to Moldova. The ACM team will soon meet with local partners and authorities to propose the first EASST transformation in Moldova and facilitate the training of EASST partners in other countries to implement similar transformations.
In Addis Ababa, the transformation has been well received: Mesganaw says, "I am already witnessing and see the great impact of these safe intersections which is making a big difference in making pedestrians safe here in Addis, on the locations targeted by NACTO."
Learn more about NACTO's approach to urban street design HERE and read Tatiana's full article HERE.
See before and after pictures of some of the streets that have been transformed below.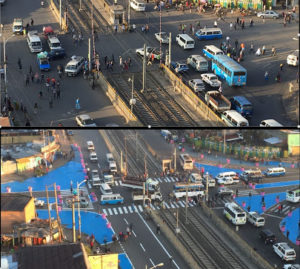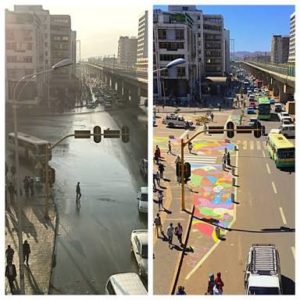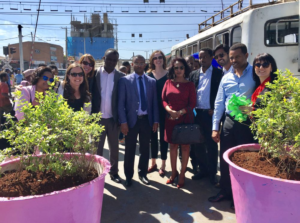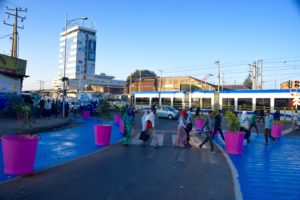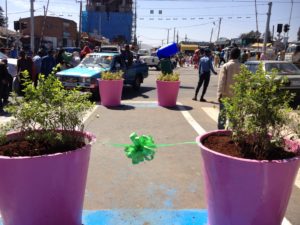 ---