High-level political forum convenes to track progress towards SDG's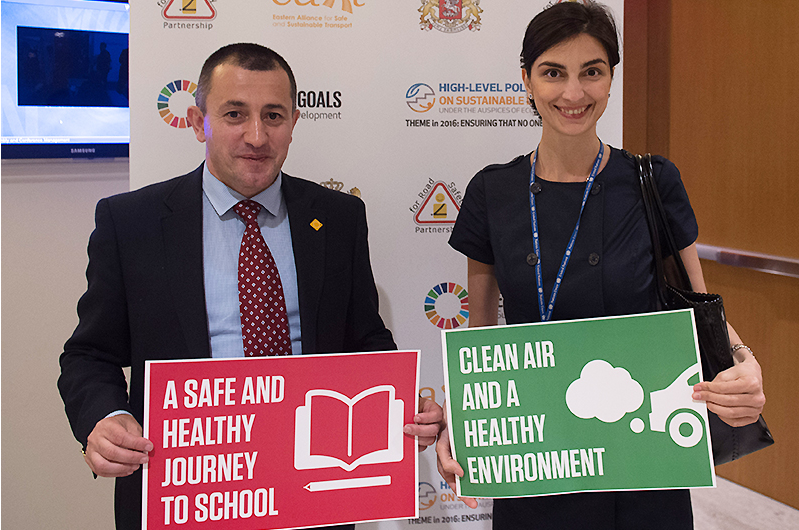 The High-level Political Forum (HLPF) for the Sustainable Development Goals convened in New York this month, bringing together governments to report on their progress towards achieving the Sustainable Development Goals. This forum is the United Nations (UN) central platform for the follow-up and review of the 2030 Agenda for Sustainable Development adopted in September 2015. Road safety initiatives were featured throughout the HLPF.
On 13 July, the Government of Georgia and the FIA Foundation hosted an HLPF side event which aimed to advance the agenda set by the Global Initiative for Child Health and Mobility, also known as the Child Health Initiative. This Initiative promotes a safe and healthy journey to and from school for every child by 2030. Members of the Child Health Initiative, including UNICEF, Save the Children, and the World Resources Institute, joined the World Health Organization and Governments from around the world at the side event titled "Safe and Sustainable Mobility for Children in the Global Goals." Read more about the HLPF held on 13 July HERE.
The FIA Foundation and partners again presented the Child Health Initiative at a follow up UN High-level Political Forum session held on 18 July, which focused on building multi-stakeholder partnerships to achieve the SDGs. The Child Health Initiative is an example of effective partnership, because it brings together child advocacy organizations, development research organizations, and experts in city management and street design, to implement practical interventions to improve legislation, increase funding, and develop evidence-based case-studies. Read more about the HLPF held on 18 July HERE.
---