First Global Fleet Champion Award Announced in Kenya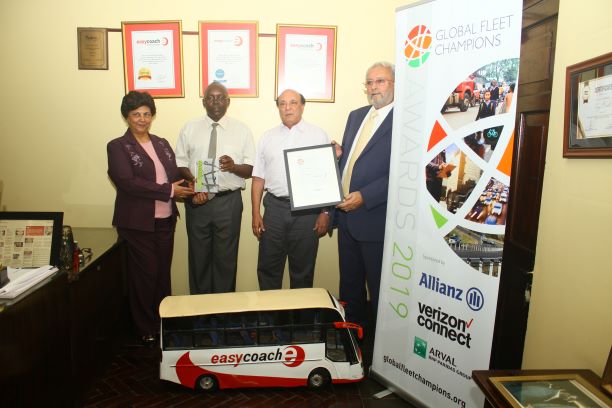 The first Global Fleet Champion Award for Fleet Action and Analysis was awarded to Easy Coach Ltd, Kenya during the Fifth United Nations (UN) Global Road Safety Week last month.
The award was presented to Easy Coach by Pamoja Road Safety Initiative during a meeting convened by the National Transport and Safety Authority (NTSA) and is the first to be given as part of Brake's Global Fleet Champions campaign. Both Pamoja Road Safety Initiative and Brake are members of the Alliance.
The Global Fleet Champions Awards celebrate the best safety and sustainability standards of corporate fleets around the world, including low- and middle-income countries where fleet practices are often less stringent and regulated. Easy Coach was recognized as a role model for other bus companies in Kenya and across sub-Saharan Africa for its use of fleet management information systems to deliver a safe, efficient passenger transport system. Judges also praised the company's policies and procedures that champion safe driving behaviors.
At the awards ceremony, Pamoja Road Safety Initiative unveiled its manifesto for safer bus transport in Kenya, calling on the Government of Kenya to put safety first and reduce the number of deaths and serious injuries caused by crashes involving buses, especially large-capacity buses with a seating capacity of 45 or more. Pamoja is calling for the introduction of thorough training and testing for all bus drivers, an action plan to address the risk of driver fatigue, and higher standards for the maintenance and condition of all large-capacity buses, including immediate adherence to the KS372 standard for vehicle body building.
Public transport safety has been a contentious issue in Kenya where well-publicized crashes have prompted a horrified response and government regulation has caused conflict with the bus companies themselves. Read more on Lucas Munene, team leader at Pamoja Road Safety Initiative's blog for the Global Fleet Champions website HERE. Read more about the award HERE.
---