The Day Our World Crumbled: New Report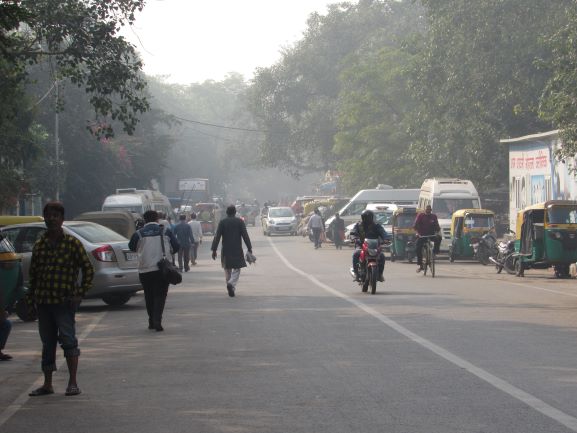 THE DAY OUR WORLD CRUMBLED: NEW REPORT SHOWS THE MAGNITUDE AND IMPACT OF ROAD CRASHES ON EVERYDAY LIVES
19 February 2020, Stockholm
Yesterday, the Global Alliance of NGOs for Road Safety (the Alliance) launched its new report The Day Our World Crumbled: The Human Cost of Inaction on Road Safety. The report, which is based on a survey of 5,606 people from 132 countries, focuses on the devastating impact that road crashes have on the lives of road victims, their families, and the wider community. 
The report shows that road crashes affect a lot of people multiple times through their lives, and the consequences are far-reaching. Notably, you do not have to be in the vehicle to be affected by a crash; the emotional, financial, and other impacts can also have a damaging effect on the friends and family of crash victims. Moreover, many people feel unsafe as road users, regardless of whether they have experienced a crash or not. 
In the report, statistical analysis of the survey data is combined with the powerful testimonies of crash victims and their families. The data paints a picture of the complex ways that road crashes affect lives: health, finance, relationships, justice, and more. Crashes cannot be compartmentalized as a single event and often lead to a series of negative outcomes that can change the course of a victim and their family's lives. Those without formal education are more sharply affected, reporting higher frequency of losing their job or income, of staying home to care for an injured victim, of incurring a disability as a result of a crash, and of their or their children's abandoning school. Road crashes, therefore, are perpetuating social inequality. 
Key findings
Road crashes impact a lot of people.
57% of respondents had been involved in a crash themselves
87% knew someone who had been killed in a crash, and 95% knew someone who had been injured
17% of respondents had lost a close family member due to a crash
The financial burden can be large.
24% of respondents stayed out of work to care for a crash victim
15.5% reported that they or their children had to abandon school
11% of crash survivors lost their job or source of income
Those with lower educational levels, often corresponding to lower income, are the worst affected.
71% of crash survivors who had not completed formal schooling lost their job / source of income versus 10% of university-educated respondents
73% of crash survivors reported living with a disability caused by a crash versus 6% of university-educated respondents
The emotional impacts affect people's daily lives.
66% live in fear that they or their loved ones might be in a crash again
47% had avoided places, things, or people associated with a crash
43% reported experiencing depression, hopelessness, anger, nightmares, flashbacks, panic attacks, sleep disturbance, and/or poor concentration
Being a road user can feel unsafe
78% said that speeding made them feel unsafe 
70% said that poor road infrastructure made them feel unsafe
The report shows that road crashes have a serious negative impact on the daily lives of those affected, both directly and indirectly. This has a knock-on effect on families and communities and points to the need for targeted preventative action at a policy level as well as more support for those impacted. There is a clear and urgent imperative for governments worldwide to commit to tackling the causes of road crashes, which are largely preventable, by taking strategic action, adopting global targets and best practices, allocating dedicated resources, and involving civil society. 
Download the report HERE: https://roadsafetyngos.org/peoples-survey-report/. 
Lotte Brondum, Executive Director of the Alliance, said, "Road crashes are affecting a lot of people multiple times and in many ways. The report brings forth the voices of real people who testify to the disastrous long-lasting consequences that crashes cause: the never-ending pain, grief, loss, and fear of losing family members, the difficulties of living with the impacts of a crash, and the anger that these deaths and injuries could have been prevented. This is a human rights issue, and people's rights are being violated every day as they navigate dangerous roads around the world. Our leaders must show that they hear and understand what is happening on the streets in their countries and value their citizens' lives by taking action now." 
Jean Todt, UN Director-General's Special Envoy for Road Safety, said, "Each year, 1.35 million people are killed, and 50 million more are severely injured on the world's roads. Today, road traffic injuries represent a leading cause of death among 5–29-year-olds. As this report demonstrates, their consequences are devastating. I took on the role of the UN Secretary-General's Special Envoy for Road Safety to tackle this tragic and preventable crisis. I believe that we are making a difference, but the progress has been slow and must be accelerated. I encourage governments to step up and take urgent action toward achieving a meaningful 50% reduction in road traffic fatalities by 2030. I also urge civil society to speak up and make the voices of the most vulnerable heard." 
Etienne Krug, Director, Department of Social Determinants, World Health Organization, noted, "It's hard to understand why we continue to accept to pay such an extraordinarily high price for our mobility. As the Alliance's new report underlines, road traffic crashes take a devastating physical, emotional, and economic toll on victims and loved ones. The report documents the real lives behind the big statistics and indicates that people simply do not feel safe on the roads of the world. While some countries have made significant progress by implementing proven road safety measures, in many settings, complacency and inaction still prevail. We thank the NGO community for bringing forth the voices reflected in this report and encourage civil society organizations worldwide to continue to shout out on behalf of the people in the communities they serve."
---