Campaigning for Responsible Advertising
Almost 300, 000 people die on India's roads every year and approximately 40% of those deaths are motorcycle riders or passengers. Strong role models are needed to promote safe road behavior.  
One of the ways that NGOs in India are making a difference, is by targeting unsafe practices in advertising.
Prerana Arora Singh, People's Trust Jaipur, is among NGOs that have taken issue with advertisements, often featuring well-respected celebrities, that show reckless driving. She has taken her concerns to the Advertising Standards Council of India (ASCI) by raising complaints about advertisements that might encourage people to act unsafely on the road. 
One particular advertisement featured Virat Kohli, the captain of the Indian cricket team, endorsing a bike brand. He was shown driving rashly and violating traffic rules. In addition to raising a complaint herself, Prerana engaged others, including fellow NGOs, the Centre for Road Safety Sardar Patel University of Police Rajasthan, the Rajasthan Road Safety Cell, the Supreme Court Committee on Road Safety, and members of National Road Safety Council, to also put pressure on the ASCI to take the complaint seriously and take action. Last week, the ASCI confirmed that the advertisement was among 232, from a range of sectors, that have been banned. The ASCI has also increased focus on road safety.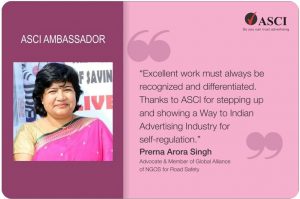 Prerana herself has been recognized as an ASCI Ambassador via social media.
This is not the first advertisement that Prerana has complained about, but by engaging others to join her in campaigning to the ASCI for the advertisement to be removed, she has seen a successful result. Prerana says, "I have complained about several advertisements before, but on those occasions, ASCI council members didn't find any misleading content in the advertisement. This time, we have approached them collectively."
Read more about People's Trust Jaipur HERE.
---