2nd Global High-Level Conference on Road Safety commences: Highlights from Day 1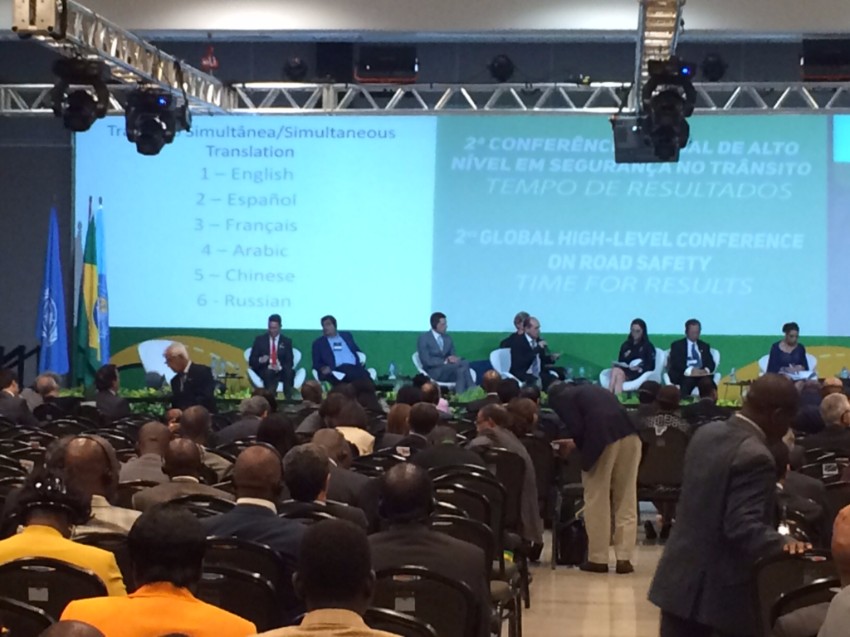 The 2nd Global High-Level Conference on Road Safety officially commenced yesterday in Brasilia, Brazil with participation from hundreds of ministries and representatives from academia, the private sector, and NGOs working in road safety around the world.
Day 1 of the global meeting featured statements from ministers and heads of delegation from many countries, followed by a variety of topic-specific side events and high-level panel discussions.
Jeffrey Witte, President of the Alliance Board of Directors, represented the Global Alliance of NGOs for Road Safety on a panel reporting on key achievements in the Decade of Action at its midpoint. Other panel speakers included the UN Economic Commission for Europe (UNECE) and Ministers of Transport from countries representing regions across the world. During the high-level panel, Jeffrey called for NGOs and governments to work collaboratively towards common goals of reducing road traffic injuries and fatalities in their countries.
In the afternoon, Alliance member SafeKids Worldwide and some of its subsidiary organizations hosted a side-event discussion on how to build a national child passenger safety program, which was well received by participants.
Another side event organized by several Alliance members yesterday was a program titled "Justice and the Post Crash Response," which highlighted the role of national justice systems in mitigating the impact of road traffic crashes and their devastating consequences. The discussion focused particularly on the importance of improved collision investigation, criminal prosecution in the event of illegal road user behavior, civil compensation for victims and families, as well as more comprehensive rights for victims
In addition, Alliance member YOURS, with participation from several other Alliance-member NGOs, organized a side event focused on youth and road safety. The program explored the crisis that children and youth face specifically as well as actionable steps that governments, NGOs, and the private sector can take to reduce the unacceptable number of child lives lost on the road.
Other Alliance members spoke during panel discussions and contributed presentations to events throughout the day. During the high-level plenary session, the 1 million signatures to the Child Declaration on Road Safety gathered under the #SaveKidsLives campaign were publicly presented to all national ministers in attendance.
---