Truckers on the Northern Corridor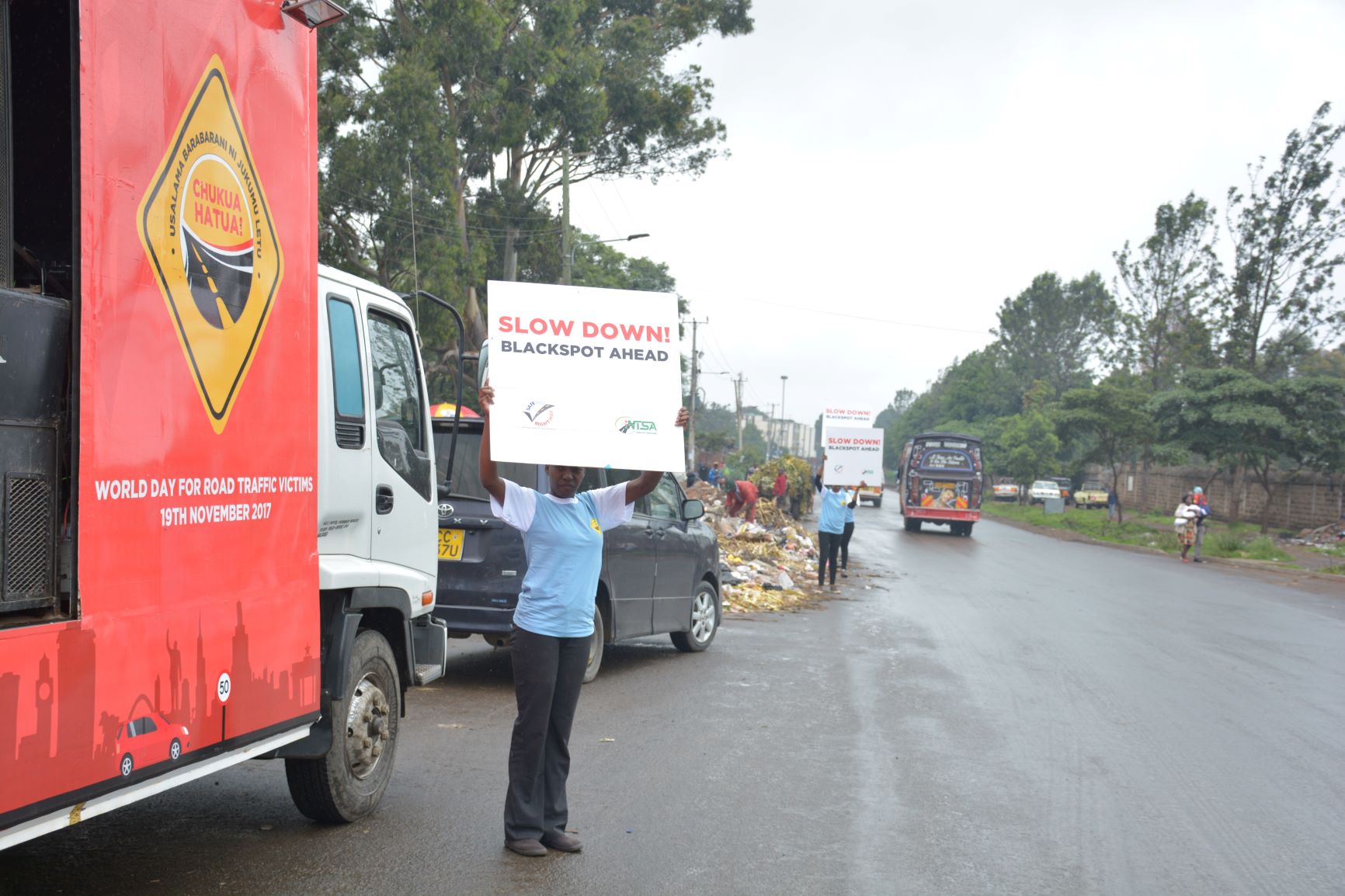 The Northern Corridor is the main trade and transit corridor in Eastern Africa, linking landlocked Burundi, Rwanda, and Uganda to the port of Mombasa in Kenya. It is a major trucking route transporting goods both within and between these countries. This corridor, the truckers that drive on it, and the communities alongside it are a major focus for Safe Way Right Way, alongside work that it does in Nairobi and other areas in Kenya.
Transport of goods is key for economic and social integration and development and the work that truck drivers do is essential. However, they are also a vulnerable population, driving large, powerful vehicles and their actions can increase both the occurrence and severity of road crashes. In current times, they also have potential to exacerbate the spread of COVID-19. The government of Kenya has now required truckers to obtain COVID negative certificates 48 hours prior to travel which has caused tension between countries in the East African region.
The NGO takes a multi-faceted approach to road safety on the Northern Corridor, using the five pillars of the Decade of Action to guide its work and working with expert partners to meet the needs of truckers and communities.
Black spot map
A major achievement for SWRW and its partners has been a black spot map, identifying sections of the road where most crashes occur and leading to engineering interventions to improve the safety of these blackspots. It has also worked with NGO St John Ambulance to set up two emergency response centres at blackspots at Joumvu and Salgaa and train up and coordinate local community members as first responders. Once a year, it simulates a multiple vehicle crash at a black spot along the corridor to test and improve the capability of public agencies in charge of emergency response services. SWRW plans to map further blackspots on other major transport corridors in Kenya in conjunction with government agencies.
Wellness centers
Eight wellness centers have been set up, run by the North Star Alliance, primarily serving the long-distance truck drivers on the route along with the host community. In 2018, a pilot project at the Mlolongo Wellness center has conducted advanced eye tests to provide affordable eyeglasses to 1000 truckers through a partnership with Essilor. This project highlighted the need for investment in quality, affordable, and accessible eye care services to truck drivers on the corridor, which improves safety for themselves and other road users. Since the pandemic started, staff at the wellness centers are also providing face masks, hand sanitizer, and soap to truck drivers to help prevent the spread of COVID-19.
Legislation
Ultimately, SWRW's focus remains the eventual adoption by the transport sector of the Heavy Commercial Vehicle Road Safety Action Plan. The draft action plan has been developed through consultation with transport companies, associations and NGOs and the National Transport Safety Authority to reduce crashes involving heavy commercial vehicles. Government data shows that crashes involving trucks are among the top three contributors to road crash fatalities. The action plan proposes interventions in four key areas: road safety management, driver management, vehicle management and journey management.
---