#SlowDown – Fourth UN Global Road Safety Week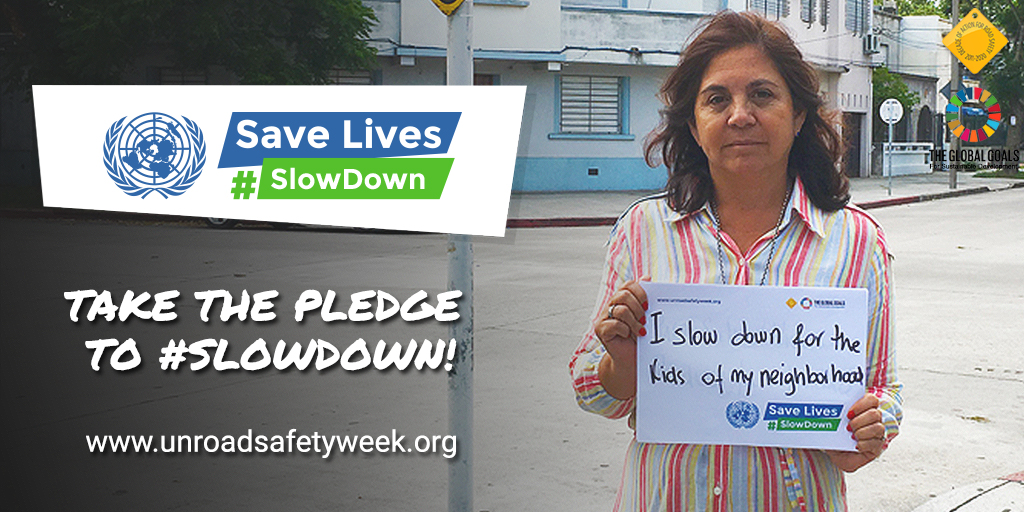 The Fourth UN Global Road Safety Week (UNGRSW) will take place from 8-14 May 2017. The theme for the Week is reducing speed and features the slogan: "Save Lives – #SlowDown". Statistics show that a 5% cut in average speed can result in a 30% reduction in the number of fatal road accidents. The #SlowDown campaign seeks to increase understanding of the dangers of speed and generate action on measures to address this major risk for road traffic death and injury. It contributes to achievement of the Sustainable Development Goal target 3.6.
For more facts, campaign ideas and resources, see the UN Global Road Safety Week website HERE. The web site is the main source of information, messages and materials related to Global Road Safety Week. The website features images of people holding the #SlowDown sign-board and includes photos from the Alliance's photo contest. Submit your entry HERE.
National and local governments, international agencies, civil society organizations, foundations, private companies, and the public generally are invited to plan and host events marking the Fourth UN Global Road Safety Week. To get involved, you are encouraged to:
• Take the pledge
• Spread the word
• Organize a "Slow Down Day"
• Register your event
• Follow the Week on Facebook and Twitter. 
WHO has published a Toolkit for organizers of a "Slow Down Day" and a summary publication on evidence-based approaches to preventing speed-related road trauma entitled "Managing Speed". 
The Alliance has grants of between USD 100 – USD 2000 available for members to organize Slow Down Days in their communities. Read more HERE.
---