Safety 2018: From the Eyes of an NGO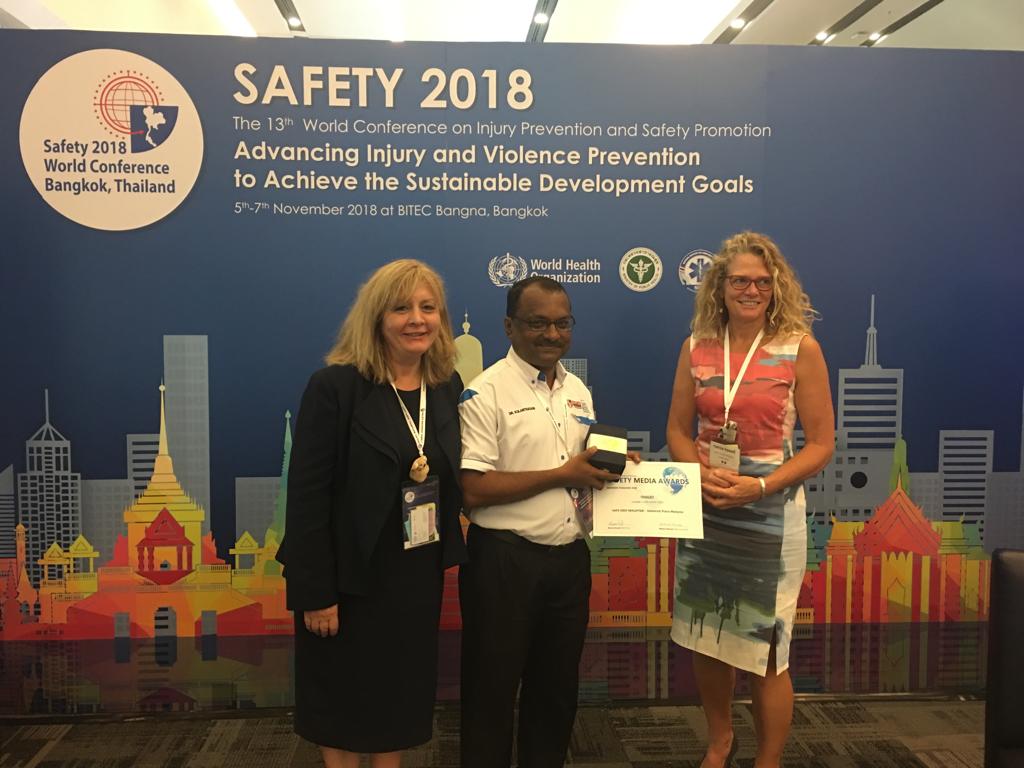 The 13th World Conference on Injury Prevention and Safety Promotion (Safety 2018) was held 5–7 November 2018 in Bangkok, Thailand. The conference brings together academics, medical professionals, NGOs, and global experts from all fields of injury prevention, including road safety, and is an opportunity to gather tools and best practices from across the spectrum of interventions.
Several Alliance members attended, including Kulanthayan Mani, Safe Kids Malaysia. We asked Kulan about his experiences at the conference. He highlighted several key trends, learning points, and sessions of significance for NGOs working in road safety.
A welcome focus on injury prevention and road safety
Safety 2018 focused on injury prevention more than previous Safety conferences, with more sessions on road safety—one at nearly every time slot. Kulan highlighted in particular the session by the Road Traffic Injury Research Network (RTIRN) on its research into road traffic crashes in low- and middle-income countries.
Road safety can learn from the experiences of other fields
Kulan took particular inspiration from a session featuring rescuers from Thailand who were involved in the rescue of 12 boys trapped in a cave network in the Chiang Rai province, which drew international media attention. In the session, rescuers described the challenges and how they worked together.
Says Kulan, "The rescuers talked about how everyone's goal was the same: a common goal to save the boys. Therefore, everyone agreed to work together, with no one claiming greater expertise than the others. Road safety also needs this multidisciplinary approach, to remember that the goal is to save lives and work toward that goal, not individual organizations' aims. Together, we will achieve more."
Many sessions focused on multi-sectoral action
In comparison to previous Safety conferences, there was greater focus on different aspects of multi-sectoral action, including sessions on why we need multi-sectoral action, how to manage multi-sectoral groups, and how to evaluate multi-sectoral actions. ­"We need to know how to manage a partnership, if not, it can affect the whole program and even be a disaster," says Kulan. "These sessions may encourage more people to think about multi-sectoral partnerships."
Sessions by WHO, Safe Kids, and Child Health Initiative had particular relevance for road safety
WHO launched the Emergency Trauma Care Registry at Safety 2018. They demonstrated the toolkit and talked about the need to include more countries.
Safe Kids ran a preconference on general child safety, with a particular focus on two areas: road safety and drowning.
Child Health Initiative also launched a toolkit on "safe and healthy journey to school" interventions.
We need to find ways to share our research outside our own circles and with the public
Alliance members Safe Kids Malaysia and Zavod VOZIM were both shortlisted for an International Safety Media Award (ISMA). The awards recognize high-quality safety media from around the world and provide safety promotion and injury prevention professionals an opportunity to showcase their media initiatives.
The ISMAs emphasize the importance of media in promoting safety messages to a wider audience. "We academics mostly share our findings with other academics—we rarely share it with the public. We must also share our safety messages with the community," says Kulan. Safe Kids' 140-second video transformed a research report into short-form information that could be shared through WhatsApp at a community level. 
Read more about Safety 2018 HERE.
---