Round the World Roundtables Come to Europe
The Round the World Roundtables came to Europe this week as part of the opening ceremony for European Mobility Week, which started today. Violeta Bulc, the EU Commissioner for Transport, and Mikael Nyberg, representing Finland, which currently holds the EU presidency, presented the EU's and Member States' commitment to reducing road deaths and serious injuries by 50% between 2020 and 2030 to Lotte Brondum, the Alliance's Executive Director.
"The European Union and its Member States commit to:
Their target of reducing the number of fatalities and serious injuries on European roads by 50% between 2020 and 2030 with a view to working towards «Vision Zero» – zero fatalities and serious injuries by 2050."
European cities, organized by Polis and Eurocities and represented by Miguel Gaspar, also gave their commitments to the "New Paradigm for Safe Cities," which presents ten principles to guide concrete action for safe mobility in local communities. The ten principles are:
Our streets, our responsibility
Don't blame, protect
City streets are not motorways
Mobility must be safe, or it won't become sustainable
Safety leads to efficiency
Reduce risk at the source
Fairness and freedom of choice
The right to know
Technology can be a promise, not an alibi
Let cities lead
Read the full document HERE.
At the roundtable, Violeta Bulc talked about the EU's commitment to achieve Vision Zero by 2050. She said, in short: the challenge is hard, and the tools used in the past have not achieved their goals, but with new tools, such an ambitious target can be achieved.
Cities around Europe shared their commitments and stories, and Matthew Baldwin, European Coordinator for Road Safety, facilitated a panel discussion on how to promote safe walking and cycling in European cities.
The European Union represents 28 countries and 513 million people. The Alliance is encouraged that the EU has not only reiterated its commitment to the 50% target but also shown its willingness to recognize the role that NGOs play in supporting their governments and keeping them accountable. Participation in the Roundtable demonstrates a readiness to be open and to allow civil society to remind government officials of commitments that have been made and for action that is needed.
Read more about the Roundtable in the media release on the EU's website HERE.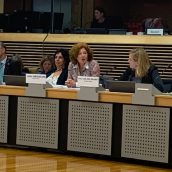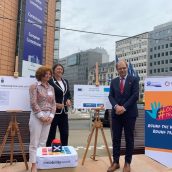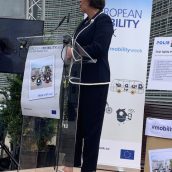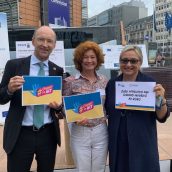 ---