Round the World Roundtable: Safer Roads for all in Bangladesh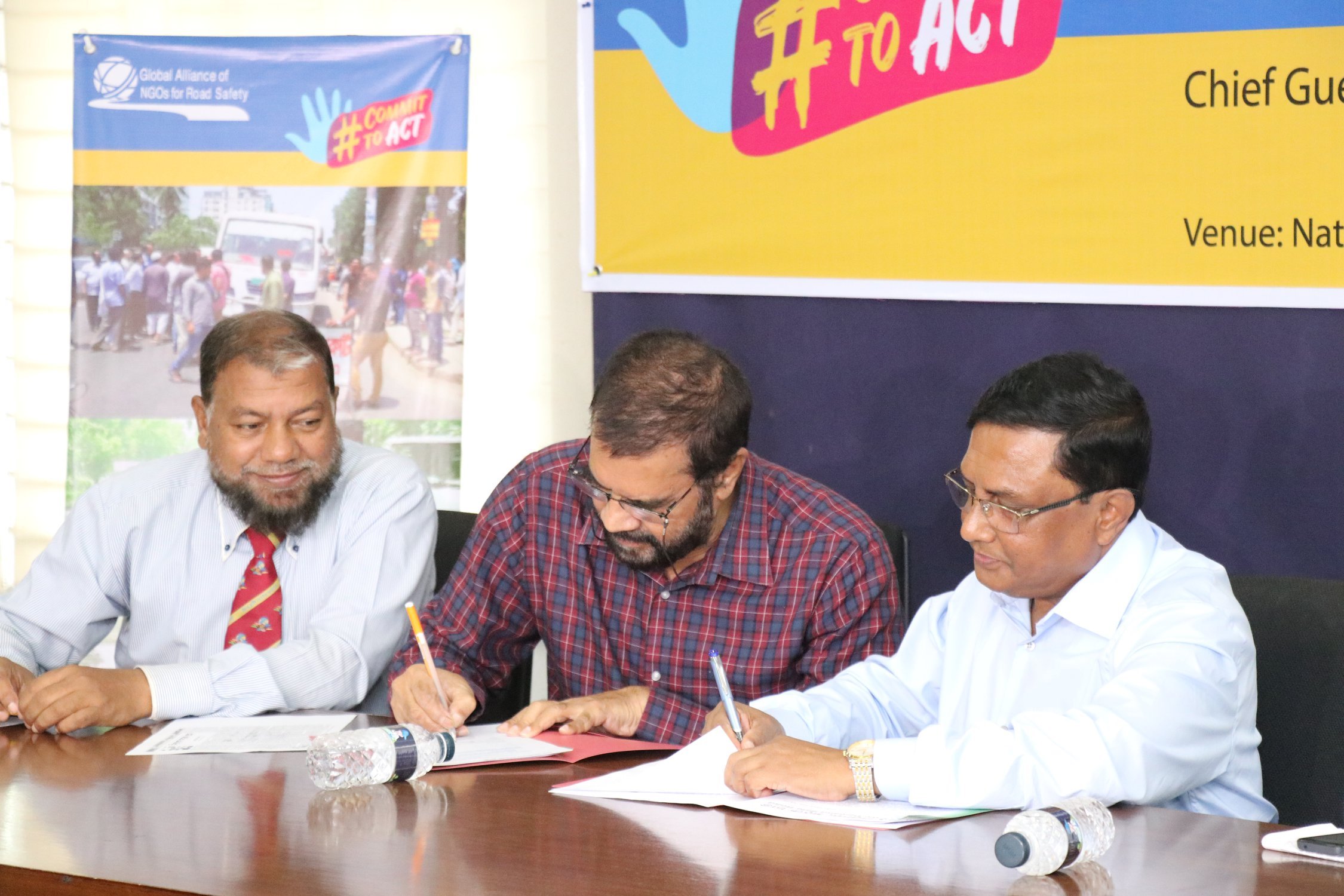 On Sunday 27 October 2019, Nirapad Sarak Chai (We Demand Safe Road) hosted a Round the World Roundtable in Dhaka, Bangladesh.
Last year in Dhaka, an unlicensed bus driver was speeding in a race against another bus and drove into a bus stop, killing two high school students and injuring 12 others. The tragic incident sparked a series of passionate student protests advocating for safer roads and stricter traffic laws. The demonstrations rapidly spread throughout Bangladesh and led to the new Road Transport Act, which was passed in September 2018.
To support implementation of the Act, Nirapad Sarak Chai held a Round the World Roundtable, hosted by Ilias Kanchen, Chairman of the NGO and a well-known Bangladeshi campaigner and actor. At the roundtable, Nazrul Islam, Secretary of Road Transport and Highway Division on behalf of the Ministry of Road Transport and Bridges, signed a commitment to eliminate the number of drivers without licences and drivers with fake licences by 2025.
By 2025, 500,000 existing drivers will have their driving licences properly classified, and zero tolerance will be shown if any person breaks any associated laws. Additionally, Nirapad Sarak Chai is partnering with five other organizations, including the Bangladesh Army, as well as the government, to provide training to 400,000 drivers in order to reduce the number of road traffic crashes and ensure greater road safety for all.
In addition to the commitment, the following rules apply under the new Road Transport Act, which was implemented from 1 November 2019:
Reckless or negligent drivers who cause death or injury will face five years in prison or a fine of Tk 500,000, or both.
Drivers who deliberately kill another person, or who do not avert a killing in a road incident, will face either life in prison or the death penalty, depending on whether the offense was found to be murder or culpable homicide.
Unlicensed drivers will not be permitted to drive a vehicle.
Drivers must have an education of eighth grade or above, be at least 18 years old to get a drivers' licence, and at least 21 years old to get a professional licence.
Drivers will be assigned 12 demerit points, each of which can be deducted for committing driving offences. When the points come down to zero, the driver's licence will be cancelled.
The government can regulate the number of motor vehicles for a person, family, organization, or area. It can also set working hours for drivers, conductors, helpers and other staff.
Maintenance authorities will be held accountable for any incident which occurs as a result of faults in design, manufacturing, and road maintenance.
Action can be taken against any government official if his or her negligence or fault causes an incident which results in death or injury.
The government will raise funds for the injured or family members of those killed in road traffic crashes.
During his speech at the roundtable event, Nazrul Islam stated that implementation of the Act will not be possible unless citizens also commit to abiding by it, as laws cannot be enforced with police action alone.
Read more about Nirapad Sarak Chai on their website HERE or visit their Facebook page HERE.
---