Road Safety Commitment: Interview with Jean Todt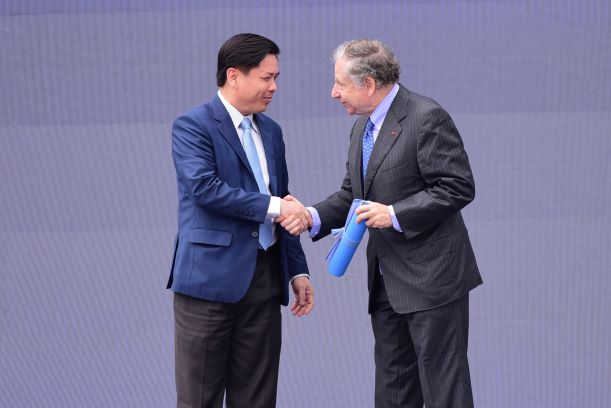 During the series of Round the World Roundtables in 2019, Jean Todt, the UN Secretary-General's Special Envoy for Road Safety (Special Envoy), attended three roundtables in Vietnam, Colombia, and Ecuador, and publicly received decision makers' signed commitments on behalf of the road safety community. These commitments are listed on the Commitment Tracker, and their progress is monitored by NGOs in each of the countries (AIP Foundation in Vietnam, Fundación CAVAT in Ecuador, and Por la Via Por la Vida in Colombia) to ensure that each commitment is followed through into action.
We asked the Special Envoy about why commitment in road safety matters and how NGOs can keep pushing the agenda forward.
What makes a good commitment?
Ultimately, safe roads are every government's and person's responsibility. Fulfilling the global road safety goals ought to be high on everyone's agenda, and therefore, it is imperative that they are translated to be digestible, specific, and relevant at local and national levels. There must be a clear vision and the strong intention to make it happen.
This is where the Round the World Roundtables and the Commitment Tracker come in and where NGOs can add considerable value. A well-articulated commitment is an opportunity for us all, and especially for civil society. Once a government makes a promise vowing to instill change, we have the invitation to measure their actions towards a tangible target. Making a public road safety commitment, as we have seen through the Round the World Roundtables and on the Alliance's Commitment Tracker, is a demonstration from government leaders that they are willing to be held accountable in this way. It is a courageous and a necessary thing to do.
A good commitment must be more than just words on paper. Fulfilling a commitment takes the political will of decision makers to assign the resources needed to achieve our collective vision. The Ministerial Declaration of the 3rd Global High-Level Conference on Road Safety [February 2020] called upon Member States to halve road traffic deaths and injuries by 2030. Furthermore, the Sustainable Development Goals also call Member States to provide safe, affordable, accessible, and sustainable transport systems for all by 2030. I hope to count on NGOs around the world to advocate for national road safety action plans and commitments that reflect these global targets.
You received the Round the World Table commitments in Vietnam, Colombia, and Ecuador. What was the value of these events for engaging government leaders?
The roundtable events in Vietnam, Colombia, and Ecuador generated public attention and focused decision makers on specific road safety issues affecting each of those countries. In Vietnam, the commitment set a target for motorcycle helmet-wearing rates among children and measures to enforce helmet standards; in Ecuador, the commitment brought together different government ministries and agencies to tackle road safety; and in Colombia, the focus was how to ensure safe school journeys. The commitments reflected the pressing challenges, identified by NGOs, that are needed to achieve the global road safety targets in each of the countries.
It was important that the right people signed on to the commitment — those decision makers with the authority to propel a promise into action. In Colombia, for example, two roundtables were held to ensure robust representation of both the executive and legislative bodies: At the first, the Ministers for Transportation, Health, Social Protection, and Education; the Directors of the National Road Safety Agency; and the Transportation Directorate of the National Police, Road Safety Business Committee signed the commitment. At the second, held at the Senate, the President of the Senate and other senators signed. This was significant, as it gave priority at both administrative and political levels.
It is no easy task to get a national commitment for road safety action. We should also recognize the preparation work of the NGOs on the ground: AIP Foundation, Fundación CAVAT, and Por la Via Por la Vida undertook, alongside the various government departments, who successfully advocated for the meaningful commitments.
What is your advice to NGOs? How can they push their governments for stronger commitments? And, equally important, how can they keep them accountable for those commitments?
Firstly, you must decide what change you want and who has the power to make that change. Determine how to reach that department or individual and show them what needs to be done and how you can help them — show them how to do the right thing. This is not an instant fix. Good advocacy can take a long time; you must build trust and relationships.
Unfortunately, sometimes decision makers change — administrative heads move roles; political leaders are voted in and out. As a result, priorities change, and commitments can be forgotten, sidelined, or reversed. It is a good idea to work with a broad spread of parliamentarians and candidates. Work with media to bring public opinion with you — if an issue is important to enough constituents, decision makers, especially elected ones, ought to listen.
Secondly, be clear what you are asking for, why it is needed, and how to achieve it. Gather data and evidence and involve stakeholders, particularly those who are most affected. Try to get commitment for specific actions. The broader the commitment, the harder it will be to know when it is achieved. For example, a commitment to install pedestrian crossings outside 50 schools is easier to track than a commitment to keep children safe: how will you know that those children are safer? Equally, however, you must be able to prove that installing pedestrian crossings will actively improve the safety of children at those schools. We all know that government budgets are tight; we must make sure that the money is spent on those interventions that will improve safety; data showing how it will make a positive difference is crucial for effective advocacy.
Thirdly, and most importantly, remember that the securing of a public statement in itself is not the goal — it must be followed up. You must keep communicating, keep monitoring, and, if the commitment is stalling, keep pushing. Keep your leaders accountable for what they have promised. The NGOs have a special role in this regard and I find great value in this effort.
Equally, when a commitment is completed, be public in your praise. By showing where your government is doing a good job and rewarding their willingness to be openly accountable and to put commitments into action, maybe you will encourage them to more, bigger, stronger commitments. 
Are there any other examples of commitments put into action around the world that you would like to highlight?
There are many powerful examples of good commitments in action. Recently, I participated in a webinar hosted by the UN Road Safety Fund [UNRSF] on "An opportunity to build back better: the potentially transformative impact of COVID-19 on road safety in low- and middle-income countries." The webinar featured a case study from Addis Ababa in Ethiopia, where the government, with funding from UNRSF, is transforming the city's infrastructure — even amid a pandemic — to promote walking, cycling, and better access to public transport. This is a strong example of leadership for road safety, but also stakeholders' success in advocacy and demonstrating to the government the benefits that these interventions have for climate change, equality, and health. When we can illuminate the robust gains of investments, the better positioned we are to successfully advocate for change.
---