Reflections from the Global Meeting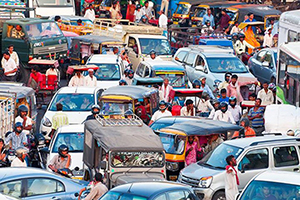 Mary Williams, Founder and Chief Executive of Alliance member Brake, has written a blog entitled "More Resourcing and a Louder Voice" that reflects on the Global Meeting and the wider global road safety environment that NGOs face. Here are extracts from the blog and you can read the full blog article HERE:
"The strength of road safety NGOs is our ability to stop, look and listen. Stop complacency. Look at the unpleasant truth of the global catastrophe on our roads and everyone's part in preventing it – particularly governments. And, perhaps most importantly, listen: help people to hear the stories and pleas of the victims – and be galvanised to take action, now.
We need to take everyone by the hand and cross the road. We need to cross it on segregated crossings, accessed from segregated foot paths and cycle paths. We need 30km/h (20mph) speed limits. We need infrastructure and enforcement to compel traffic to slow down, from speed humps to cameras. We need testing, regulating and policing of driver behaviour. We need vehicles with the latest crash prevention and protection features. We need data. Many injuries go unreported and causation data is particularly poor the world over, including in many of the nations trumpeted as having excellent road safety standards.
A few days ago, at the meeting of the Global Alliance of NGOs for road safety in Malaysia, I chaired a panel on multilateral banks and road safety. Presentations were delivered by speakers ranging from the World Bank to road safety NGOs working in Kenya.
Nobody in the room disputed the fact that there was an urgent need for road safety action across all nations. In Africa the tragedy is demonstrated acutely. Often, there is no point teaching children to walk on the pavement, or hold an adult's hand on the walk to school; there is no pavement, there is no hand to be held. Adults are at work while children risk their lives. In some African countries, emergency service numbers are unreliable or even non-existent, meaning people die at the roadside. Hospitals provide inadequate emergency care. Bereaved and injured victims are left with little or no support.
In the richest nations, independent child pedestrian training is often not taught until the age of eight, on the understanding that younger children have restricted vision and hearing, and cannot judge speed of travel. In the poorest nations, giving younger children the knowledge that roads are dangerous is essential learning. They are on their own. 
In middle income countries, there are different challenges. Existing infrastructure such as painted crossing places are routinely ignored in some parts of Asia, with hordes of motorcyclists, often not wearing helmets, failing to stop despite the obvious efforts of people trying to use those crossing places.
There are beacons of good practice. Cambodia has an acclaimed casualty recording system, collecting vital data to enable it to identify the scale and cause of its problems. NGOs such as Amend in sub-saharan Africa is funding evidence-based "light infrastructure" such as speed humps around schools. The idea is to demonstrate to governments that basic infrastructure improvements that slow down traffic and segregate pedestrians and cyclists save lives and cost little compared with losing lives, and encourage these governments to "scale up" these measures across their countries. It is no surprise that the United Nations has chosen the theme of Slow Down for its international Road Safety Week 8-14 May 2017. 
At the meeting of the Global Alliance of NGOs for Road Safety it was clear that the elephant in the room is the rise and rise of roads and vehicles across low and middle income countries, not only increasing the challenge to save lives, but also the vast contribution of road transport to climate change and millions of disease-related deaths from clogged air. But it's an understandable elephant because NGO efforts to save lives are so very pressing. 1.25 million deaths a year on the world's roads. A child dies every three minutes. Roads are the biggest killer of young people. Even in the UK, declines in deaths have stagnated.
The Global Alliance of NGOs for Road Safety is a commendable and hard-working organisation that is enabling its members to share expertise and grow in capacity and voice within the UN-backed 'decade of action for road safety'.  Our members, including Brake, have united in their calls, and their voices are starting to be heard.
The brightest candle of hope is that the United Nations is consulting on a potentially large global fund for road safety. The fund could be transformational.  The proposal is that governments contribute to a central fund worth around $3.4 billion that would then be spent on infrastructure such as pavements and crossing places and other measures promoted within the global plan for the Decade of Action for road safety to protect people."
Read more about Brake HERE.
---