Power-mapping enables Alliance Advocate to Push for Lower Speed Limits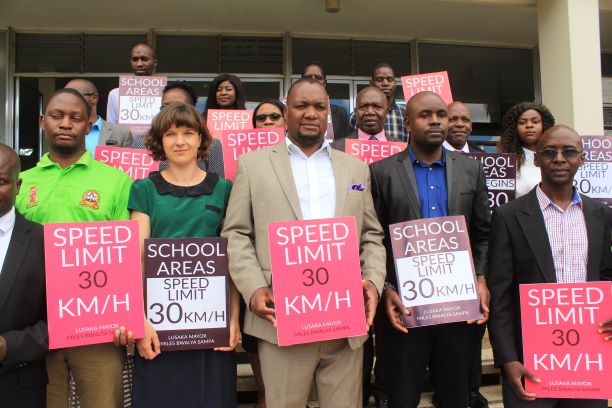 Last month, 30kmph limits became regulation on urban roads across Zambia. Alongside this important step, were several other measures to improve safety for pedestrians, in particular school children. These measures include table top crossings, safe crossing points and refuge islands, traffic calming, improved signage, and dedicated pedestrian walkways. Alongside this, road safety education in schools and universities will be scaled up and stiffer penalties introduced for traffic offences.
Daniel Mwamba, is the Executive Director for the Zambia Road Safety Trust (ZRST). His patient work over several years has been a significant influence in bringing about this landmark set of changes.
In 2016, Daniel was one of the first cohorts to be trained under the FedEx-sponsored Alliance Empowerment Program and attributes the agreement for lower speed limits to power mapping techniques that he learned on the Alliance Advocate training. After the training, he used power mapping to identify key players in Lusaka, Zambia's capital. He knew he needed to reach the Mayor of Lusaka, the Rt. Worshipful Miles Bwalya Sampa, who is a very high ranking and influential person in Zambia.
Using his network of contacts, Daniel got himself invited to a meeting with the mayor where he introduced himself and, over a period of time, worked with him to bring road safety onto the agenda.  The mayor has become a road safety ambassador and important figurehead for safer roads in the country. Daniel now advises him on road safety matters and showed him the work that ZRST has been doing with Amend to implement 30kmph speed limits and infrastructure improvements around school zones. The mayor in turn presented recommendations, based on the work that had been done in Lusaka, to the Ministry of Transport and Communications and these have formed the basis of the new regulations. 
Roll out of these measures has potential to save many lives especially among the most vulnerable in Zambia. Our congratulations to all concerned.
Daniel said: "I believe that implementing 30 km/h speed in urban areas and around schools is one of the most effective interventions that government has put in place to save many lives of pedestrians, especially our young children.  It's my belief that this intervention will provide the building blocks for future lasting change in making our roads safer."
Image credit: Amend/ZRST
---