NGOs' Role in the Decade of Action Recognized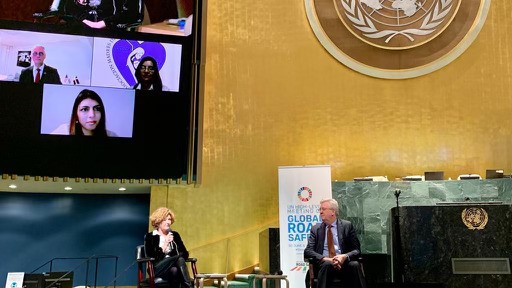 The Alliance is delighted that the work of NGOs has been recognized by the UN General Assembly President, Abdulla Shahid, in a letter to the Alliance. "The work of Global Alliance of NGOs for Road Safety will be critical to delivering on the Decade of Action for Road Safety 2021-2030," the letter states. "I look forward to your continued cooperation on the issue and your active engagement in the High-level Meeting on Global Road Safety to be held from 30 June to 1 July 2022." Read the letter HERE.
NGOs are a vital partner in the implementation of the Global Plan and the Decade of Action. They are the eyes, ears, and voices of their communities and we are glad of the President's recognition for their contribution and that their role is validated within the Global Plan itself.
In December 2021, Lotte Brondum represented the Alliance community of NGOs alongside other civil society leaders at the Supporting Event for the High-level Meeting on Global Road Safety to take place in June-July 2022. The discussion, based around the role of different stakeholders in the implementation of the Global Plan and the need for adequate financing to achieve the 2030 targets, set out several calls to action:
Frame road safety as an issue of social justice and equity;
Ensure meaningful engagement of the youth in identifying, prioritizing and
implementing road safety solutions;
Call for governments to disclose the amount of funding for road safety and
types of expenditure;
Identify clear accountability and monitoring mechanisms to encourage and
track progress over the next decade;
Include specific and actionable measures to harmonize technical standards
for vehicle safety through legislation; and
Promote social justice for road traffic victims.
Read the President of the UN General Assembly's report on the event HERE.
At the High-level Meeting a statement will be issued, which will be drafted in the coming weeks. NGOs can encourage their Ministers to contribute to making the statement a strong foundation for the work that must be achieved before 2030. At the Global Meeting, we will launch our regional calls to action, which will we will use for advocacy through the #CommitToAct Week of Action to the High-level Meeting and beyond. Make sure you participate in the regional consultations happening in the next few weeks to have your say and register for the Global Meeting HERE.
---